Baker Seeks Nearly $65M Hike In State Subsidies For MBTA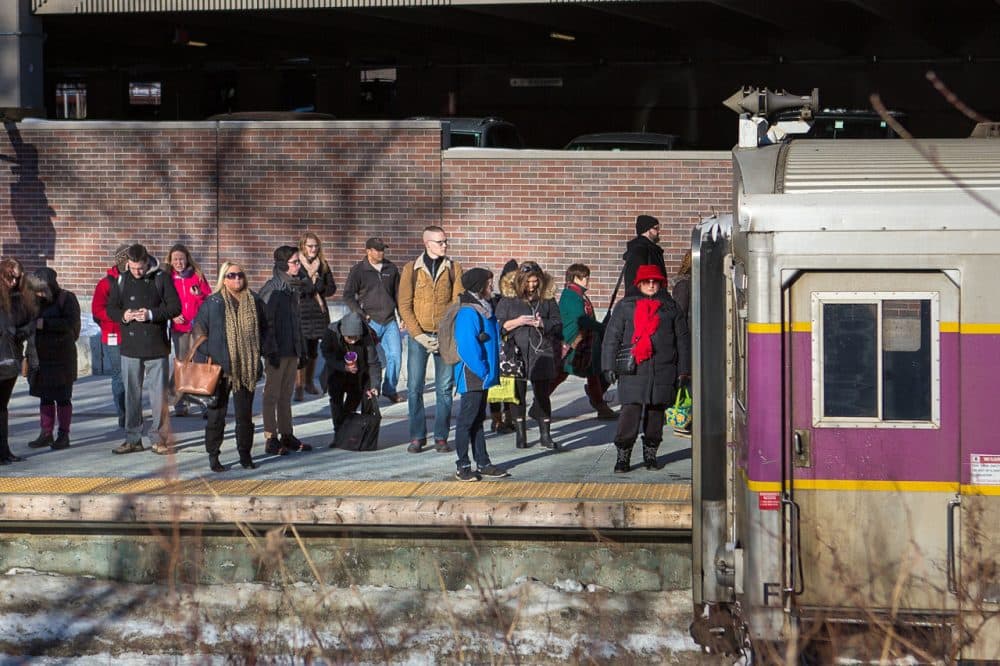 This article is more than 7 years old.
Gov. Charlie Baker plans to seek a nearly $65 million increase in state subsidies for the Boston-area's beleaguered public transit system, but House leaders said Tuesday they are skeptical about providing more money to the MBTA until a complete review of recent weather-related breakdowns is completed.
The funding will be included in the state budget proposal the Republican governor plans to submit to lawmakers Wednesday. It would bring the total direct state subsidy to the Massachusetts Bay Transportation Authority to $187 million.
"I don't view what we're doing with respect to the MBTA as a blank check," Baker told reporters Tuesday. "I view it as a statement that we're willing to work with them to fix some of the problems that they have."
Baker said part of the funding will go to a "weather resiliency fund" to guard against future snow-related breakdowns.
The MBTA receives other revenues from the state, notably 20 percent of sales tax proceeds.
A series of major storms that dropped more than 100 inches of snow on Boston this winter overwhelmed the aging transit network leading to delays, cancellations, station closings and even periodic shutdowns of the entire system.
Democratic House Speaker Robert DeLeo said he'd prefer to hold off on additional funding for the MBTA until it's determined whether the agency has its financial and management house in order. He noted Baker recently named a special commission to review the root causes of the T's failures and said he might call for hearings by the House.
"Giving the T more money right now is kind of crazy," House Majority Leader Ronald Mariano, a Quincy Democrat, told reporters. "I think that they have to begin to demonstrate that they can use that money efficiently and judiciously."
In an address to the Greater Boston Chamber of Commerce, DeLeo also called for steps to rein in runaway Medicaid costs. He said the budget for MassHealth, the state's Medicaid program, has grown nearly 50 percent in five years and isn't sustainable.
"It's becoming clearer and clearer that we must work to reverse the trend of MassHealth consuming an increasingly greater percentage of the state budget," DeLeo told the gathering of business leaders.
The House would form a special commission to examine how the state can help Medicaid managed care organizations, which he said have been sustaining significant financial losses in recent years.
Baker has also expressed concern over soaring Medicaid costs and is expected to address the issue in his proposed budget for the fiscal year starting July 1.
The Massachusetts Taxpayers Foundation, a budget watchdog group, has said the state could face a $1.5 billion budget gap.
Baker said his budget supports local aid to cities and towns and is "driven primarily by making sure that we don't raise taxes, that we don't raise fees."
He called for a doubling of the earned income tax credit for low-income working families and the elimination of the state's 25 percent tax credit to encourage filmmaking. He said the payoff from the film tax credit isn't big enough to justify it.
Baker said he's ready to work with Democratic leaders.
"I get the fact that in the end this will be a combo platter," he said of the budget. "The Legislature, House and Senate, will both have an opportunity to take a look at what we've proposed and kick the tires on it and make their own decisions."
Associated Press writer Steve LeBlanc contributed to this report.
This article was originally published on March 03, 2015.