College Students, Professors Still Making Up For A Winter Of Snow Days
03:45
Play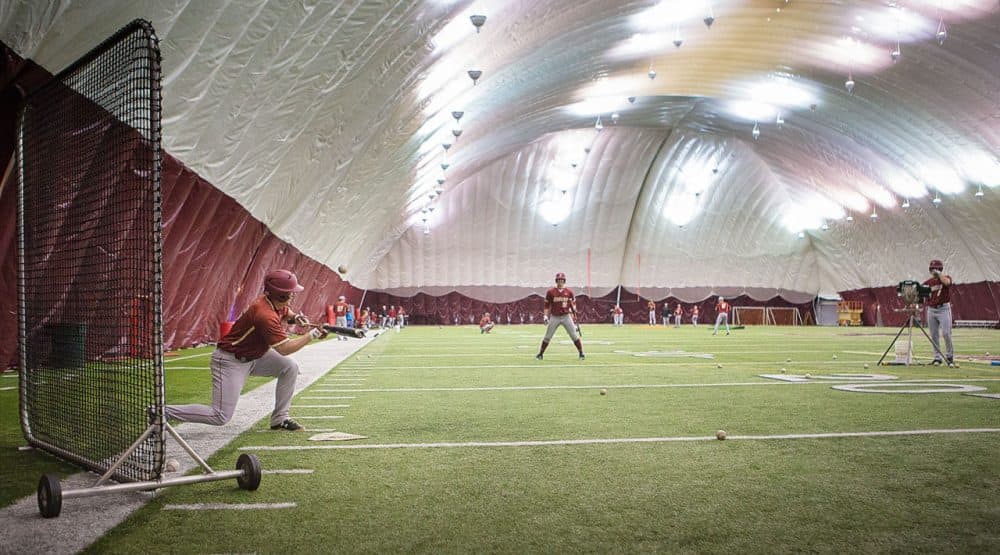 This article is more than 5 years old.
This winter's snow may finally be melting, but it's expected to continue to affect students at college campuses all over the Boston area.
The winter storms and their legacy of snow mean classes were cancelled and spring sports teams are wondering where they will be playing their games.
At Boston College's Alumni Stadium, a foot of dirty snow sits on the bleachers. It's melting quickly, but not fast enough for the baseball team.
Yet the players aren't missing practice. They're one of the few teams with a bubble over their field, where hitters are taking their turn at bat as head coach Mike Gambino watches.
"This year, with how crazy the snow has been, there's a chance one of our first two home weekends might be on the road or might be someplace else than around here," Gambino said.
The team normally spends its first five weeks of the season on the road anyway, Gambino explains. But next week they're supposed to play Holy Cross in Worcester, and the next day, their home opener in Chestnut Hill.
"Everybody, anybody with a baseball field up in the north, in New England, is in a crazy spot," Gambino said. "You talk to any field guy, and it's not like anything they've ever seen."
Down Commonwealth Avenue, Boston University cancelled five days of classes.
"Two Mondays, two Tuesdays and one Wednesday," said Provost Jean Morrison.
By the end of February, some Monday evening classes had yet to meet for the first time. BU made classrooms available on two Saturdays, just one of an array of strategies to make up for lost time.
"By additional assignments, some scheduled informal meeting sessions where they were able to make up part of the time, individual faculty have been really entrepreneurial in trying to keep the course content moving along at a good pace," Morrison said.
At Northeastern University, which also closed for five snow days, Philip Thai teaches modern Chinese history. He decided to pack in more material per class because he didn't think his students would take well to the administration's suggestions.
"Options like telling students to do more homework or do more reading or making up for lost classes later in April, none of it just sounded quite right," Thai said. "So I decided just go ahead and just hit the fast-forward button and just give as much information as I can."
Thai just moved to Boston from California. He's not the only transplant surprised by this winter. Chris Parsons is from Calgary.
"This is my third year in Boston, and I'm going to stop talking about how tough it makes me that I grew up in Canada because this is the worst winter I've ever seen," Parsons said.
Parsons is teaching environmental history at Northeastern.
"I've offered one-on-one makeup sessions," Parsons said. "Otherwise, I've posted lectures online and I've offered makeup lectures as well."
Perhaps no students in Boston lost out because of the snow more than those at Boston University's College of Communication. Students there were taking media criticism from New York Times columnist David Carr. He died last month. The blizzards had cancelled all but one of his classes. Sonia Su was there.
"Obviously it was really unfortunate that we could only take one class with him, and I'm even more frustrated at the snow because of it, because we had to miss two out of the three classes that we would have had with him," Su said. "He had grand plans for us all to essentially grow as writers."
Su and her classmates must rely on other professors now to help them grow. They, like their peers around Boston, are unlikely to forget this winter and how it changed their plans.
This segment aired on March 13, 2015.