WBUR Poll: Room For Improvement Seen In Boston's Snow Cleanup Efforts
04:10
Play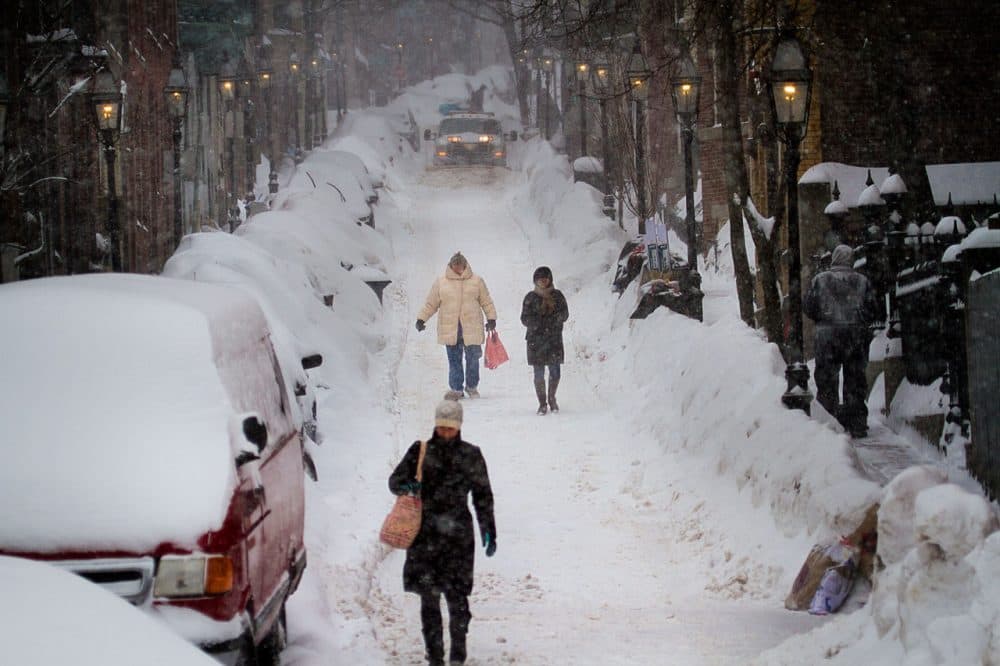 This article is more than 5 years old.
Now that this winter of seemingly never-ending snowstorms is in the record books as the snowiest in Boston history, it seems apt to look back and see how the city responded. We've all heard the complaints about unshoveled sidewalks, snow mounds, space savers and more.
A new WBUR poll (topline, crosstabs) finds 58 percent of Bostonians say the city did a "fair" or "poor" job clearing snow off public streets.
But who's to blame?
In some ways, snowstorms have become the ultimate test for modern-day mayors. If you screw up, it could spiral into political crisis.
That's according to UMass-Boston historian Vincent Cannato, who's written a book about former NYC Mayor John Lindsay.
"New York City is hit by a nor'easter in early 1969, and John Lindsay's mayor at the time," Cannato said. "And the city is slow to clean the streets, especially in the outer boroughs of New York."
Lindsay ended up losing the Republican primary that year.
"Clearly mayors have learned from the Lindsay experience and afterwards that you have to be on top of these things," Cannato said. "So you see mayors holding press conferences even before the storm begins."
Here in Boston, Mayor Marty Walsh declared snow emergencies and parking bans before the snow even started falling. In total, he held 10 snow-related press conferences.
"You know, it's hard to prepare for 100 inches, but overall, the mayor seemed to be fairly on top of things," Cannato said.
The new WBUR poll suggests a majority of Bostonians agree, as 69 percent of city residents said they approved of how Walsh handled the recent snowstorms.
"I think he did well. It was a very tough thing," said poll respondent Margot Birnbaum, 54, who lives in Beacon Hill. "Who do I blame for everything?" she asked. "Mother nature!"
But not everyone is as forgiving as Birnbaum. Some reminisce over the previous mayor, Thomas Menino, and his rule as an "urban mechanic" with a well-oiled street-cleaning operation.
"When Menino was in office, I think he did a better job," said Dorchester resident Tyrone Washington, 39, who was also polled by the WBUR survey. "We didn't have the problems we have now."
Washington is a bus driver with the MBTA and he said one major issue was snow mounds, especially around bus stops.
"Push the snow all the way toward the sidewalk," he said. "What's the sense of calling a state of emergency and get the cars off the road, where you just plow where the cars be parked at? It don't make no sense. It's like one lane. All one lane."
The frustration Washington feels about snow cleanup is not uncommon. Twenty-five percent of Bostonians surveyed say the city did a "poor" job clearing public streets, while 33 percent say the city did a "good" job.
"Clearly there were hundreds of things they did right, and there were probably as many things we need to work on," said City Councilor Timothy McCarthy.
McCarthy previously worked for Boston's Department of Public Works and he said the agency did the best it could this winter.
But he admits there's room for improvement, and he wants to find those areas. At a hearing on Monday, he joined fellow city councilors to question DPW Commissioner Michael Dennehy.
"Would it be fair to say the main focus of your men and women out there is cleanup as opposed to snow removal?" asked Councilor Matt O'Malley.
"It's very cost-prohibitive to do removal on a nightly basis to the tune of a quarter of a million dollars," explained Dennehy.
City Councilor Tito Jackson said he understands snow removal is pricey, but there are streets in his Roxbury district that have substantial snow mounds, where people have no choice but to angle-park in a parallel parking spot.
"I have a lot of residents who are still calling in complaints about actual snow removal, in particular on side streets," Jackson said.
So far the city has spent about $22 million more than it had budgeted on snow removal. And it's off by $633,200 on parking meter revenue from a year ago.
"If this happens next year, how much better can we be?" McCarthy asked. "If you believe [DPW employees] did everything they could, which I do, then that means there's something missing. And I think it's the equipment, I think it's the preparedness, and I think it may be sheer numbers."
McCarthy's hoping to find some answers when he hosts another council hearing at the end of the month to assess snow operations and removal.
This segment aired on March 20, 2015.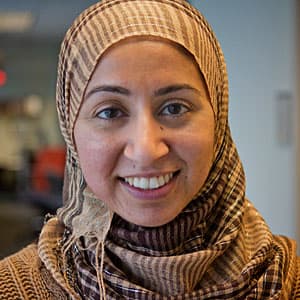 Asma Khalid Reporter
Asma Khalid formerly led WBUR's BostonomiX, a biz/tech team covering the innovation economy.