Bostonians Back Space Savers — As More Neighborhoods Seek To Ban Them
Winter may officially end on Friday, but in Boston the debate over the often-divisive winter tradition of space savers will likely continue.
A new WBUR poll (topline, crosstabs) finds 70 percent of Boston residents are in favor of the use of space savers, despite the controversy, vandalism and parking challenges the tradition brings each winter.
Just a quarter of Bostonians — 26 percent — surveyed March 16-18 said no to space savers, while 4 percent responded "don't know."
Among the 229 Boston voters polled, car ownership and where they parked didn't impact the strong support for space savers.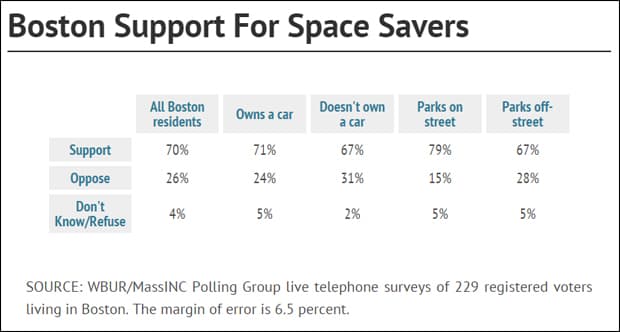 While the poll shows most Bostonians want space savers, there is an effort by some neighborhood groups to follow the South End's lead and ban space savers across downtown Boston.
This winter, Mayor Marty Walsh said if you shoveled out a parking space, "it's yours for a couple days" — and city policy says residents have 48 hours to use a space saver after a snow emergency. But that policy is really just a guideline and is not strictly enforced.
The Alliance of Downtown Civic Organizations (ADCO), a group made up of about a dozen neighborhood associations, is proposing a ban on space savers next winter across a broadly defined downtown area, which includes the Back Bay, Bay Village, Beacon Hill, the West End, downtown, the North End and Chinatown. The Fenway neighborhood is also included in the group's proposal.
"There are a lot of ways that you can debate the space saver issue but I think the one that we're taking is, 'Let's just let people vote and let's go with a majority.' And as far as the North End goes, a majority voted in favor of a ban," said Ford Cavallari, the president of The North End Waterfront Residents Association (NWRA).
Cavallari's group is a member of ADCO and voted last Thursday in favor of a space saver ban. The Fenway Civic Association, another ADCO member group, also voted to support a ban, Cavallari said.
ADCO's proposed ban calls for any items left in parking spaces to be treated as abandoned property and disposed of by the city. The organization believes a ban will improve snow removal efforts.
"We don't want to have any impediments to plowing and we think space savers are that," Cavallari said.
Over the next month, other ADCO groups will vote on the proposal and those who support a ban plan to sign a letter to send to City Hall.
In January, the South End became the first neighborhood in the city to formally ban the practice in which people use cones, chairs or other objects to claim a parking spot they've shoveled out after a snowstorm. The South End Forum, an umbrella organization comprised of neighborhood groups and business associations, led the effort and voted in favor of the ban in 2013. With the support of the city, a pilot program was implemented this winter in the South End. Because of that, other neighborhoods looking to implement a ban would also likely get the support of the city.
South End Forum co-chair Stephen Fox said any efforts to ban space savers would need to be neighborhood-specific.
"I think this is a neighborhood by neighborhood decision," Fox said. "I know that there are some neighborhoods, such as some sections of Dorchester and South Boston, that strongly believe in the use of space savers."
The longstanding space saver tradition has its own unofficial rules and plays out differently across the city. Fox said he believes there is support for banning space savers in the South End because the area has a higher need for parking during the day compared to other neighborhoods.
"The parking situation and the parking demands in the city center neighborhoods, whether it be the North End or Back Bay or Beacon Hill or the South End, are dramatically different than they are in the more leafy neighborhoods of Dorchester or South Boston," he said.
Cavallari agrees and said when it comes to space savers one size doesn't fit all.
"I don't necessarily believe that what's good for the North End is good for Chinatown or good for South Boston or Charlestown or Eastie," he said.
Fox calls the South End space saver ban a success. Based on feedback from his organization's 15 neighborhood associations, Fox said about 80 percent of the South End was compliant, while 20 percent continued to use space savers.
"We never thought that we'd be able to achieve 100 percent success in one year — that was unrealistic," Fox said. "We knew that this year was going to be a trial year and we consider the overall experience to be monumentally successful in the South End, even with the 20 percent that we recognize are consistent space saver users who were non-compliant."
Overall, Fox said much of the feedback his organization has received has been positive — they're glad space savers were banned. However, there were four reports of vandalism due to space savers in the South End, according to Fox. To address this, Fox says the South End Forum raised about $1,500 and paid out about $1,300 to $1,400 to residents who suffered vandalism.
To get compliance, the South End Forum implemented an education campaign to notify people of the ban. Fox said the ban was enforced by neighborhood associations and residents who were encouraged to throw out space savers they saw, residents reporting space savers to the mayor's office, and an agreement with city to have space savers thrown out during trash collection.
Fox said because of snow removal efforts, the public works department "didn't have a whole lot of time to dispatch their trucks to go and pick up individual space savers" when complaints were filed, so neighborhood associations "filled in the gap" when it came to removing space savers.
This winter, the city relaxed its enforcement of space savers due to the historic snowfall. The city said its focus was on snow removal. But according to the mayor's office this week, some space savers were thrown out by the city.
"Space savers in the South End and across the city were picked up with neighborhood trash days as of March 2," Mayor Marty Walsh's spokeswoman Melina Schuler said in an email.
The South End Forum plans to do more outreach next year to the non-compliant areas, which Fox said were mostly near Shawmut Avenue between West Dedham and Worcester streets. And Fox does expect the space saver ban to continue next winter. His group plans to meet with Walsh this spring to discuss next steps for the pilot program.
"We don't think there are any compelling reasons for the city not to continue this," Fox said.
Schuler said the mayor will be assessing snow operations this winter to see what worked and what may need to be changed.
Poll Methodology: The WBUR poll surveyed 504 registered Boston area voters between March 16-18. The poll included a base sample of 404 residents in the entire area including Boston, with an additional 100 voters living in the city of Boston. Between the base sample and oversample, a total of 229 voters in the city of Boston were interviewed. The Boston area is defined as communities inside Route 128 or straddling that corridor. The margin of error for the full sample is 4.9 percent and the margin of error for the Boston statistics are 6.5 percent.