Commentary: Some More Boston Olympics Poll Questions I'd Like To Ask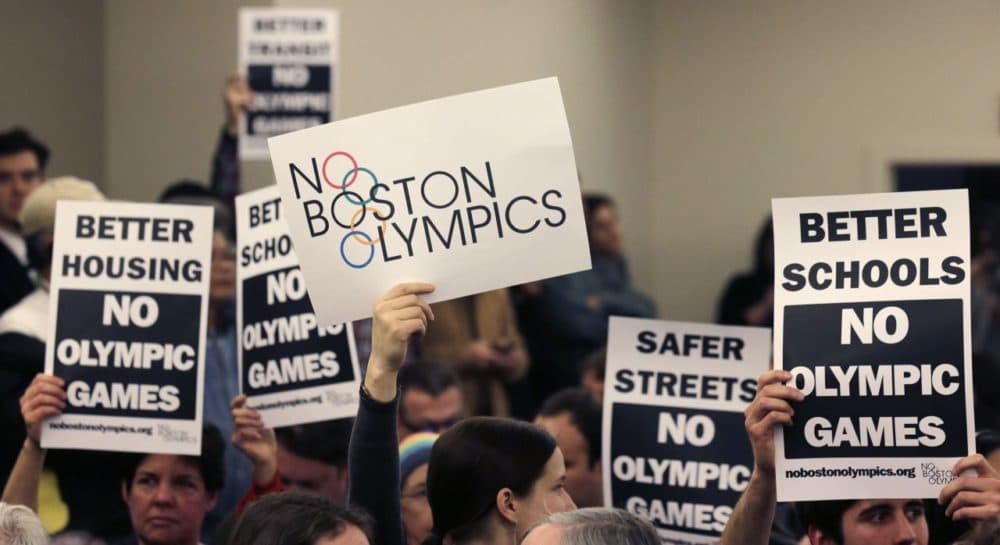 This article is more than 5 years old.
The words "WBUR poll" might give the Boston 2024 group acid reflux at this point — given that the last three polls revealed a steady drop in support for the Olympics.
But here are some additional questions that would stir the "conversation" Boston 2024 leaders now say they want.
"Do you trust the Boston 2024 committee to put the public good ahead of their own interests as political professionals?"
The decline in public support followed news that the committee seemed more like a cabal. Many thought it scandalous that the CEO's salary is $300,000, twice what he was paid in government, and that former Gov. Deval Patrick would be paid $7,500 for traveling as a "global ambassador." After the revelations, Patrick said he would work for free — an example that others on the committee probably found irksome.
Given that the Boston 2024 group failed to provide answers to many questions about planning and costs, surely the public should have an opportunity to say whether they trust the committee.
"Should Boston consider staging a creative alternative to an Olympics — instead of summer sports, an international competition in the arts…or for invention and science?"
Boston has been called the "Athens of America," not the "Sparta of America." Why spend billions to host games of physical prowess? We already have sports championships to celebrate — and they don't cost local residents billions in taxes or debt, directly or indirectly.
Should we, instead, lead the way in staging world competition in music, visual arts, performing arts … or an international contest that showcases new inventions and scientific breakthroughs?
"Would you like an Olympics venue near your backyard?"
Former Congressman Barney Frank told Boston Magazine he opposed the Olympics bid. "If we can't find a place for snow, where are we going to find a place for the Olympics?"
The Boston Globe noted in an editorial, "The organizers wrote the initial plan for the United States Olympic Committee largely behind closed doors, and parts of it have proven extremely unpopular. For instance, the initial proposal called for hosting beach volleyball on Boston Common, an idea that has outraged many parks advocates and neighbors who fear losing treasured public space for much of 2024."
Shouldn't we ask voters if they support specific ideas proposed in the Boston 2024 bid to the IOC?
"Boston 2024's plan calls for 28 of 33 Olympic venues to be within a 10 kilometer (6.2 miles) radius," WBUR reported. "The Olympic venues and events would take place in two major clusters — a waterfront cluster and a university cluster. The waterfront cluster includes South Boston and stretches to UMass Boston in Dorchester, where the Olympic village is planned. The university cluster would include parts of Cambridge, including Harvard University and MIT in addition to Boston University and the Beacon Park rail yards."
Instead of posing questions about specific venues in a telephone survey, perhaps a focus group should be conducted — with a moderator showing pictures of sites and explaining pros and cons.
The moderator could also show pictures of what often comes after an Olympics. There's a website with "30 haunting photos of abandoned Olympic stadiums." The pictures are inspiring, but only if you are in the demolition business.
Wouldn't an informed focus group give the 2024 committee what its leaders claim they now want — a lively "conversation"?
Todd Domke is a Republican analyst for WBUR.