'Wolf Hall,' Mark Rylance And 'Masterpiece' Score A Bullseye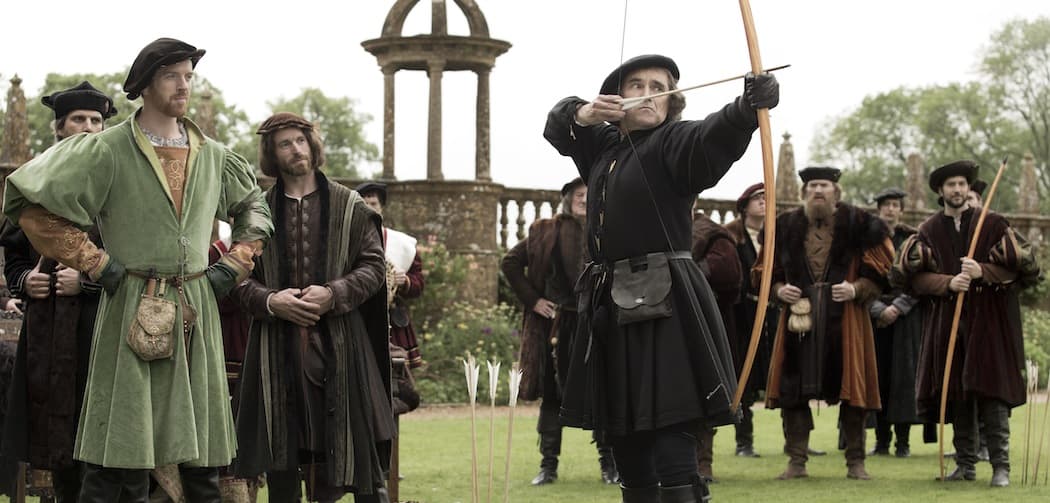 This article is more than 6 years old.
One look at the twinkle in the eye of Mark Rylance's Thomas Cromwell and you know he's someone you want as a friend. A second look, at his downturned mouth after you've angered him, will tell you that he's someone you don't want as an enemy. Not since Al Pacino's Michael Corleone has an actor been able to say so much without saying anything. Pacino, of course, went head to head with Marlon Brando in "The Godfather" movies; Rylance rules alone in the adaptation of "Wolf Hall" on "Masterpiece," beginning Sunday night on PBS stations, including WGBH-TV, Channel 2, the "Masterpiece" producer.
And that's no easy task considering that he's playing opposite the great British actors Jonathan Pryce as Cardinal Wolsey and Damian Lewis ("Homeland") as Henry VIII. Rylance's genius will come as no surprise to those who've seen him command the stage at the American Repertory Theater ("Hamlet" and "The Seagull" in 1991), the Globe Theatre (where he was the first artistic director) or in courageous films like "Intimacy." (He's returning to the A.R.T. next year.)
In other words, this is a piece of television acting every bit as riveting as Bryan Cranston's in "Breaking Bad" or James Gandolfini's in "The Sopranos." The difference is that he rarely loses his temper, the better to keep from losing his head. He is the coolest guy in pre-Elizabethan England and Rylance captures him to a tee.
That look on his face says it all and Rylance makes the transition from best bud to worst enemy with the merest glint in his eye or slightest wrinkle of the mouth. The same can be said about lust and caution, determination and fear, calmness and fury. Like Michael Corleone he will orchestrate a bloodbath toward the end of the six-part series based on people who did Wolsey wrong earlier.
Here are the actors and executives talking about Rylance's way with wordlessness:
And when he does speak, it's with an authority that sends shivers up your spine or makes you laugh out loud. Often both. After Wolsey's death one of his allies says to Thomas that he prayed to God for vengeance on Wolsey's tormentors, Thomas says, "There's no reason to trouble God, George. I'll take it in hand." Whoa.
For those of you who know the story of Henry VIII, Thomas More, Anne Boleyn and Cromwell from "A Man for All Seasons" this is the Other Guy for All Seasons. More is still the stalwart defender of Catholicism as Henry seeks an annulment from his first wife in order to marry Anne. And there's more than a touch of the Machiavellian about Cromwell.
But part of the genius of Hilary Mantel's two books, "Wolf Hall" and "Bring Up the Bodies," is to show that morality exists within the confines of the mores of the world at large. More is hardly the moral man for all seasons unless one is a fan of torture and priestly pedophilia (at least according to Mantel). That moral universe is illuminated even brighter in the series, which is based on these first two books of the projected trilogy, as are the Royal Shakespeare Company productions now in New York.
Cromwell is a moral force in his own right. Some historians now make him a key figure in the Reformation and his loyalty to Wolsey is far more admirable than most of what his fellows are up to. He is, granted, more interested in the politics of keeping his head on his shoulders than in ideological purity.
Still, the scenes between the smooth-talking Cromwell and the intellectual More (Anton Lesser, one of the many actors here who are on "Game of Thrones") are among the best in the series as Cromwell desperately tries to make More compromise. He invites him home for dinner, but More declines: "Well, I would, if you only wanted to put mere food in my mouth. But I think you want to put words there as well."
"Wolf Hall" cleverly foreshadows how "A Man for All Seasons" will corrupt history as Cromwell complains about how the more articulate More will write a play in which he's the victim and Cromwell the villain. (More didn't write that play, obviously, but let's applaud the artistic license.)
The series is beautifully composed, a burnished mournfulness replacing the pictorial splendor of period films. There is a flashback during the execution of More, so splendidly filmed (I won't ruin the surprise), that it encapsulates the intelligence of the series as well as the complications of attributing cause and effect.
Director Peter Kosminsky and adapter Peter Straughan not only capture the moral conundrums of the time, but also the poetic rhythm of the novels. When I first tried to read the novel it seemed more undercooked than I expected, but the series illustrates how a full enjoyment of Mantel's work requires slowing down and savoring the details and the dialogue. It isn't a book or series for all tastes as those looking for faster-paced reading or watching might grow impatient.
It's hard, though, to imagine anyone growing impatient with Rylance. Those eyes. That mouth. That way with words. That way with wordlessness. Mark Rylance has it all in hand.
Ed Siegel is the ARTery's editor and critic at large.
More