Warren Focuses On Student Debt At UMass Boston Forum
03:48
Play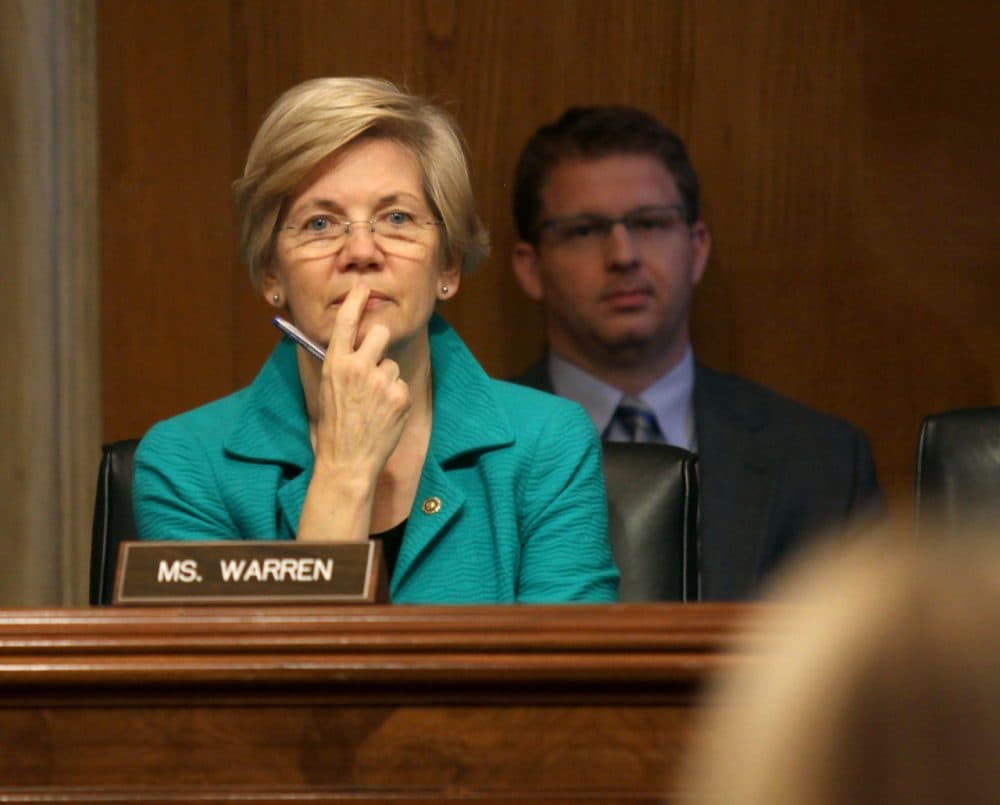 This article is more than 6 years old.
Speaking at a forum at the University of Massachusetts Boston on Thursday, U.S. Sen. Elizabeth Warren once again focused public attention on student loans.
Warren has made the cost of attending college — and the debt burden incurred by students and their parents — a signature issue since she first arrived in the U.S. Senate two years ago.
About 150 people filled the chairs in the ballroom of the UMass system's big, urban campus, with many more standing or sitting on the floor.
Several law and education experts joined Warren in breaking down issues related to student debt.
Deanne Loonin, of the National Consumer Law Center, a nonprofit legal aid organization, argued that it's time for the federal government to cut off some of the biggest lenders, perhaps even Sallie Mae.
"There's been a shocking lack of accountability as the Department of Education continues to hire the same old players in the student loan industry despite repeated examples of legal violations, misrepresentations and other problems," Loonin said. "What happened, for example, to the Department of Education's announcement last year that it was going to investigate Sallie Mae? We're still waiting to hear."
Then, there's the FAFSA form, the federal document dreaded by students and parents applying for financial aid because it is so arcane. Bridget Terry Long, a Harvard professor of education and economics, proposed making it much simpler.
"Analysis shows when you look at the system, we really only need two pieces of data," Long said. "We need income, and we need family size, and that gets you about 97 percent of the way there. But instead, we make families jump through all these hoops."
Warren used the forum to counter a commonly held perception among Republicans that increased student aid is somehow to blame for the increase in college costs over the last 35 years.
Sen. Ron Johnson, of Wisconsin, made such an argument last year.
"What we spent in college, or on college, in terms of student aid, which is about $2 trillion since 1963, was all well-intentioned, but it had a very serious negative unintended consequence," Johnson said. "In other words, in trying to make college more accessible did we actually make it less accessible, because we've made it so much more unaffordable?"
Warren pointed out at the forum Thursday that student debt has risen as Pell grants — federal grants for the poorest students — have not kept up with inflation. Last week, the Senate proposed a budget that would cut Pell grants by $89 billion over the next 10 years.
"That is a 31 percent decrease in the money that will be available for Pell grants," Warren said of the proposed cuts. "I just wanted everybody in here to hear that. Now, I want you to hear the Republicans' defense of that. They defend it by claiming that Pell grants are too generous, and that they are helping colleges jack up tuition costs. So let me start with this: Dr. Long, over the long term, has federal aid for students kept up with tuition increases?"
"It absolutely has not, and if you look at the research of why college prices have been increasing, we know state appropriations being cut is the main reason," Long replied. "In fact, where we're seeing the greatest price growth is not in the places where you're seeing lots of Pell grant recipients. Where you see great price growth recently, in the last 10 years, has been with the public system because of state appropriations."
Warren finds herself in a Republican Senate whose leaders are negotiating with a Republican House. It's not clear how she can move ahead with her proposals to reform student loans, increase grants or simplify the process of applying for federal aid, but she is keeping the issue in the public eye.
This article was originally published on April 03, 2015.
This segment aired on April 3, 2015.