This Boston Composer Finds Inspiration In His Cupboard
Resume
Musicians are always searching for inspiration, and sometimes they find it in some unlikely places.
Take Brian Friedland, a prolific Boston composer and jazz pianist who's discovered a creative goldmine in his cupboards. He takes words on packaging for products such as granola, mouthwash and tea, then sets them to some pretty sophisticated music. Friedland calls the funny-but-serious project "Household Items" and he has a new CD.
It would've seemed wrong to talk to Friedland anywhere but a grocery store.
Turns out his new recording has roots in Trader Joe's. The New England Conservatory grad frequently scours its aisles for creative fodder.
"Yes, here it is — these are the words," he said proudly as he grabbed some granola off the shelf. Friedland composed a song using the words on the box as lyrics.
"How could I forget my opening line?" he asked, then recited it with fervor: "'We didn't buy into the conventional wisdom that great tasting granola had to be loaded with fat. We knew there had to be a better way. Wouldn't you know it, there was. There is. You're holding it!' "
The song is also on Friedland's first "Household Items" CD from 2008. On it vocalist Angela Vicente passionately sings those very words to comic effect while the 32-year-old Friedland accompanies her on piano.
In a store surrounded by package descriptions, I had to ask why this product's copy spoke to him.
"The excitement first of all. I mean, 'There was. There is. You're holding it!' It's so epic," he said. "And that just gives me a lot to work with as a composer."
As we perused past coffee and chocolate, Friedland explained that not every product makes his grade. He stopped suddenly and decided to seek a little guidance from a manager.
"I'm a composer looking to set a couple of Trader Joe's texts on boxes to music," he explained. "I'm looking for some new foods with descriptive, colorful packaging."
"Ummm…I don't know," the manager replied, laughing. "I'm sorry, but I don't spend a lot of time reading the boxes."
But then she suggested the cookie aisle. The composer homed in on a package with a toucan on it.
"This could be very rhythmic," he said, then started half-singing the words: "'Use beak to twist and pull apart two chocolate cookie sides…' "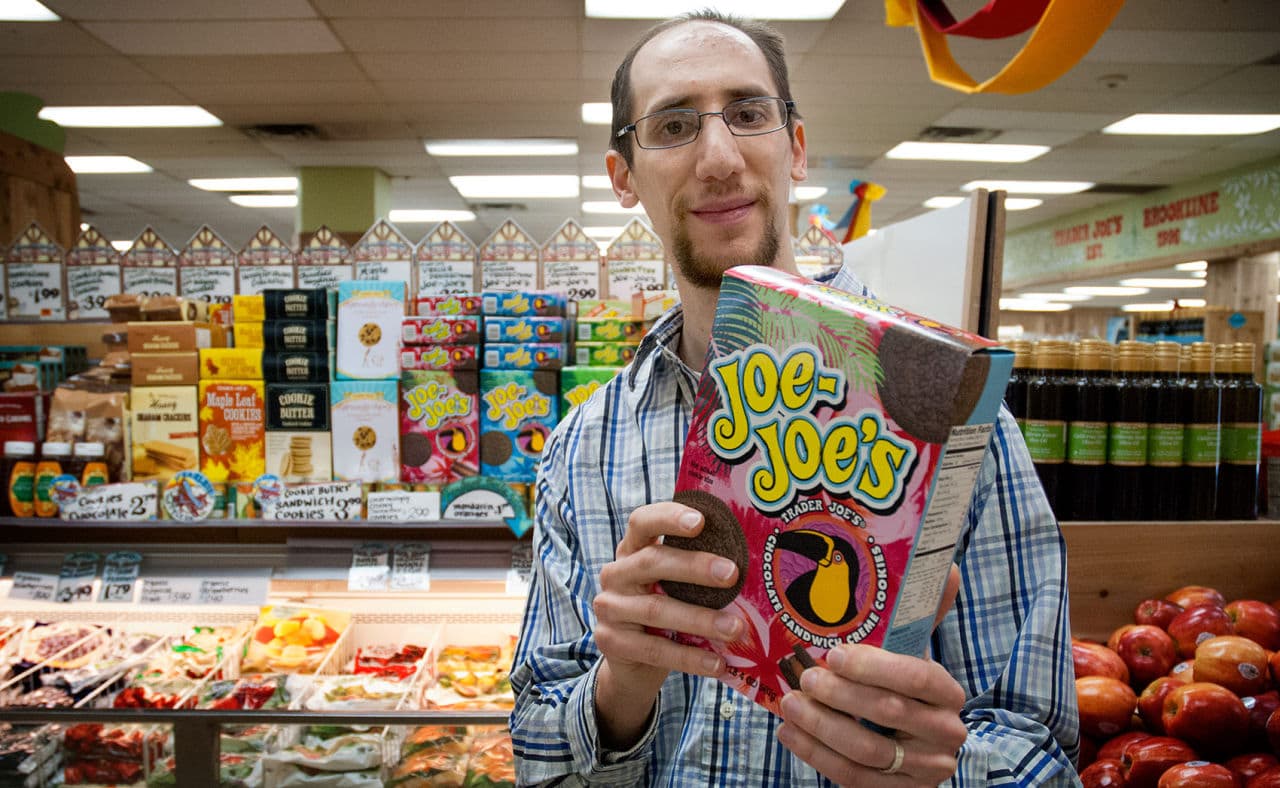 Friedland is not a singer, but he sees amusing, absurdist potential in labels featuring characters, quests or "extreme" wording. He started foraging for inspiration about eight years ago and had an epiphany when he read a can of carpet cleaner after his cat missed the litter box.
It read, "Do not. Do not puncture. Do not freeze. Do not incinerate. Do not expose to heat above 120 degrees Fahrenheit. Do not inhale."
He made them into a percussive, vocally complex work where the singer repeats, "Do not! Do not! Do not puncture," with urgency.
"I thought that was so fun I should keep going with it," Friedland said. "It was a great concept, and it could let me explore different styles and do things I wouldn't normally give myself permission to do musically."
Since then Friedland's expanded to using a 23-piece orchestra. His muses include a beard trimmer and a rental lease addendum with incredibly detailed directions on the proper handling of firewood.
Berklee College of Music professor Nick Grondin remembers that lease. He was roommates with Friedland when they were students at the New England Conservatory. Grondin says his friend's "Household Items" project helps defy the perception that jazz is intimidating.
"It's comedy with really deep music — or deep music with comedy — and everybody likes to laugh," Grondin said. "And I think having such sophisticated music makes it that much funnier."
Grondin recently helped out at Harvard University when Friedland was guest lecturing a jazz improv class. Friedland brought a string quartet, standup bass, percussionist and singer Laura Grill. They performed a few songs, including one about a fragrant skin moisturizer.
"There's one benefit of having these sort of accessible lyrics," Grill said, "because people are like, 'Oh right — Avon Peach Hand Lotion — I can connect with that.' "
Grill, also an NEC alum, says Friedland has found a unique solution to an age-old problem.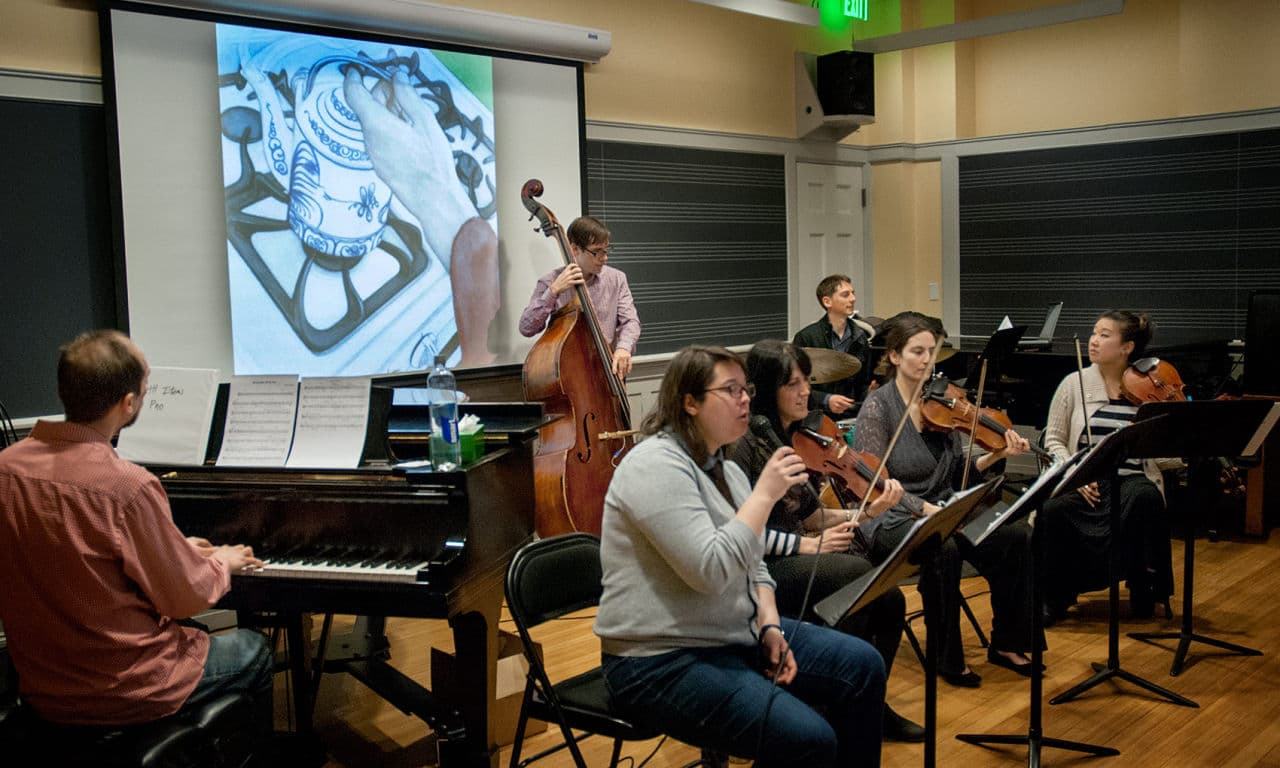 "As someone who enjoys composing and arranging, one of the hardest things is trying to write lyrics," she said, "so Brian finds them on his coffee packages and appliances."
During the class, Friedland asked the Harvard students to bring up products they could riff on. The composer and musicians did their best with the disclaimer on a ski mountain lift ticket and a bottle of Smart Water.
"'Clouds get a bad rap,' " Friedland intoned. "They are the unsung heroes…' "
The students laughed and told Friedland his project reminds them of a skit you'd see on "Saturday Night Live." Their teacher Daniel Henderson, also an NEC composer and self-admitted fan of Friedland's project, hopes they see the freedom, joy and unabashed creativity in his music.
"I am so glad that there musicians like Brian," he said, "who, when you ask them why they're doing this, they say for fun. That still exists, and it's brave."
It's brave, Henderson said, because staying creative and making a living as a serious musician is really hard. That point isn't lost on second-year molecular biology student and percussionist Javier Masis.
"I mean, it's a big risk to make the focal point of your music comedy, right?" he said. "It's hard to imagine that it's gotten this far when you think about it — but it's great that it has."
Then Masis recalled a class he took at Princeton with composer Paul Lansky. The founder of electronic music once said that when you're trying to find your own voice as a writer you need to liberate yourself from self-judgment. "And I think this class is a great example of that," Masis reflected.
Friedland has gotten this far with the help of $7,500 he raised on Kickstarter to record his second CD and produce some funny videos with original illustrations, including an ode to the snack food Pirate's Booty.
You might be wondering what the companies think of Friedland's compositions. Well, he said, "not much." They don't always respond to his emails — but he did receive a few hundred bags of cheesy, puffed snack in the mail.