A Spectator's Guide To The 2015 Boston Marathon
On Monday, the 119th Boston Marathon is expected to draw more than a million spectators who will cheer on some 30,000 runners along its historic 26.2-mile course from Hopkinton to Boston.
Two years after the bombing, security measures this year will be similar to last year's race, with a heavy police presence, including bomb detection dogs and security checkpoints. There will also be expanded video surveillance, including more than 100 cameras and 50 police observation points set up along the course. Police are once again asking spectators to refrain from bringing backpacks, large bags, coolers or glass containers.
Here's what you need to know, from street and MBTA station closures to items prohibited for spectators. For more information, check out the BAA's official spectator guide.
WEATHER:
WBUR meteorologist Dave Epstein forecasts a wet and windy Marathon Monday with highs in the upper 40s. Epstein wrote Monday morning that showers will become steadier and heavier over the course of the day. For spectators, Epstein says it will be "raw and cold."
RACE START TIMES:
Mobility impaired: 8:50 a.m.
Wheelchair men: 9:17 a.m.
Wheelchair women: 9:19 a.m.
Handcycles: 9:22 a.m. 
Elite women: 9:32 a.m.
Elite men and wave one: 10:00 a.m.
Wave two: 10:25 a.m. 
Wave three: 10:50 a.m. 
Wave four: 11:15 a.m. 
(The BAA's official post-race party starts at 6:30 p.m. at Fenway Park.)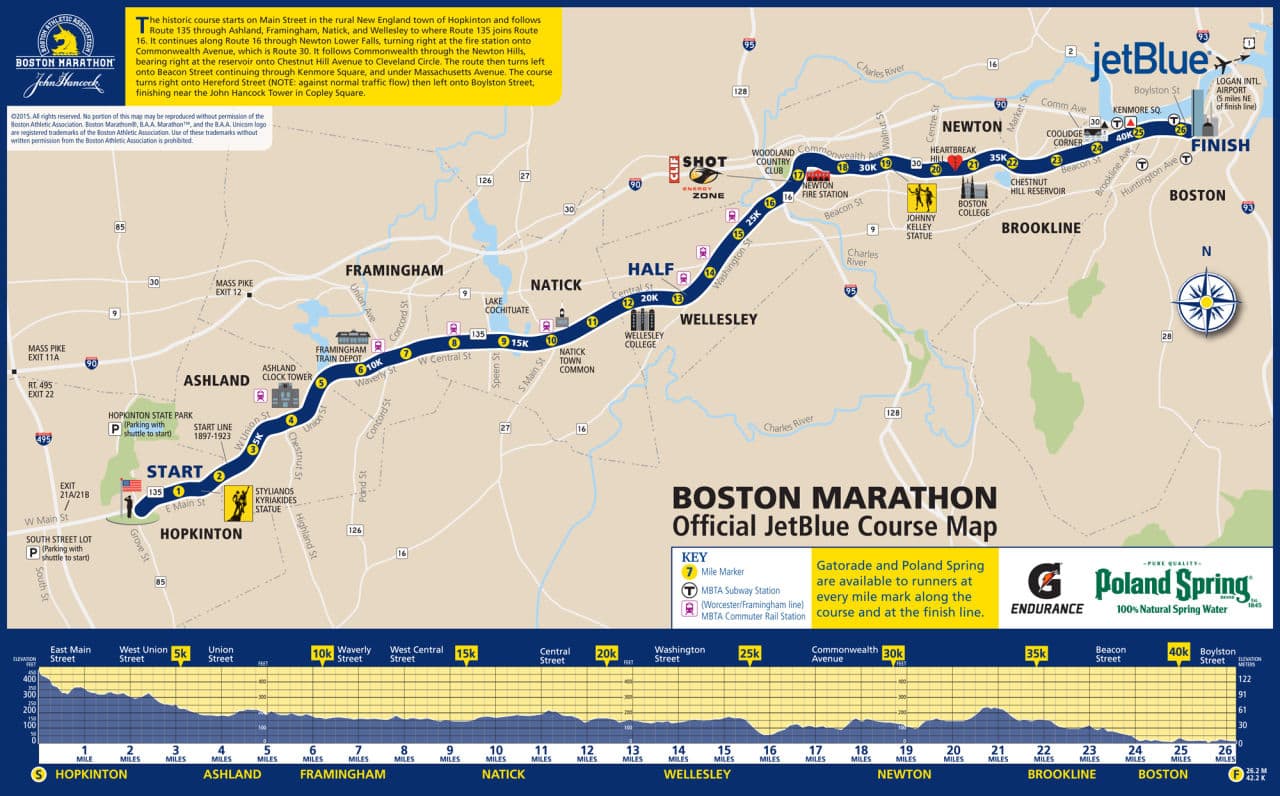 RACE DAY ROAD CLOSURES:
All times are approximate. If a link is not provided to announcements from public officials — which give greater details on the roads closing in that town/city — closure times are based on those listed by the BAA. Some roads in Boston will begin closing over the weekend, too.
GETTING TO THE STARTING LINE:
Roads will close in Hopkinton at 7 a.m. on race day, and this year, there will be no on-street parking allowed in the town of Hopkinton. Whether you're a spectator, volunteer or runner, if you plan to drive there, it's a good idea to arrive at available parking lots early, as space will be limited.
Parking For Spectators And Volunteers:
Free parking is available at Hopkinton State Park, which is walking distance from the commuter rail. Then, shuttle buses will take you to the race's start. Runners can park there and use this service, but if they do, they will be taken a mile away from the Athletes' Village.
Parking For Runners:
Free parking is available at the South Street Industrial Area and shuttle buses will bring participants to the Athletes' Village. However, runners are encouraged to take BAA buses departing from Boston Common between 6 a.m. and 9:33 a.m. to Hopkinton.
GETTING TO THE FINISH LINE:
Parking will be restricted on many streets throughout downtown Boston on race day, and with streets around the course closed to drivers, using public transportation is your best bet.
Service Schedule:
The MBTA will run rush-hour service prior to and after Monday's race. This weekend, events related to the marathon will also change some bus routes near Copley Square, the MBTA said. Various bus routes north and south of the race will be detoured on the day of the marathon, too.

All MBTA parking garages are pay-on-entry and cash-only on race day, and it's a good idea to arrive early if you're hoping to find a spot. No bikes are allowed on the commuter rail or MBTA trains and buses Sunday or Monday. Extra service will be provided on the commuter rail's Framingham/Worcester line, and regular weekday service is expected for all other lines.

Station Closures:
Copley - Green Line (all day)
South Street - Green B Line (10 a.m. to approx. 6 p.m.)
Kent Street - Green C Line (10 a.m. to approx. 6 p.m.)
St. Mary's Street - Green C Line (10 a.m. to approx. 6 p.m.)
Tremont Street - Silver Line (5 a.m. to approx. 10:30 a.m.)
The "B" section of Hynes Convention Center located on Boylston Street will be available for exit only.
By car:
Boston parking meters are not in effect on race day, but parking will be largely restricted around the course and many roads will be closed to drivers. Be sure to check the city's traffic advisory before heading in. The 100 Clarendon Street parking garage is located a block from the finish line if you are looking for convenient parking, but again, you'll have to arrive early.
WATCHING ALONG THE COURSE:
There are a number of great viewing locations between the start and finish, many of them accessible by public transportation:
Mile 3.7: Ashland stop on the Framingham/Worcester Commuter Rail*
Mile 6.6: Framingham stop on the Framingham/Worcester Commuter Rail
Mile 8: West Natick stop on the Framingham/Worcester Commuter Rail*
Mile 10: Natick stop on the Framingham/Worcester Commuter Rail*
Mile 13.4: Wellesley Square stop on the Framingham/Worcester Commuter Rail
Mile 14.4: Wellesley Hills stop on the Framingham/Worcester Commuter Rail
Mile 15.5: Wellesley Farms stop on the Framingham/Worcester Commuter Rail
Mile 16.8: Woodland stop on the Green D Line
Mile 21.4: Boston College stop on the Green B Line
Miles 22.4-25: Cleveland Circle to Hawes Street stops on the Green C Line
Mile 25.2: Kenmore stop on the Green B, C and D Lines
Mile 25.5: Hynes Convention Center stop on the Green B, C and D Lines
*Stations are within one mile of the course
WHAT NOT TO BRING:
Along the course, there will be a significant presence of uniformed and plain-clothed police and security checkpoints. Spectators are encouraged to carry all personal items in clear plastic bags, BAA officials said.
For more information on security guidelines, see our complete breakdown here. Essential information is provided in the graphic below: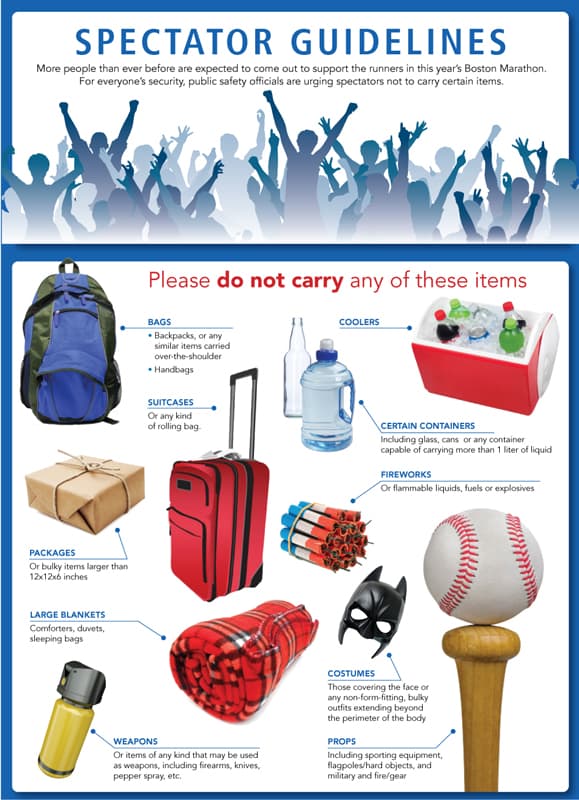 BATHROOM LOCATIONS:
Portable toilets will be located in the following places:
Mile 3 - Ashland
Mile 7 - Framingham
Mile 10 - Natick
Mile 12 - Wellesley
Mile 18 - Newton
Mile 23.5 – Brookline
"BANDIT RUNNER" POLICY:
The BAA is again asking that people not run the course unless they have been officially entered into this year's race.
WATCH LIVE:
WBZ-TV will have live coverage of the Boston Marathon. BAA.org will host live online coverage. (And check out our live blog coverage!)
MORE ON THE 2015 BOSTON MARATHON:
This article was originally published on April 18, 2015.