Commentary: Can Jeb Bush Make It Past Iowa?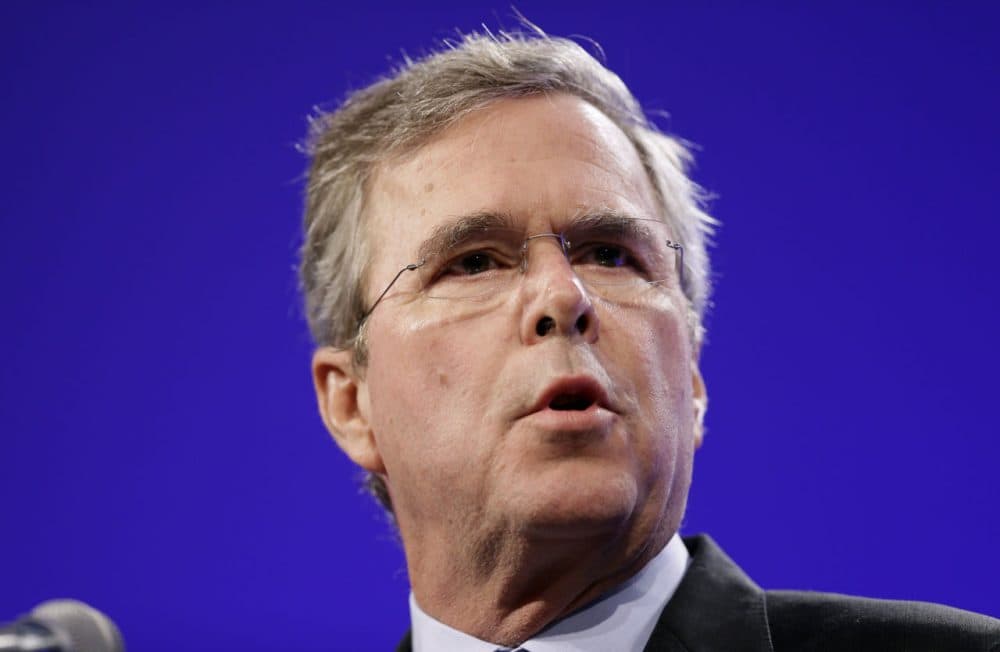 This article is more than 5 years old.
For years, Jeb Bush was known as "the smart brother." Not so much these days.
It began in April when The New York Times learned that he inexplicably listed himself as Hispanic on his voter registration form in 2009. And signed it.
Last week he made a laughingstock of himself by trying to explain his views on the invasion of Iraq ordered by his brother, President George W. Bush.
Four days, five positions. In a dizzying array of switchbacks in less than a week, Jeb Bush gave five different answers on the wisdom of fighting a war in Iraq. Rather than using 20/20 hindsight, saying based on what we know now, the country should not have gone to war, he did several verbal back-flips.
Day One: He told Megyn Kelly on Fox News that he would have authorized the invasion of Iraq, but admitted mistakes were made after Saddam Hussein had been removed.
Day Two: He phoned into Sean Hannity's Fox Radio show to say he had misunderstood Kelly's question.  Hannity gave him a mulligan, same question. "I don't know what that decision would have been," Bush tried. "That's a hypothetical." Didn't he call in?
Day Three: At a town-hall gathering in Reno, Nevada, he tried this: "Talking about hypotheticals — what would have happened, what could have happened, I think, does a disservice for [the men and women who served in the conflict]." Huh?
Day Three-and-a-half: Meeting with reporters after the town-hall event, he discussed the virtue of hindsight and tried this: "Of course, given the power of looking back and having that, of course anybody would have made different decisions." Like what?
Day Four: In Arizona, he stumbled into a plausible answer: "Knowing what we know now...I would not have gone into Iraq." Whew! Quite a week.
Rewriting history. A college student approached Jeb Bush in Reno and asked if he'd take a question from a student. When he agreed, she wanted to know how he could blame President Obama for the existence of a brutal terrorist group in Syria and Iraq. The student said: "Your brother created ISIS!" Ivy Ziedrich, 19, is a political science major at the University of Nevada and an active Democrat on campus, although she grew up in a conservative Republican household. She said that the 30,000 Iraqis who were set adrift from the disbanded military helped launch ISIS and have little besides military hardware. Jeb's response: "We can rewrite history all you want but the simple fact is that we're in a much more unstable place because America pulled back." He then abruptly left the event.
Down and out in Reno. In Reno, Bush accidentally admitted that he was running for president right now. He announced to a reporter from the Washington Post, "I am running for president in 2016." This admission matters because an officially declared candidate is legally limited in the amounts of money he or she can take from private donors. Not so an undeclared candidate. Two other PACs have been created for Bush, which will hide the identities of donors and remove limits on how much they contribute. He quickly recanted his worst kept secret.
Those misogynistic and homophobic tweets. In February, Bush announced the hiring of Ethan Czahor as chief technology officer for his PAC, Right to Rise. Had the unannounced campaign bothered to check his social media postings it would've found some crude Twitter comments. Between 2009 and 2011 Czahor, now 31, had tweeted that "most people don't know that 'halloween' is German for 'night that girls with low self-esteem dress like sluts.' " He also declared that a "new study confirms old belief: college female art major are sluts, science majors are also sluts but uglier." The resident of San Francisco tweeted that he burped on purpose in the gym to let gay men know he's straight. He was fired, but the man they introduced as "this great talent" was quickly revealed as a misogynistic and homophobic; his offensive tweets have disappeared.
What about Iowa? No straw. Last week, Bush's non-official campaign announced that he will pass on the much-watched straw poll to be held this August. Straw polls are "not relevant," he explained, insulting the state's GOP organizers. Then he promised, "I'm going to campaign hard in Iowa."
According to the Des Moines Register, "Bush ranked in seventh place out of 14 GOP contenders tested in an April 25-May 4, 2015 Quinnipiac University poll conducted in Iowa. When Quinnipiac asked likely GOP caucus goers whether there is any candidate they would definitely not support, 25 percent named Bush. Bush was at the top of that negative list." Only New Jersey Gov. Chris Christie fared worse.
By contrast, Wisconsin Gov. Scott Walker had a 5-1 positive-to-negative ratio. In voter preference, Walker has fallen to 21 percent, down four points from February; Kentucky Sen. Rand Paul and Florida Sen. Marco Rubio are at 13 points, followed by Texas Sen. Ted Cruz at 12 percent and former Arkansas Gov. Mike Huckabee's 11 percent.
Rove punts. Questioned by NBC News on the remarkably bad week Bush had, Fox's Karl Rove refused to say he was backing Bush, then punted. "Mistakes were made…He's a smart man…This is a marathon, not a sprint." If that's the best Rove, a longtime friend and adviser to the Bush family, can do, Jeb's hurting.
Dan Payne is a Democratic political analyst for WBUR and a contributor to The Boston Globe.