Matthew Aucoin Gives A Different Kind Of Voice To Walt Whitman
BOSTON — It's not every 25-year-old who gets commissioned to write an opera for the American Repertory Theater. Which was preceded a couple of weeks ago by a world premiere cello and bass piece in Chicago, the cello part having been played by a fellow named Yo-Yo Ma.
But those who have followed the adventures of Medfield native Matthew Aucoin — an opera about Hart Crane when he was a Harvard undergraduate, composer in residence at the Peabody Essex Museum, assistant conductor at the Metropolitan Opera, filling in for Pierre Boulez with the Chicago Symphony — know that Aucoin is no ordinary 25-year-old. A.R.T. artistic director Diane Paulus wanted to work with him after hearing the Crane opera. Little wonder that he's been compared to Leonard Bernstein.
And as those who heard his A.R.T. opera "Crossing," about Walt Whitman's nursing of the wounded and dying during the Civil War at the Shubert Theatre Friday night discovered, Aucoin doesn't need to be compared to anyone. The piece is richly detailed, psychologically nuanced and philosophically provocative. Aucoin is very much his own man. (He wrote both the music and libretto.)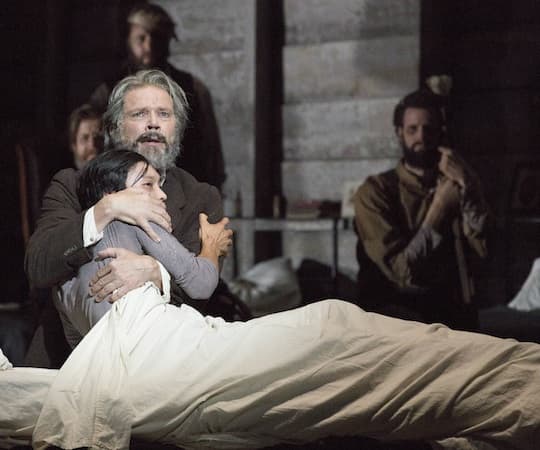 In fact, in one important regard, Aucoin couldn't be less like Bernstein, who was something of a soulmate to Whitman in terms of their determination to sing the body electric, to embrace humanity with a big kiss on the lips, to make the grand gesture.
"Crossing" (at the Shubert Theatre through June 6) casts a more skeptical eye on things. (Full disclosure: Both of Aucoin's parents are colleagues.) It calls to mind Leoš Janáček's Kafka-esque adaptation of Dostoevsky's "From the House of the Dead" as the patients in the ward (where there are no doctors) see their lives in various depressive hues. Even the moral center, Whitman, is hardly the life of the party as he's going through a midlife crisis of his own. He will eventually find a way out of this "No Exit" situation, but with no great fanfares.
Aucoin, director Diane Paulus, set designer Tom Pye and choreographer Jill Johnson work in purposefully muted tones. The scrim showing Whitman's writing is slate gray, there are no bright colors in the ward, there's very little gore, the sex scene is fully clothed, movements are slow and deliberate.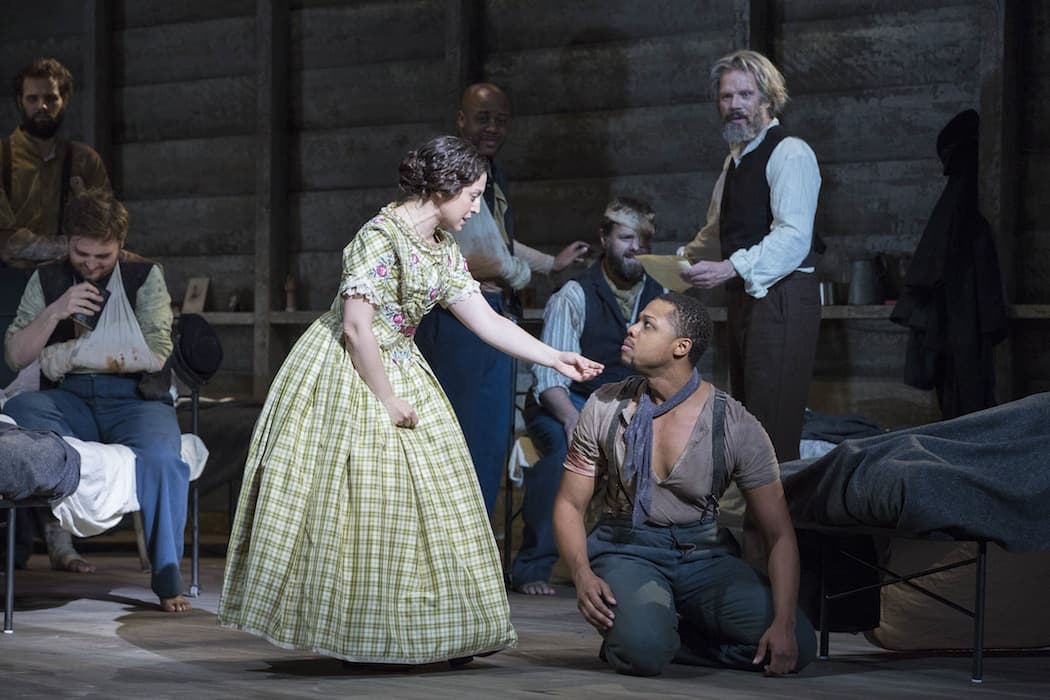 The music, too, doesn't feature big, Whitmanesque arias. They're more like lamentations, with hints of Civil War period pieces, that also reflect the world we live in. The most dramatic musical statements come from Davone Tines as an escaped slave and his vision of wars to come and Jennifer Zetlan, bringing news of the end of the war.
Rod Gilfry's Whitman locks musical horns through the 100 or so minutes with Alexander Lewis's John Wormley, a mysterious figure who looks like a vampire but, his accent tells us, might be a Southern interloper. The two are terrific singers, though Wormley has the more interesting music.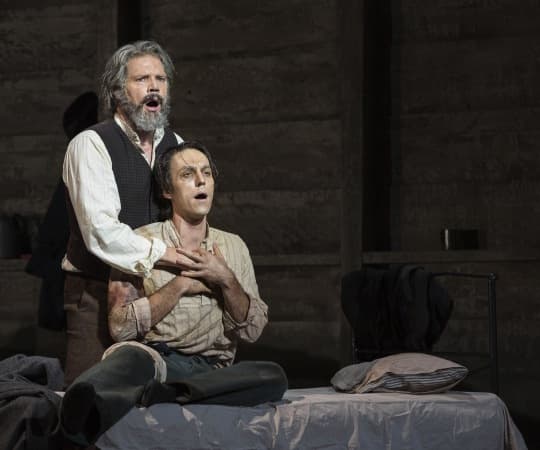 Aucoin conducts local chamber ensemble A Far Cry, who show why they've become a local institution. Much of the music recalls John Adams' "Nixon in China" and "The Death of Klinghoffer" in terms of swirling chords and charged musical dialogue. Adams, coincidentally, wrote a short music piece, "The Wound Dresser," though Aucoin's musical and philosophical takes are more involving. At its most interesting, "Crossing" is reminiscent of another composer Aucoin has worked with, Thomas Adés.
Musically, there are hints of spirituals in the escaped slave's singing while occasional drum rolls underscore the drama and nod to American musical history. But this is no paean to American exceptionalism or any kind of iconography for Whitman. Wormley adds to Whitman's woes by planting the seeds that the poet is hanging around so that he can play God to these forlorn figures. There's also, possibly, a nod to the Catholic abuse scandals, with Wormley noting that perhaps the young boys are easy prey for Whitman's burgeoning homosexuality.
As Holst-like thunder announces the final scene, it seems that Whitman at last is going to get his great aria, but its all-embracing message is handed off to the fine ensemble instead.
It seems as if Aucoin is trying to get us to pay attention to the words rather than the man, who never quite lived up to those ideals. Forget that hippie Santa Claus, he seems to be saying, and remember the poet, instead. And remember the horrors that shaped him into one of America's great humanists.
Ed Siegel is editor and critic at large for The ARTery.