Commentary: Super PACs For Back-Of-The-Pack GOP Presidential Candidates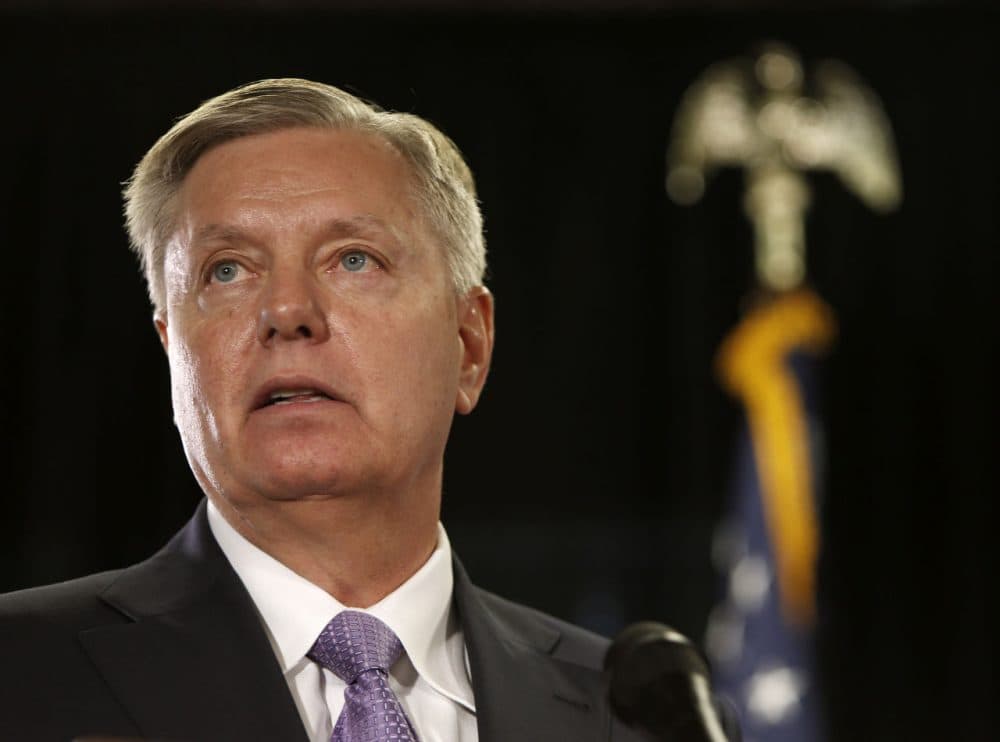 This article is more than 5 years old.
In the last writing, I looked at the super PACs for a cluster of front-running Republican presidential candidates, measured by a new Quinnipiac University poll. They were in a five-way tie for first place, each with 10 percent; they were Jeb Bush, Ben Carson, Mike Huckabee, Marco Rubio and Scott Walker.  Let's turn our attention to the rest.
A super PAC is a political action committee that is allowed to raise and spend unlimited amounts of money from corporations, unions, individuals and associations. The only important restriction is that a super PAC may not coordinate with the candidate it is supporting. As you'll see, this is a very loosely enforced prohibition.
Kentucky Sen. Rand Paul's America's Liberty PAC is run by Jesse Benton, a longtime Paul strategist who married into the family. The super PAC showed only $350,000 as of its filing on April 6. Having trashed Wall Street, Paul hopes to raise big money among civil libertarians in California's Silicon Valley. PayPal co-founder Peter Thiel and Napster's billionaire co-founder, Sean Parker, are targets. Thiel, a Facebook investor and board member, contributed $2.6 million in 2012 to Rand Paul's father Ron's super PAC. Rand's super PAC has already made a five-figure digital ad buy that belittles Texas Sen. Ted Cruz as "a capitulating Canadian." Cruz was born in Calgary.
For his part, Cruz has three Keep the Promise super PACs, which combined have raised $37 million. Hedge-fund billionaire Robert Mercer appears to be the sole donor to one of Cruz's PACs. Mercer was a top donor in 2012 to American Crossroads (Karl Rove's super PAC), a Romney super PAC and Club for Growth Action, which spent $16.6 million on ads to help favored Republicans. In 2014 campaigns, Mercer gave $9.2 million to 13 different conservative super PACs, including $2.5 million to the Freedom Partners Action Fund, aligned with the Koch Brothers' network.
New Jersey Gov. Chris Christie's super PAC, called America Leads, is run by Phil Cox, Christie's man at the Republican Governors Association. Ken Langone, cofounder of Home Depot, worth more than $2.5 billion, is said to be pressing Christie to enter the presidential race. He calls himself a "one-trick pony," since he's Christie's sole big donor.
The super PAC for Carly Fiorina, ousted CEO from Hewlett Packard, is called Carly for America, a violation of the federal regulation that prohibits using the candidate's name in the title of a super PAC. Her PAC is run by Stephen DeMaura, a former strategist when she lost big to Barbara Boxer in a California Senate race in 2010. DeMaura recently served as political director of Forina's Unlocking Potential project, which tries to recruit more women candidates and voters to the Republican Party. DeMaura previously ran the New Hampshire Republican Party. Prior donors to Fiorina's campaign and Unlocking Potential project include assorted oil barons, such as T. Boone Pickens, owners of an offshore oil and gas drilling corporation, a climate change-denying coal company principal and a host of Wall Street bankers, hedge fund operators and deep-pocketed financial types.
The super PAC for John Kasich, the Ohio governor and a not-yet-declared candidate, has boasted its hiring of an over-the-top video producer. New Day for America has Fred Davis of Los Angeles ready to cause a stir, which he usually does. His most famous TV spot may be his "Demon Sheep" ad done for Fiorina against a Senate primary opponent whom she characterized as "a wolf in sheep's clothing" on taxes. She won the primary but lost to incumbent Barbara Boxer. Davis produced presidential candidate John McCain's anti-Obama spot featuring scenes of Paris Hilton and Britney Spears. He lost. Another Davis spot for Christine O'Donnell, a Delaware Senate candidate, was famous when she declared in Davis-made TV spot, "I'm not a witch." She had previously said on national TV: "I dabbled into witchcraft — I never joined a coven. But I did, I did. I dabbled into witchcraft." She lost, but you knew that.
https://www.youtube.com/watch?v=rKWlOxhSIKk
Rick Perry, former governor of Texas, has a super PAC called Opportunity and Freedom PAC; it's run by Austin Barbour, brother of longtime Perry adviser and nephew of Haley Barbour, the former Mississippi governor and former chair of the Republican National Party. The PAC has bought nearly $170,000 worth of ads in Iowa stressing Perry's humble roots. Nevertheless, The Washington Post reported that the Rick PAC Advisory Board "features bigwigs in California, New York, Florida, Illinois and other donor-rich states, as well as more than a dozen donors who made five- or six-figure contributions in 2012." Five members of Perry's advisory board contributed to Cruz's presidential campaign in late March, the National Journal learned. Perry backers include the former top executive of AIG, the CEO of a Los Angeles private equity firm, a San Diego property investor and media executive, a major cosmetics chief executive and chief of a major coal mining concern. Perry, like Clark Kent, has taken to wearing thick-framed eyeglasses; in Perry's case he hopes to disguise himself from his most embarrassing presidential moment in 2012 in a key debate, when he forgot one of three Cabinet departments he said he'd abolish.
Lindsey Graham, three-term senator from South Carolina, has been an outspoken critic of super PACs. "You may want to just wear logos if you're running for president: 'sponsored by so-and-so.' I mean, it's going to get to be like NASCAR where everybody should put logos on your suit." Graham now has his own logo, the Security Through Strength PAC, set up by a top staffer in his Senate office, along with a longtime Graham fundraiser. In previous campaigns Graham enjoyed backing from Las Vegas casino baron Sheldon Adelson, as well as a New York hedge fund operator and a founder of a New York venture capital firm. In his 2014 Senate reelection, a different super PAC of his received $250,000 from former New York City Mayor Michael Bloomberg, plus hundreds of thousands of dollars from a Colorado home builder, and a former ambassador under President George W. Bush. In Congress, Graham has pushed to ban online gambling, which would surely please casino magnate Adelson.
Louisiana Gov. Bobby Jindal, though not a declared candidate, is the beneficiary of a recently formed Believe Again PAC, according to a letter signed by former Louisiana Congressman and PAC chairman Bob Livingston. According to the New Orleans Times-Picayune, "A nonprofit called 'America Next' is also in the mix...set up to promote Jindal's public policy agenda." Funds to America Next are not allowed to be spent on Jindal's presidential campaign. Still, the PAC has refused to disclose the names of its contributors, (which is legal). In a single day in 2012, Jindal's gubernatorial campaign collected $95,000 in contributions from 11 Louisiana corporations and eight individuals. The Times-Picayune found that the "companies are all wholly or partially owned by Alexandria construction magnate Bryan Bossier, his family and a business partner."
Former Pennsylvania Sen. Rick Santorum's aides and supporters are forming a yet-to-be named super PAC that will launch this summer. It will include Santorum's 2012 finance director who also helped run the committee he opened after dropping out of the presidential race that year. The new super PAC is staffed by a longtime communications aide, his former chief of staff and longtime adviser, and a Senate aide. It is unclear whether the PAC has commitments from any of Santorum's most prominent donors, especially billionaire Foster Friess, a devoted Santorum follower. "He is the most wonderful human being on the face of the earth," Friess said of Santorum. He attended the launch of Santorum's 2016 presidential bid. The pioneering mutual fund manager, with a net worth of several hundred million dollars, donated $2.1 million to the Red White & Blue Fund, a super PAC that kept Santorum afloat in the final months of the 2012 primaries versus Mitt Romney.
Three-term former New York Gov. George Pataki announced his candidacy in Exeter, New Hampshire, and has formed a super PAC, We the People, Not Washington. The group has opened an office in New Hampshire, the first state to hold a primary in 2016. In his gubernatorial campaigns, Pataki has had major support from New York City real estate kingpins such as the Tishmans, and developers in the lower Manhattan/World Trade Center area. His largest donation came from Altria Corporate Services, part of tobacco giant Altria Group.
Dan Payne is a Democratic political analyst for WBUR.