'Simply Sondheim' Is The Boston Pops At Its Best
I probably began my lifelong love affair with classical music because, when I was a kid, I loved what was then called "semi-classical" music. Exactly the kind of music you might hear at a Pops concert: short, colorful, often narrative pieces or opera overtures with unforgettable tunes.
But how many times since the departure of Arthur Fiedler has the Boston Pops, "America's Orchestra," scheduled Gade's "Jealousy (Tango Tzigane)" or Tchaikovsky's "Marche Slave" or Ketelbey's "In a Persian Market"? (Actually, the latter seems never to have been performed by the Pops at all.) Instead, we get too much white-washed "symphonized" arrangements of pop or rock songs — arrangements that drain the life from that music.
But what the Pops can still do best is movie and Broadway music. Their live orchestra accompaniments to beloved films have been great successes. And this past week was one of the best Pops evenings of show tunes since their moving concert performance of "Carousel" in 2007. Called "Simply Sondheim," it's a canny musical revue assembled and arranged by Andy Einhorn and Sarna Lapine (niece of Sondheim collaborator James Lapine) devoted to Sondheim songs, mostly not the most predictable ones, and featuring Broadway luminaries and Sondheim graduates Kate Baldwin and Jason Danieley and six gifted young Tanglewood Fellows (this will be repeated at Tanglewood on June 20).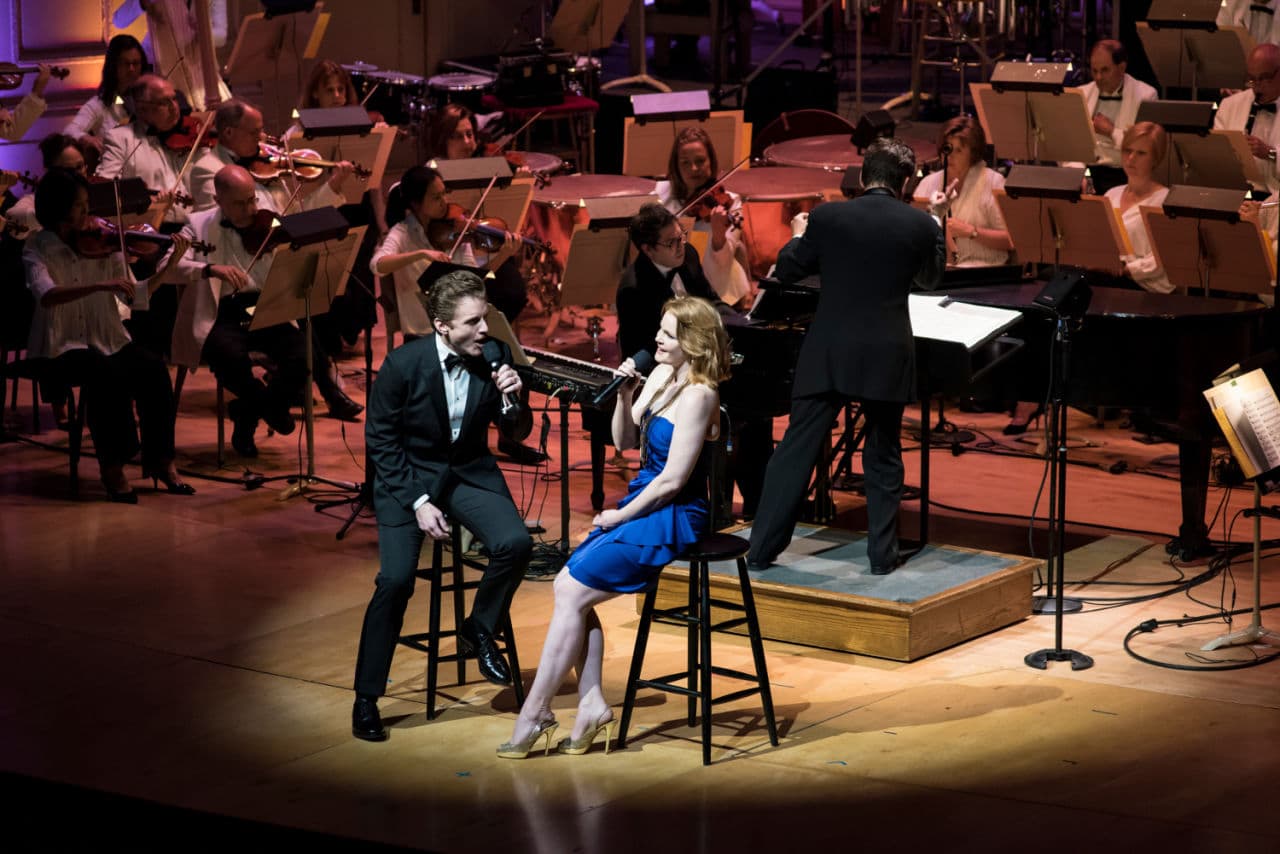 As Ms. Lapine describes it in an interview with Brian Bell on the BSO website, the inspiration for the show was Sondheim's two volumes of lyrics, from which she gathered Sondheim's commentaries on his songs and used them as the thread that tied the whole evening together. The first half consisted of earlier songs, beginning with Baldwin's touching rendition of the title song from "Anyone Can Whistle" (introduced in its short-lived Broadway run by Lee Remick), with Danieley reading Sondheim's own vehement denial that the song was autobiographical, the credo of "the prototypical Repressed Intellectual." Songs from "Company," "A Little Night Music," "Follies," "Merrily We Roll Along" and a ravishing medley combining "Pretty Lady," from "Pacific Overtures," and "Pretty Women" (sung here by the winsome Paulina Villareal and Nola Richardson), the evening's only excerpt from "Sweeney Todd."
Sondheim regards "Merrily We Roll Along" as his most personal show, in which three talented and ambitious kids start out on their path to celebrity (the story is told in reverse chronological order, actually beginning with the mess they've made of their success). "Opening Doors" pictures them at their most naïve and innocent. I was particularly amused by Tanglewood Fellow Davone Tines (who was so stirring as the runaway slave in Matthew Aucoin's opera "Crossing") playing the grumpy old song publisher who wants songs with more hummable tunes. In the second half, devoted to Sondheim's later collaborations with Lapine, Tines movingly delivered "Loving You," the song introduced by the great Donna Murphy in "Passion."
So the second half of "Simply Sondheim" includes selections from Sondheim's later work with Lapine, "Into the Woods," "Passion" and the Pulitzer Prize-winning "Sunday in the Park with George," shows in which, Sondheim admits, "that by having to express the straightforward, unembarrassed goodness of James' characters I discovered the Hammerstein in myself — and I was the better for it."
In 2008, Kate Baldwin appeared unforgettably on stage with Sondheim himself at Northeastern to demonstrate what he was saying about his own songs. Here she was a late replacement for Broadway's Marin Mazzie (Danieley's real-life wife), who "was unable to appear due to an unforeseen health issue." She sang the poignant "In Buddy's Eyes," from "Follies," and conveyed the hysteria of "Company's" Amy, the bride terrified of getting married (her diction in the rapid patter of this song was not merely impeccable but dazzling). Then she reappeared briefly in "Opening Doors" to hilarious effect as the auditioner who can't sing in tune.
She and Danieley made a rapturous duo in "Good Thing Going" and "Not a Day Goes By," the combined love songs from "Merrily" (the one harmonization I wasn't completely convinced by musically). Later, with Fellow Dimitri Katotakis, she was a groovy Jodie Foster in the imagination of John Hinckley in "Unworthy of Your Love" from "Assassins." She was also George Seurat's uncomfortable model in the title song from "Sunday in the Park" and she and Danieley both glowed in the rhapsodic love duet "Happiness" from "Passion."
Danieley, with his strong voice and complete comfort on stage, excelled in "Being Alive," the grand finale of "Company," and "Finishing the Hat," the grand summation of "Sunday in the Park." He must have regretted the absence of his wife, but his warm relationship with Baldwin didn't project that regret. Tiny Alison Wahl revealed a big voice in the medley of songs by Red Riding Hood, Cinderella and the Baker's Wife from "Into the Woods," and Jason Weisinger expertly rounded out the cast in his impressive rendition of that show's "Giants in the Sky."
The entire company joined in for the fervent almost hymn-like finale, "Sunday" (from guess which show). This was a long evening, and I assume that for reasons having more to do with time than with talent, three numbers listed in the program for the Tanglewood Fellows were cut.
Keith Lockhart and the orchestra seemed to relish this melodically and harmonically complex and infectious music. The audience certainly seemed to as well.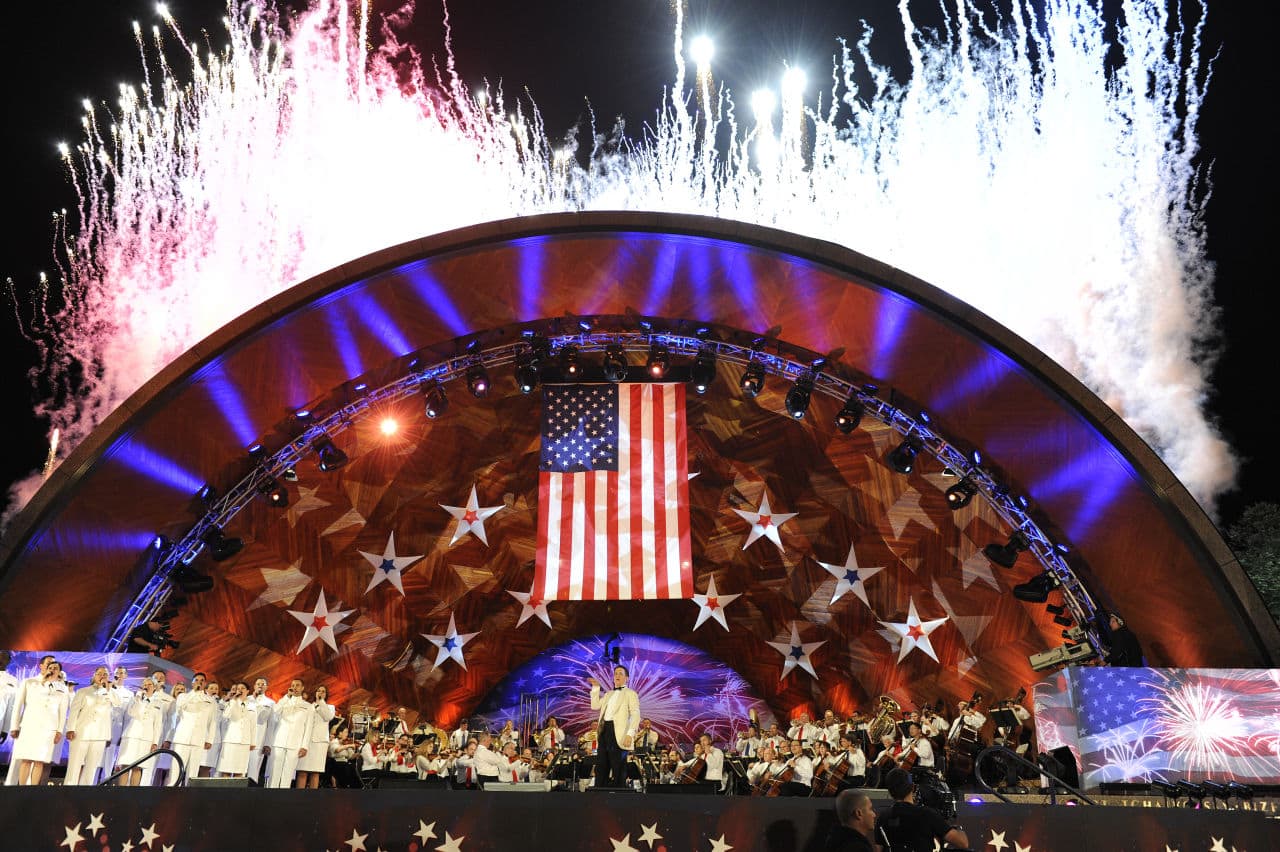 It was certainly a more musically adventurous evening than any of the July 4th "spectaculars" I've heard. But crowds in the tens — if not hundreds — of thousands will be coming to the Esplanade, both for the open rehearsal at 8:30 p.m. on July 3rd and the Big Event itself on the 4th. As of this moment, besides the Boston Crusaders Drum & Bugle Corps, no guest artists have been announced or are about to be. For those who choose not to brave the elements or the masses, the concert on the 4th will be telecast live on WBZ, Boston's Channel 4, at 8:00 p.m., and WBZ AM 1030 radio at 7:00 p.m. (fireworks begin at approximately 10:30 p.m.). The live webcast, which last year attracted more than a million viewers, will be repeated this year.
And don't tell anyone but you can have an unobstructed view of the fireworks from as far away as the Prospect Hill Monument near Union Square in Somerville.
Lloyd Schwartz is a music critic for NPR's Fresh Air and Senior Editor of Classical Music for New York Arts. Longtime Classical Music Editor of The Boston Phoenix, he was awarded the Pulitzer Prize for criticism in 1994. He is the Frederick S. Troy Professor of English at the University of Massachusetts Boston. Follow him on Twitter at @LloydSchwartz. 
Correction: An earlier version of this post misidentified "Simply Sondheim." We regret the error.