With A Growing Musical Presence, Matthew Aucoin Feels 'Like A Kid In A Candy Store'
This article is more than 7 years old.
When Matthew Aucoin says, "I feel like a kid in a candy store," you have to wonder what store he's talking about.
In this particular case, Aucoin was talking about the Peabody Essex Museum (PEM), where as composer-in-residence, he gets to "treat the concert experience like the museum experience. We did a performance of the Berg violin concerto, in the round, with the audience arranged like a pizza. One slice of audience, one slice of the orchestra, and so on. Sonically, it was overwhelming, like a rock concert."
But he could just as well be referring to the Metropolitan Opera, where Aucoin works as one of the many assistant conductors.
"There are a bunch of us, covering operas and working with singers," he says. "I've learned a lot, working on things like 'Marriage of Figaro' and 'The Nose.' But my relationship changed when [executive director] Peter Gelb saw me in rehearsal and then heard an orchestral piece of mine, and ask me to write an opera."
Or maybe Aucoin gets his candy in Chicago, where as the Solti Conducting Apprentice at the Chicago Symphony, he made his debut replacing an ailing Pierre Boulez, spends his time "learning from every movement Riccardo Muti makes," and has written a piece for Yo-Yo Ma, as well as a new opera, "Second Nature," which the Lyric Opera of Chicago will premiere in August.
Or how about his world premiere of "Crossing," an opera commissioned (and directed by) the American Repertory Theater's Diane Paulus, staged at the Shubert Theatre earlier this month. Driven by Aucoin's close reading of the life of American poet Walt Whitman, "Crossing" examined Whitman's time as a nurse in a makeshift Civil War field hospital. The reviews — there were more than a dozen, evidence of the composer's growing presence — generally favored the serious libretto and adventurous score, both by Aucoin.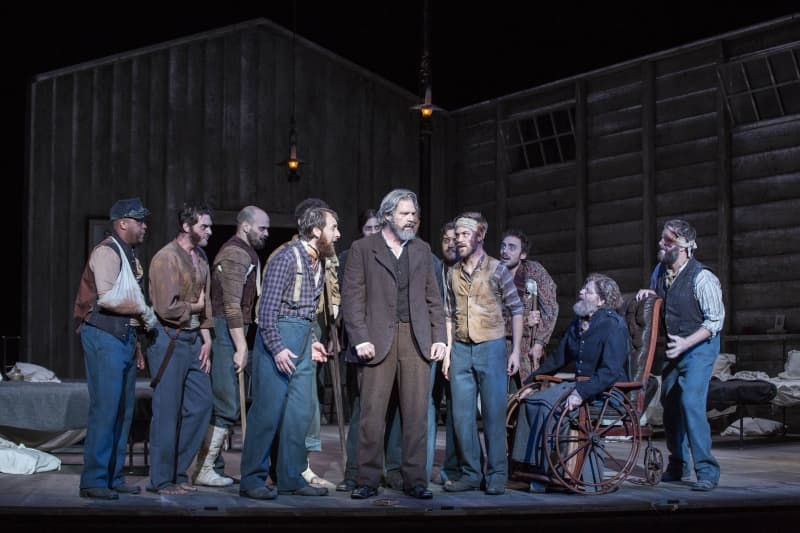 It's a lot of candy. Especially for a 25-year-old. And there's more.
Aucoin, a graduate from Medfield High School and Harvard University, with subsequent studies at Juilliard, was indeed a child prodigy, taking to piano at four and composing as well almost from the start. He also had a high school period where he played in a rock band, and circles the world of jazz as well.
His next Boston-area appearances are smaller in scale, but not smaller in ambition. A June 23 concert at the prestigious Rockport Chamber Music Festival — Aucoin is on the Rising Stars docket, a constellation he seems to have shot past already — offers an evening of his own chamber music.
Aucoin will sit at the piano, and his Harvard colleague and already longtime collaborator Keir GoGwilt (violin), countertenor Anthony Roth Costanzo, and others will join him. The program includes a selection of works inspired by German poet Paul Celan, settings that are astonishingly tender and slight. "These scores are very spare," he says, "as close to silence as you can get." Aucoin's "The Orphic Moment," a secular cantata, where the soloists are Orpheus (Costanzo) and Eurydice (GoGwilt, on violin), complements the Celan works.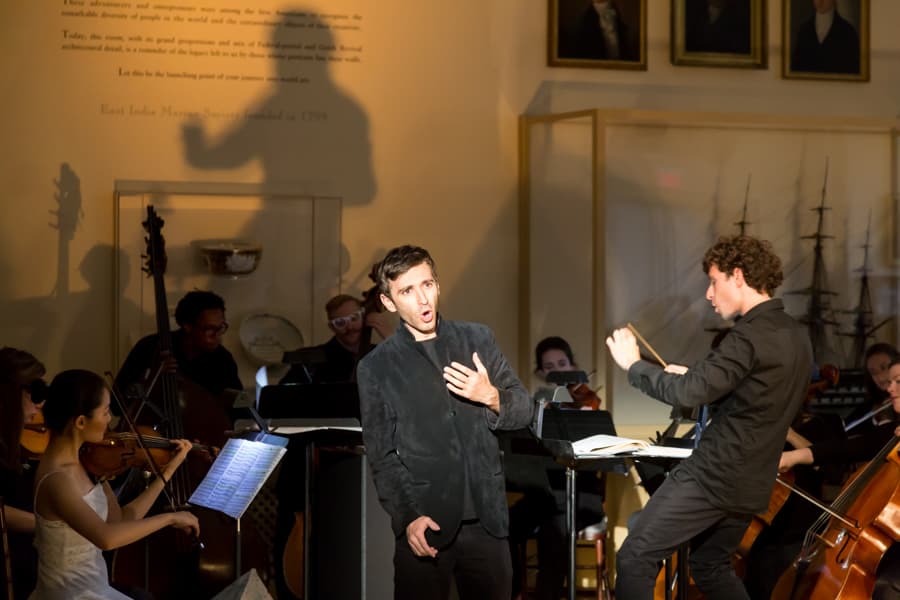 His next PEM explorations will lead audiences through the galleries for a song cycle on June 26 and 27. Bringing alternative relevance to the term "art song," Aucoin explores not only his own settings but works by Ravel, Berg and Debussy in a wandering concert through the museum.
His output is prodigious, at any age. He's benefited by his associations at Harvard, the Met Opera, in Chicago, at the Peabody Essex — that's certain. But in the end, it's an artist, working hard, with a vision of what he wants.
At the heart of Aucoin's compositional method lies the inherent fluidity of a jazz musician — improvising, swinging the beat rather than landing on it. "Every jazz musician is also a composer," he says. "My rhythmic sensibility comes from jazz. It's an implied pulse. You have to feel that pulse, but everything you hear is off the beat. You know what that beat is, but you're not playing it."
"My music demands that performers have a jazz-musician comfort level with rhythms," he says. "The pulse is constantly in flux, the ground's constantly shifting under your feet — you need to know where the 'on' beats are so you can confidently play your 'off' beats."
It sounds esoteric and slightly forbidding. But it's not jazz in the improvisational sense — that's for the composer, while he's working. The music is there, on the page, when it's time to perform.
"My music is certainly not improvised — I aim for precision in my notation and in the unfolding of large structures in time," he says. "But I do try to retain a spirit of improvisation while I'm composing."
"My harmonies come from Berg, Messiaen, Stravinsky, Adès, John Adams — everything. Put it into a blender and see what comes out."
Jazz also has an immediacy, a direct appeal, and Aucoin doesn't forget that. "I think the most important thing is that the musical language be alive — that it's capable of dynamism. In a John Adams piece, he can use the same chord for four or five minutes, but when it changes, it's seismic. My job is to look for moments like that."
"The thing I value most about jazz musicians is their spirit of independence, above all rhythmic independence. I don't believe that classical musicians are actually taught to feel rhythms. They're taught to read them, but they're rarely taught to feel them."
"I feel like I'm implying a massive conspiracy theory," he says, "as if conservatories want orchestral musicians to remain reliant on their conductors. That would be an overstatement. But there's something to it: The outdatedness of the teaching of rhythm in classical music is a holdover from the days of dictatorial conductors.
"Musicians in our time need a more independent mindset, and jazz teaches it. That requires the ability to react instantaneously in a pressurized situation," he says. "For me, that's when I'm composing, alone, instead of performing with other musicians."
For more information on performances, visit the Rockport Chamber Music Festival website and the Peabody Essex Museum website.
Keith Powers, former music critic at the Boston Herald, now freelances for a number of newspapers and magazines. Follow him on Twitter at @PowersKeith.