Rep. Joe Kennedy III Tries To Make His Own Name In The Family Business
Play
This article is more than 7 years old.
Third in a series of stories about the state's newest members of Congress
WASHINGTON — When Joe Kennedy III won a seat in Congress in 2012, he was getting in the family business. One Kennedy or another had served in elected office for more than 60 years in a row, until Rhode Island U.S. Rep. Patrick Kennedy left office in 2011.
Joe Kennedy III is the grandson of Robert F. Kennedy and the son of former Massachusetts U.S. Rep. Joe Kennedy II. But he wants to prove he's a lawmaker in his own right.
"How I've tried to approach the job is recognizing that as deserving as all of my family members are of recognition, there's obviously a lot more that needs to be done."

Rep. Joe Kennedy III
His colleagues describe him as a hard worker who keeps his head down.
And according to a study from the Lugar Center and Georgetown University's McCourt School of Public Policy, Kennedy is the the most bipartisan New England member of the House of Representatives.
Bipartisan Burpees 
Kennedy often spends his mornings exercising with a bipartisan gang of House members led by Oklahoma Republican Rep. Markwayne Mullin, a former professional mixed martial arts fighter.
"We might disagree with some little things," Mullin told the workout group on a recent morning, "but we all have something in common when we get up and we bust our butt. And that builds trust."
Mullin was leading a special outdoor workout session with members and staff for Men's Health Month. So instead of the usual indoor routine, this session was more of a cardio circuit — burpees, lunges, push-ups and sprints.
"We got four minutes, this is called sprawl and brawl," Mullin yelled out, giving directions for the final exercise as the group groaned. By this point, the 34-year-old Kennedy was audibly panting. But Mullin was still eagerly bouncing around.
"Joe is by far the biggest whine baby we've got in the whole workout group, hands down," he said teasing Kennedy.
Kennedy says Mullin's workouts are intense. But he comes to build friendships.
"It's one of the few places that you actually get to interact socially with other members that you wouldn't normally serve with," Kennedy said. "There's a number of Republicans that come on a very reliable basis that I wouldn't have gotten to know otherwise."
'It's Not Just About Good Ideas'
Fellow Massachusetts U.S. Rep. Jim McGovern says Kennedy "talks to everybody."
"He understands that to be a good legislator here it's not just about good ideas, it's about building relationships," McGovern said.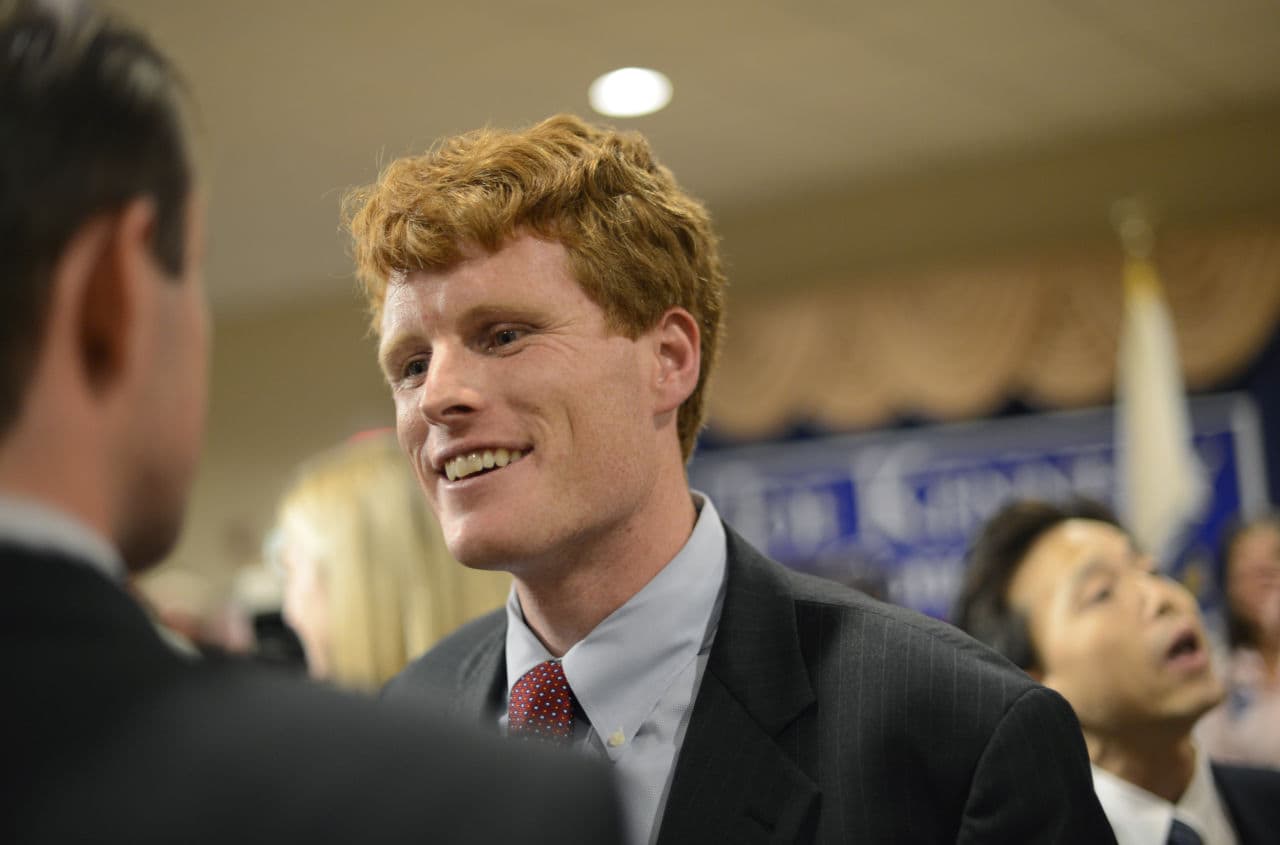 And indeed Kennedy spends a lot of time connecting with Republicans. Colleagues say he seems to understand that legislation is often about the long view.
Kennedy says he just understands the reality of being a member of the minority party.
"If you want anything to move — Republicans get to decide what legislation is brought up, when it's brought up, how it's gonna be brought up — so the only way that I can get laws passed is if I get enough Republican support and the right Republican support to convince Republican leadership to want to move the bill," Kennedy said.
Kennedy focuses on introducing legislation with Republican co-sponsors. It's more a matter of pragmatism than ideology.
"You can come up with a great piece of legislation from a Democrat's perspective that will go absolutely nowhere if Republicans don't decide that they, not only that they're willing to sign onto it, but to a large extent be willing to champion it," Kennedy said.
Kennedy spent nearly two years working with New York Republican Rep. Tom Reed on an advanced manufacturing bill that made it into law last year.
Kennedy said he initially struggled to get support, but then his staff decided to break down every congressional district across the country by manufacturing base and reached out to local employers.
With that strategy, Kennedy said he was able to go back to his colleagues and offer up letters of support from companies in their districts.
"And that actually helped convert the bill from saying, 'Hey, here's a national piece of legislation,' to this is something that folks back home want you to do," Kennedy explained.
That sort of diligence has given Kennedy a reputation in the House as a "hard worker," according to his colleague Susan Brooks. The Indiana Republican teamed up with Kennedy to sponsor opioid prevention and education legislation last month.
"You want to try and find a partner that you know will work [a bill] on the other side," Brooks said. "I knew that he would be a good worker. And you've got to have a work horse on these issues trying to bring other members, not only from his side of the aisle but from mine as well."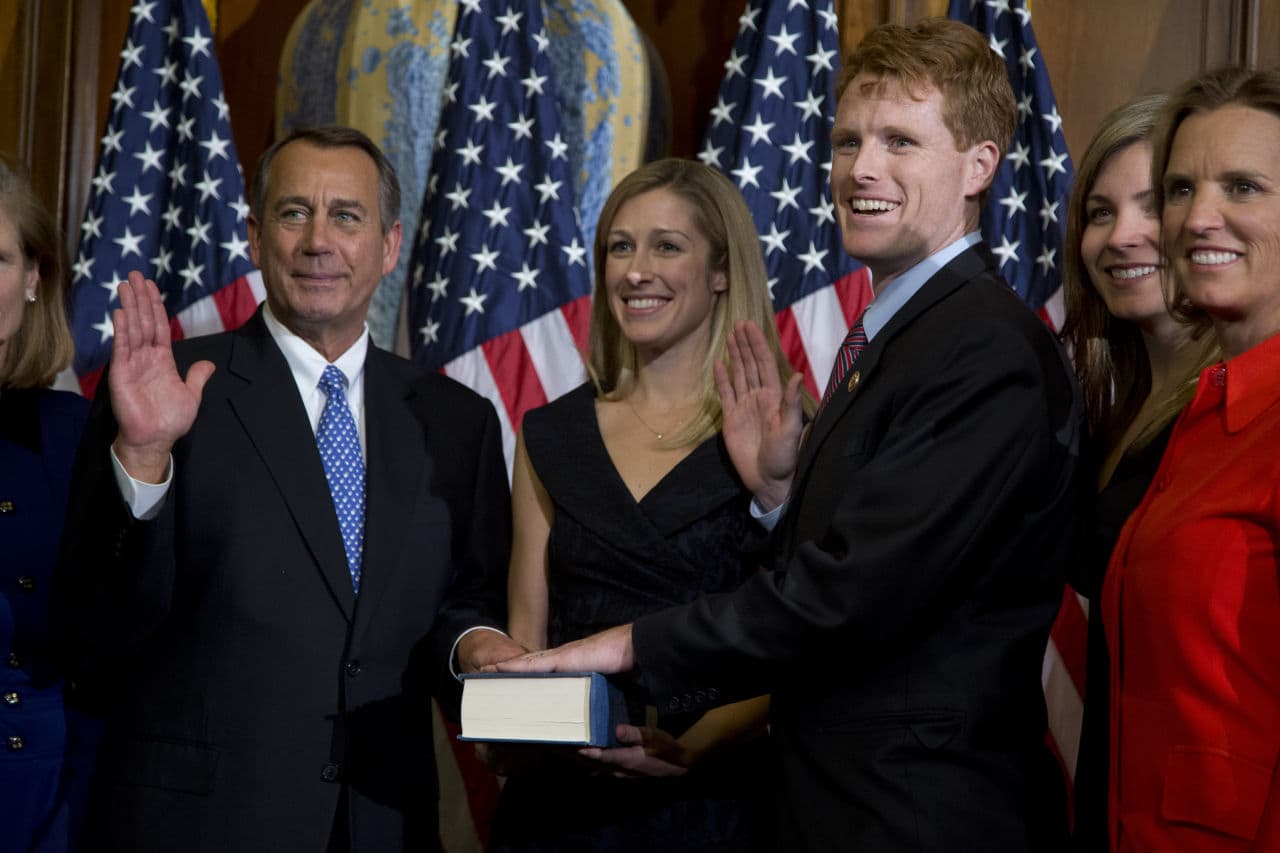 Kennedy is known as a policy wonk, a thinker who rolls up his sleeves to dive into problems.
He often drops in on his fellow members of Congress to talk shop.
On a recent afternoon, he swung by Rep. Billy Long's office.
He made some small talk with the Missouri Republican about the stuffed fish on his walls and then jumped into the real reason he was visiting: to get Long's support for a bill that would keep federal energy regulators accountable and close a bureaucratic loophole.
When Long explained that his staff had some questions about the bill, Kennedy's banter turned political — he pointed to Long's Republican colleagues who had already expressed support for the bill.
After the policy conversation, the two men chatted about their weekend plans and family.
"Thank you brother," Long said to Kennedy. "Tell your bride howdy."
A 'Penchant For Being Well-Liked'
Kennedy grew up around politics. He admits he's known the dean of the Massachusetts delegation, Rep. Richard Neal, for so long he can't actually remember the first time he met him.
Neal is a long-time friend of the Kennedy family and sees some similarities between Joe Kennedy III and and his uncle, Ted.
"I think that one of the things that Joe Kennedy emulates very carefully is Ted Kennedy's penchant for being well-liked," Neal said. "He is very well-liked and that should never be understated in legislative life."
Neal said Ted Kennedy was one of the most skilled members of the U.S. Senate he had ever seen, and like him, Joe Kennedy III understands the "inside business" of Capitol Hill.
Neal said Kennedy is charting his own path by "mastering legislative life." But even that's following in his uncle's footsteps.
And as much as Joe Kennedy III tries to be his own man, it's not always easy.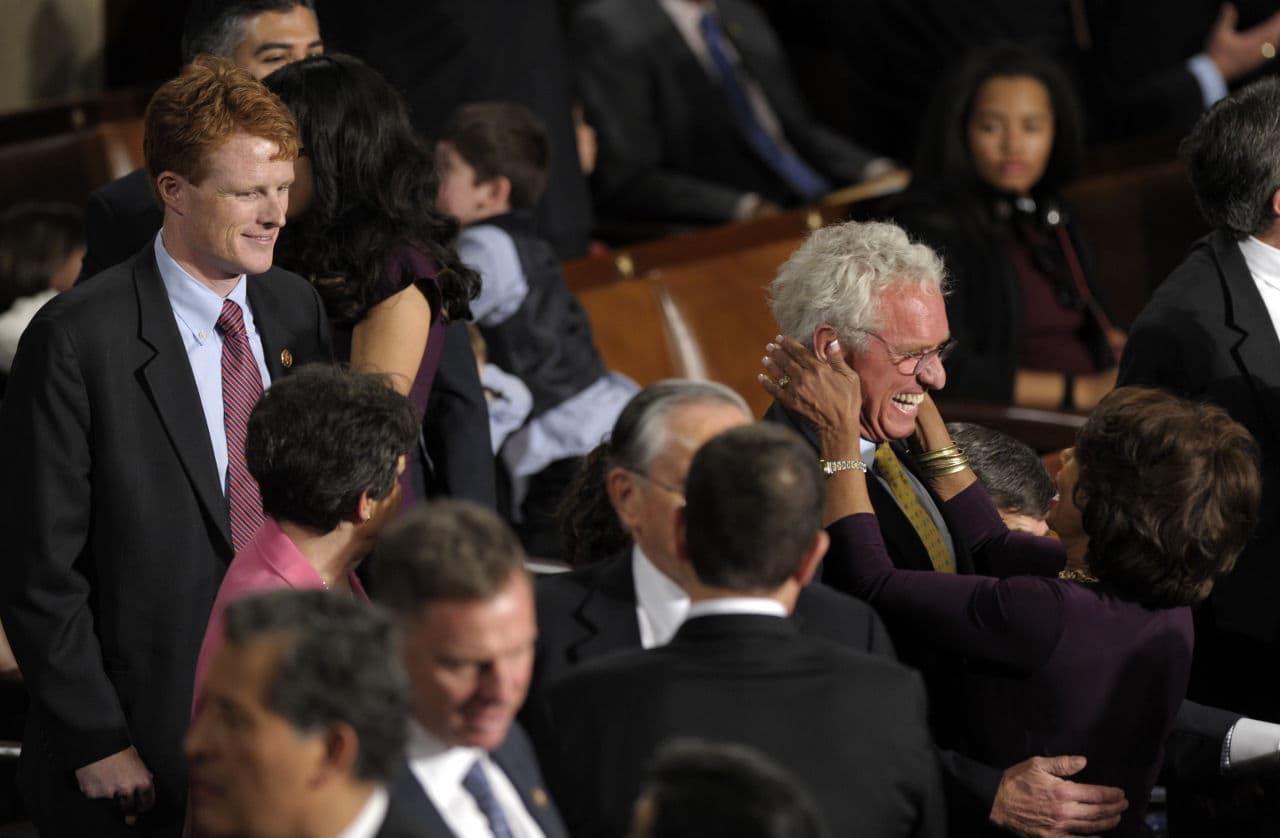 "How I've tried to approach it and approach the job is recognizing that as deserving as all of my family members are of recognition, there's obviously a lot more that needs to be done," said Kennedy, who with his bright red hair and freckles doesn't look like all the other Kennedys.
Kennedy says one of the things he's seen his family members try to do is leverage the powers of government to fix people's problems.
And, for Kennedy, if you want to fix problems, it comes down to making friends across the aisle, just like his Uncle Ted did.
This segment aired on July 9, 2015.