Rep. Seth Moulton, Iraq War Vet And Rookie Politician, Adapts To New Role In Congress
07:05
Play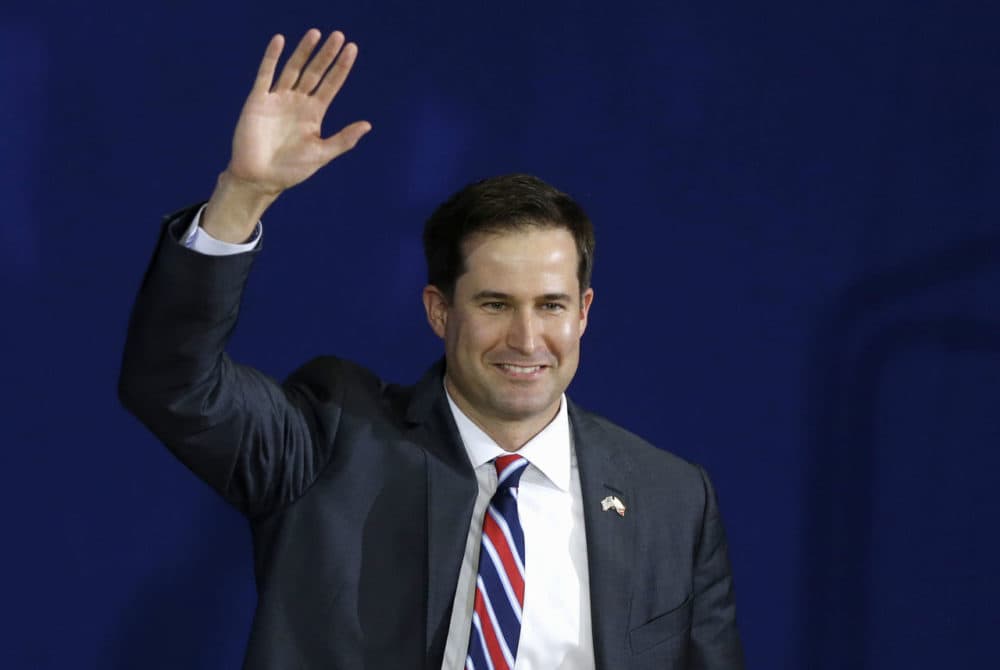 This article is more than 5 years old.
First in a series of three stories about the state's newest members of Congress
WASHINGTON — For years, Massachusetts was home to some of the most famous and experienced members of Congress. But nowadays the delegation has quite a few younger, greener faces, including Seth Moulton, who represents the state's 6th Congressional District.
Moulton, a rookie politician from the North Shore, beat the odds and defeated a Democratic incumbent to capture a seat in Congress last November. The 36-year-old Iraq War veteran campaigned on promises to shake up the status quo and bring his military expertise to Washington.
Now the Democrat is trying to keep those promises, while learning to navigate the partisan halls of Congress.
Overcoming Institutional Partisanship
On a humid summer morning in Washington, Moulton jogged to the Lincoln Memorial with Garret Graves, a Republican congressman from Louisiana.
"I think that runs are good for getting to know other members of Congress, other people," Moulton said, little beads of sweat dripping down his face. "I believe that if you want to work together professionally, it helps an awful lot to have a personal relationship."
Moulton said he doesn't agree with Graves about everything, but they've had some productive conversations about transportation infrastructure.
He said he is trying to make a habit of reaching out to Republicans.
Congress and its party politics have been a wake-up call for Moulton, who served four tours in Iraq with the Marines.
"I've been surprised by the degree of institutional partisanship, the degree to which you wouldn't even talk to Republicans," he said. "It's not that one side hates the other. It's that the institution is set up such that you just don't even get to know the other side, and especially now that there's so much pressure to rush back to our districts as soon as we're done at the end of every week to raise money, to campaign, to get re-elected."
Pressed For Time As 'Everyone Wants To Meet The New Congressman'
Moulton said he tries to squeeze in a workout about four or five times a week, but that's difficult because his new job is time consuming. Many days start before 7 a.m. and end after midnight, but still there doesn't feel like enough time.
"There are so many demands on your time that you spend a huge portion of your day saying no to things. You have to say no to 10 times more things than you can say yes to," he explained.
"We have like 400 outstanding scheduling requests," Moulton said. "Everybody wants to meet with the new congressman."
On a recent afternoon, Moulton met with a range of constituents and interest groups, ranging from Massachusetts music teachers to Blue Star Families, an advocacy group working to strengthen military families.
Moulton said sometimes he has eight or 10 of these types of meetings in a day. The visitors pile into the main lobby of his unpretentious office, which he said he hasn't gotten around to properly decorating yet.
The minimal decorations he has on display so far include two newspaper clippings: one from his hometown of Marblehead the day after his election victory, and the other is a picture of his platoon on the front page of The New York Times in 2004.
And that dichotomy kind of illustrates who Moulton is.
He's a congressman who decided to live off Capitol Hill — not with his colleagues, but instead with two buddies who are also Marines.
"I spend an awful lot of time with members of Congress every single day. And I think it's nice to get off campus a little bit," he said, laughing.
A Respected Critic, Pushing For Stronger Military Strategy
Part of Moulton's novelty as a freshman is his military experience in Iraq; he was a top aide to Gen. David Petraeus.


#TBT to my days in the Marines. Thank you to all those who serve. Happy #4thofJuly weekend. pic.twitter.com/yd9OB7VRXl
— Seth Moulton (@sethmoulton) July 2, 2015

That experience also gives Moulton an air of credibility on military issues. Moulton was appointed to the House Armed Services Committee, a position he sought. And he's become a respected critic of the current administration's tactics in Iraq and Syria.

"We need a serious strategy. And that means a long-term political and diplomatic strategy, not just a short-term military plan," he said. "The worst thing we could do is send Americans into harm's way today, to make great sacrifices, potentially lose their lives, and then find ourselves in a position five years down the road where we have to send troops back in because that's exactly what we're doing today."

Moulton said he is "very concerned" about sending ground troops into the region for short-term military gains.

"I would vote against sending any additional troops into Iraq or Syria, because we don't have a strategy," he said while walking to a hearing of the House Armed Services Committee.

Moulton said he's tried to reach out to the folks responsible for crafting a strategy, including the State Department, officials on the National Security Council, and even the Iraqi ambassador. But still, he said, the current Obama administration plan (or lack of a plan) does not give him any solace.

"I think the fundamental problem in Iraq today is broken Iraqi politics," Moulton said. "You know, ISIS didn't come in and just defeat the Iraqi Army. The Iraqi Army put their weapons down and went home because they had lost faith in their government. And until we fix Iraqi politics we're never going to have a long-term solution."

A Veteran Working For Veterans (And Hoping To Work With Them)

The other niche policy priority for Moulton is veterans' issues.

Last month he introduced his first piece of legislation, hoping to help reform the Department of Veterans Affairs.

"Our package of bills looks at the whole pipeline of talent at the VA to make sure we're recruiting the best people, we're educating them, and then we're encouraging them to keep working at the VA by helping them to repay their loans," Moulton said.

Moulton thinks his legislation is a step in the right direction, but he said the VA will need a lot more reforms.


Great crowd at Bedford for the cornerstone laying for an innovative center for homeless veterans. #mapoli #ma6 pic.twitter.com/Ta4OxeVWtE
— Seth Moulton (@sethmoulton) June 29, 2015

He's still learning protocols though, and hasn't mastered the art of legislation. He said his staff is helping.

"[The staff] is a mixture of people who understand how Capitol Hill works -- to teach me the basics of writing legislation and getting bills passed and all the details of doing the job here in Washington, but we also have some outsiders."

His chief of staff, for example, is a fellow veteran with experience at a Silicon Valley startup.

Moulton believes deeply that veterans and other public servants should be politicians — that they have a unique outlook that might help Congress move beyond gridlock.

And he's not shy about doling out that advice. He recently told a group of young veterans and policy leaders at the Truman National Security Project in Washington essentially the same message.

"We all should thank you for your service, but I hope that some of you will also consider serving again, because I want to work with you, I want to have you as colleagues," he told the crowd. "I don't want to be the only guy for very long."

The group of young veterans and policy wonks clapped enthusiastically.
This segment aired on July 7, 2015.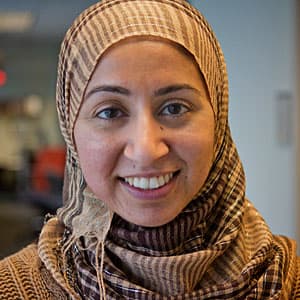 Asma Khalid Reporter
Asma Khalid formerly led WBUR's BostonomiX, a biz/tech team covering the innovation economy.