Protesters Face Off Peacefully In Boston Over Dominican Republic's Proposed Deportation Of Haitians
Resume
Members of two of Boston's largest immigrant communities faced off peacefully at Park Plaza Thursday afternoon.
Some 140 Haitian-Americans and their supporters marched from City Hall to protest the Dominican Republic's plans to deport tens of thousands of Haitians born in the Dominican after 1929, but stripped of their citizenship by the country's high court two years ago.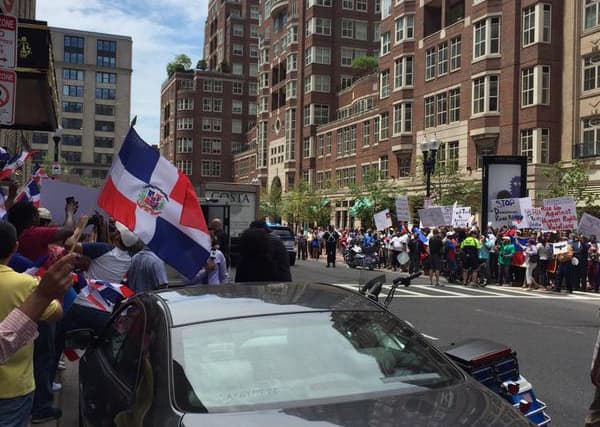 Across the street, in front of the Dominican consulate, Dominican immigrants defended their country's plan.
Among the protesters was Haitian-American Massachusetts state Sen. Linda Dorcena Forry, of Dorchester.
"To take an arbitrary date as 1929, and say that you're going to look at people that have been there for generations, over 80 years, they are Dominicans. They speak Spanish. They go to school in Dominican Republic," she said. "But because they have Haitian ancestry, you want to now regard them as stateless and denaturalize them? And that's what we're saying, that it does not make sense that this would happen for this population."
When the protesters got to Park Plaza, they were met by Dominican immigrants standing in front of the building that houses the Dominican consulate.
Police quickly separated the two groups, and made them protest on opposite sides of the street.
A woman who said she was from the building where the consulate is located demanded that police remove the Dominican protesters so her tenants could get into the building.
"Why can't they be arrested? Why can't they be moved? I'm going to start pushing them out of here," she said. "My poor tenants. You are all idiots. You don't understand anything."
The woman would not identify herself.
Eventually police did move the Dominican protesters away from the door. Among those protesters was Juan Mendez, of Jamaica Plain.
"They are very welcome to the Dominican Republic. But what we wanted them to do is legalize their status in the Dominican Republic. That's all we expect from them," Mendez said. "And we give it 18 months to get legal in the country. We provide everything for free. The Dominican government provide every service and every documentation for free."
At one point, Dominican vice consul Michael Figuereo came out. He said that in the past year, most Haitian immigrants have managed to obtain legal residence in the Dominican Republic.
"We legalized about half a million, 500,000 people over there. We provide them with their real documents," he said. "The rest, in the near future, they must leave."
Police managed to keep the two groups apart, and eventually, the protesters dispersed.
This segment aired on July 9, 2015.