In Dorchester's Harambee Park, Olympic Bid Failure Seen As Missed Opportunity
Resume
The end of Boston's bid to host the 2024 Olympics has been a relief for some. But in Dorchester, at the site of the historic Sportsmen's Tennis & Enrichment Center, there was plenty of disappointment Tuesday over what could have been at the potential Summer Olympic venue.
In June, the center was tapped to be the site of Olympic tennis if Boston was selected by the International Olympic Committee to host the 2024 games. Built in 1961, the center was the first nonprofit African-American-owned tennis club in the country. It's located in Harambee Park, just south of the larger Franklin Park and off of Blue Hill Avenue.
'What? Already?'
On Tuesday, the center was abuzz with dozens of kids socializing after lunch and before their afternoon tennis sessions. Outside, some kids hit tennis balls back and forth with their coaches under the blazing heat.
For many people in the area, the loss of the bid was seen as a missed opportunity that could have given the neighborhood a major boost.
"This would have allowed people in our own community to see the very best tennis players in the world here on their courts competing," said Toni Wiley, Sportsmen's executive director. "It would have been nice for the [neighborhood] of Dorchester overall to have such a positive event taking place here to shine a really positive light on the city."
In Wiley's office, a small stack of posters that read "I believe in Boston 2024" was splayed across her table. She said she felt the Olympics conversation in Boston ended prematurely.
"I think it's disappointing that we didn't take the time to fully investigate whether or not we would have been able to do this successfully," Wiley said. "I can certainly appreciate the U.S. Olympic Committee needed the time to makes its decision properly before September 15, but ... it was a little surprising that there was suddenly a need to make a firm decision on something on July 27."
Mary Monteiro, a tennis instructor, said she thought the Olympics would have helped brings jobs to Dorchester.
She also said she hoped to have more time to dive into the bid. "I just heard this morning that it was through and I'm like, 'What? Already?' " she said. "I thought we'd see some more things and more of the mayor and politicians speaking more about it before it was a done deal."
Bid organizers Boston 2024 planned to have a permanent 2,500-seat tennis stadium and two temporary stadiums built at the site. The plan would have also brought other upgrades and improvements to the center's seven outdoor courts. Wiley said the permanent stadium would have allowed the center to host professional tennis teams and college matches after the Olympics. She said the games would have provided the opportunity to explore bringing those major improvements to the center.
"None of those plans were in our short- or long-term plans prior to the Olympics and prior to Boston 2024 coming to us to have a conversation," she said.
Here is a GIF showing renderings of what Harambee Park would have looked like before and after the Olympics if Boston was selected to host the games: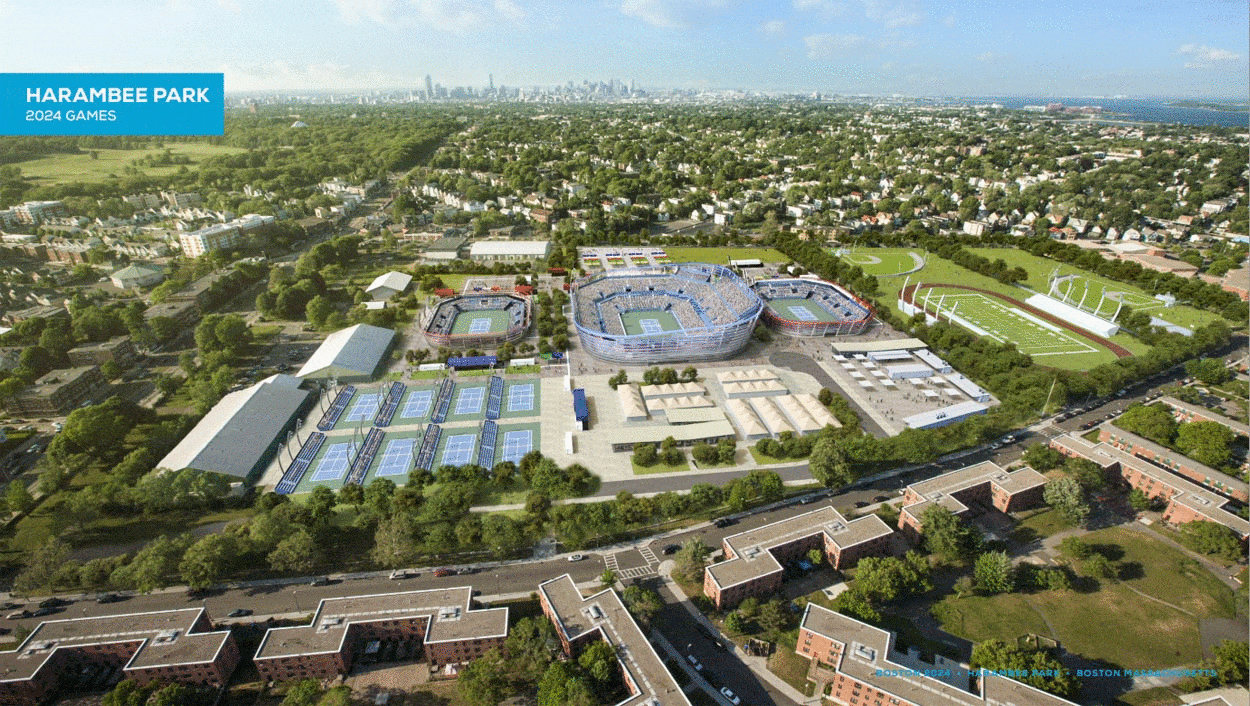 Wiley said there are no current plans to build a stadium court at this time, or undertake any major construction projects. The center just added a wellness center and new classrooms, thanks to a $1 million investment, Wiley said. And they are discussing putting lights on the outdoor courts.
Like Wiley, Mark-Anthony Kenney, a tennis coach at the center, said the Olympics would have allowed people across the city to see what Dorchester has to offer. The 20-year-old grew up taking tennis lessons at Sportsmen's beginning at the age of 4.
"At first I thought it was a bad idea only because I think Boston is so small and it would just be overwhelming for the city," Kenney said. "But it was growing on me and it was definitely more attractive that the tennis center ... would be the site for the Olympic tennis program."
Kenney said the kids he works with were very excited about the Olympics. He said he hopes the city can tap into that enthusiasm and help youth in the neighborhood.
"We deal with a lot of violence here and I feel like the only positive things that are said about Dorchester are in regards to old celebrities who have passed through or grew up here like Mark Wahlberg or some R&B singers from back in the '90s," he said. "There's so much negativity in the media, so [the Olympics] would have really just set things apart and helped boost the positive energy here.
"But we'll have to do it on our own without the Olympics coming here."
Just a block up from the tennis center on Blue Hill Avenue, Junisha Dessin was folding clothes with her mother at the Laundromax laundromat. She called the end of the Olympics bid "disheartening" and said it could have inspired the community.
"I feel like the kids could find something and look at the athletes and envision themselves in that arena," the 17-year-old said. "I think that would have been great for Boston and these neighborhoods."
Dessin said she hopes Boston will get another opportunity to host the games.
At a basketball court next to the tennis center, Vincent Lampley shot hoops with his 11-year-old daughter, Mya, who has been taking tennis lessons at Sportsmen's for five years. Lampley said he understood both sides of the Olympics debate and could have gone either way on bringing the games to Boston. Still, he said he sees the failed bid as a missed opportunity to add major improvements to the tennis center.
"I feel like Sportsmen's would have made out [well], but I don't know about the whole community as a whole," he said.
His daughter said the Olympics would have been nice. When asked if she planned to go pro, Mya said, "I don't know. I'm thinking about it."
Lampley has humbler aspirations for his daughter's tennis career.
"I just want her to learn the game so that we can play it together," he said with a smile as he gazed at his daughter. "That's it. She doesn't have to be the next Serena. Although it would be nice, I'm not banking on it."
As for the center, Wiley said they are focused on another four weeks of summer camp and getting ready for afterschool tennis in the fall.
"For us it's day in, day out tennis and kids," Wiley said.
This segment aired on July 30, 2015.