Coaches At Some Liberal Arts Colleges Struggle With Low Pay
06:43
Play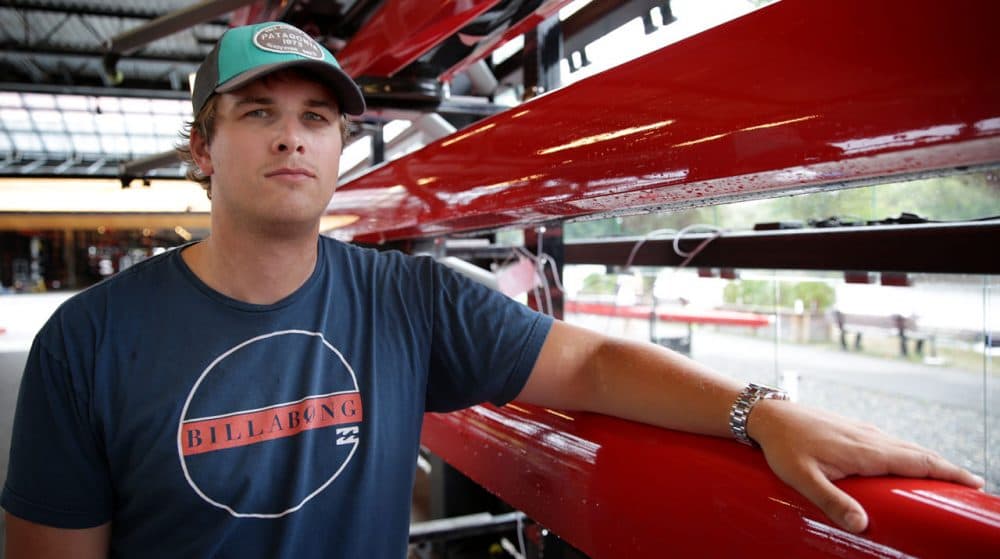 This article is more than 5 years old.
College coaches at big Division I schools can pull in big salaries.
Last year, for example, Derek Kellogg, the head coach of men's basketball at the University of Massachusetts Amherst, made $1.1 million.
But at mid-sized liberal arts colleges around New England, compensation for coaches is often a very different story.
The Colleges Value Impact Made By 'Athletics Faculty'
For varsity athletes at liberal arts colleges, their sport is an essential part of their education.
Incoming Williams College senior Logan Jester, captain of the rowing team, says without his sport, he probably would have worse grades.
"Because it gives me that structure," Jester says. "Practicing, reminding yourself to make a habit of focus. I can come out of practice, get dinner, and then get right to work and just rock through it, no problem, because I'm in that mode of focus."
Williams President Adam Falk agrees that sports are an integral part of a Williams education.
"At Williams, our coaches are considered to be members of the faculty," Falk said in a 2014 interview, while speaking generally about the cost of a Williams education. "We call them athletics faculty. About a third of our students are varsity athletes, and it's a very important part of what we do. For us, the experience that a student has on a varsity team is quite analogous to the kinds of experiences that they have in the classroom."
It's the same at other liberal arts colleges.
At Dartmouth College, Buddy Teevens, the head football coach, takes a hands-on approach with his student athletes.
"I'll have them to my home," Teevens says. "We live just down the street — one of the beauties of living in a smaller community."
Teevens says a coach who takes academics and athletics seriously can have a profound impact.
"Quite frankly, I will see more of my students than any faculty member will on campus during the next four years," he says. "A young guy, if he's a football player, we will see him almost every day for the four-year period."
Coach Salaries A Small Portion Of Budget
As important as coaches are to students, they are a bargain in a high-priced liberal arts education — a price that's exploded in recent decades.
At Williams, for example, room, board and tuition has gone up tenfold in the past 35 years (though Williams says when financial aid is included, the net cost of attending has risen at a slower rate).
Much of that increase can be attributed to rising employee compensation. According to Williams officials, overall compensation represents 60 percent of the cost of running the college. And the faculty is a big chunk of that, costing about $50 million, or one-fourth of the college's budget.
And yet Williams reports to the U.S. Department of Education that coaches' salaries cost only a little more than 1 percent of the college's budget -- the same percentage as at Amherst and Bowdoin colleges.
By running searches at this page, you can get information on all co-ed colleges' expenditures on athletics. To follow WBUR's process for your school — provided it has both men and women's varsity teams — click "Get Data For One Institution," where you'll enter the name of the college. Then, hit the "Revenues and Expenses" tab, and it will generate the total amount spent by that college on coaches' salaries, as well as the average salaries for head coaches and assistant coaches of both men's and women's teams.

To find out how much of a college's total expenditures on coaches' salaries represent, look up the college's financial statements (here are the ones for Williams, Amherst, Bowdoin and Dartmouth) and then divide the total coaches' salaries into total expenses for the schools.
At Dartmouth, coaches' salaries represent half a percent of the college's total expenditures.
Williams reports to the U.S. government that its coaches are paid much lower salaries than the rest of the faculty: $43,825 for the average men's head coach, $39,964 for the average head coach of a women's team.
Williams initially declined to release salary information.
But after publication of this story, Williams media relations director Mary Dettloff shared that information. In an email, she said the figure that Williams reports to the U.S. Department of Education "only represents what we pay them for what we categorize as 'coaching duties'. Our coaches are all faculty members as well and teach physical education courses and provide some administrative duties."
She said the average salary for all head coaches at Williams is $81,000.
Compare that to the average salaries of professors at Williams. Dettloff said, for instance, that the average full professor earns $141,000.
For Assistants, It's 'About As Full-Time A Job As It Can Get'
Assistant coaches make far less.
Williams sees itself as an entry-level school for assistant coaches, and it expects them to leave for assistant coaching jobs at bigger schools or head coaching jobs at other small colleges. Another reason: Williams defines the assistant coaching positions as part-time jobs.
But that's not how former assistant rowing coach Joe Gartland saw his job.
"During the year, it's about as full-time a job as it can get, taking from early morning until late at night," Gartland says. "You could probably skate by with a few less hours, but if you really want to be great at it, it's something that's probably going to take all of your time."
Gartland's days during racing seasons would start with a coaches' meeting in the morning and would end at 9 or 10 at night, after he'd called promising recruits on the West Coast. And really, Gartland says, the days never ended, because he did not want to limit the hours he was available to his team to talk about anything.
"We certainly touch on a wide range of topics, anything from: 'Oh, my gosh, my girlfriend just broke up with me," to 'I got this really bad grade in class' to 'I'm really struggling with rowing' to more serious stuff," he says.
Williams reports to the U.S. Department of Education that it pays the assistant coach of a men's team an average salary of $12,529 a year, and the assistant coach of a women's team an average salary of $12,751 a year.
Media relations' Dettloff refused to provide salary information for assistant coaches at Williams. (She told WBUR Williams recently raised assistant coaches' salaries, but would not say by how much.)
Gartland, who worked at Williams until this year, says he was paid $18,000 a year by the college. He survived by sharing an apartment his first year. He ate on campus. He picked up additional coaching work during the summer.
"Because just the basic base salary is not really enough to pay all your expenses," Gartland says. "I was very lucky that I have two parents that are incredibly supportive of what I'm doing, and so at 23 through 25, I was lucky enough to have a safety net where if your bank account literally reads zero, I would have someone to call, and then it wouldn't read zero anymore, and I could make certain payments."
Gartland sees a lot of turnover at Williams among assistant coaches. He believes that turnover short-changes the athletes, because the best young coaches move on to better-paying universities.
Coaches at Williams and Dartmouth say the colleges are able to pay the salaries they do because they always have a plentiful supply of passionate young coaches.
And so, while some liberal arts colleges say they prize coaching, it actually represents a very small portion of their bottom line.
Correction: An earlier version of this story and an earlier photo caption incorrectly reported Joe Gartland's pay at Williams. We regret the error.
Clarification: This story has been updated throughout to indicate that Williams' Falk spoke to WBUR in 2014, and with additional salary and college cost details provided by Williams.
Editor's Note: WBUR's Fred Thys is a Williams alumnus.
This article was originally published on August 11, 2015.
This segment aired on August 11, 2015.