Murder Binds 2 Mothers Who Now Work To Interrupt Cycle Of Violence
06:40
Play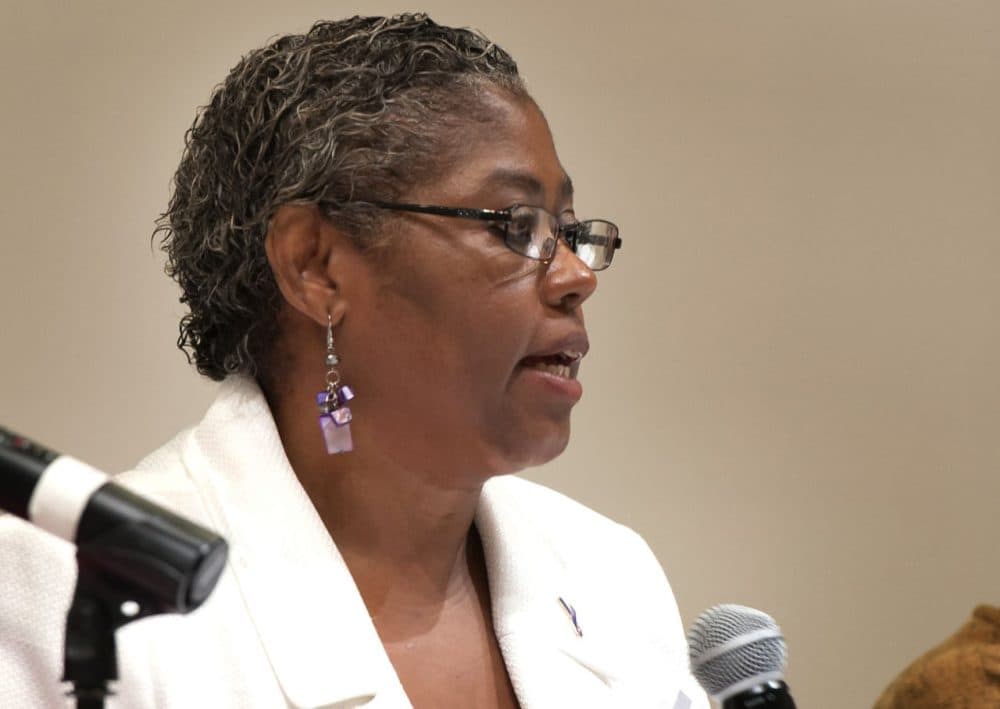 This article is more than 5 years old.
Two women in Boston are forever linked by an act of violence that occurred nearly 22 years ago on a Dorchester street. One is the mother of a teenager killed, the other is the mother of one of the gunmen that day.
They are now part of an effort trying to bring together other families connected by homicide.
Caught In The Crossfire
Tina Chéry and Doris Bogues say their lives will always be intertwined. That's because of the death of Chéry's son. Fifteen-year-old Louis Brown was shot in the head by a stray bullet — caught in the crossfire of a gang shootout. He was a straight A student and a natural leader who had told his mom that one day he'd be the nation's first black president.
The year was 1993. He was Chéry's oldest child.
"You do everything humanly possible, everything humanly possible to raise your children in the best way that you know how," says Chéry, "and then the streets are somehow stronger than you are."
It's not clear who fired the fatal shot, but just over three years later, Charles Bogues pleaded guilty to being one of the gunmen firing .45-caliber pistols that day.
"I didn't know that he was down the street that day," Doris Bogues says.
"You do everything humanly possible ... to raise your children in the best way that you know how, and then the streets are somehow stronger than you are."

Tina Chéry
She remembers coming home from work that day, talking to her son about how traffic in their neighborhood was backed up.
"When I got home I said traffic is horrible down the street. He said a young man got shot and killed down the street," Bogues says. "So I didn't know that Charles was down the street; he was supposed to be at work."
Charles Bogues agreed to plead guilty to second degree murder and received a life sentence with the possibility of parole.
The killing rocked the community. It came during a time of heightened gun violence in the city with drug wars and shootings between rivals over turf.
However, Chéry's son was not among them. He was on his way to an afternoon Christmas party for teens against gang violence when he became an unintended target of the gang shootout.
'I Woke Up' After The Killing
The horror of the shooting drew attention to the struggle to keep kids away from violence, and it mobilized Chéry into action.
Chéry began Boston's annual Mother's Day Walk for Peace and formed the Louis D. Brown Peace Institute — named after her son.
"I tell people that when Louis was killed was when I woke up," says Chéry. "If my child cannot walk down the street, then where are the street signs that say, 'No walking down the street at 3:30 in the afternoon: Gang shootout in process.' Where are the signs?"
With her son in prison, that's a question Doris Bogues was asking too. She wondered about reaching out to Chéry.
"Biggest thing was, 'I'm sorry, for all this mess.' That's what I wanted to say — that I was sorry that Charles had been there," Bogues says. "The whole thing of meeting all these different people that were helping her with her journey, I felt they were helping me too."
Ten years after the gang shootout, the two mothers agreed to meet.
"When I walked in and I saw her, I just, I fell apart and I gave her a big hug," says Bogues. "Because I felt that I owed her an apology. My son had done this and I just felt that I needed her to know who I was. I spent a lot of my life proving who I am, just making sure people know that I am not a villain, and I did the best I could. I wanted to prove that I'm not a bad person."
"I didn't know she was looking to prove, yet, that's what I saw," says Chéry. "I saw her as a mother. I saw her as me. I saw us as two mothers working hard, trying to love our children, trying to be the best that we can — and the streets won. And because of that cold December afternoon, our lives are now intertwined."
From that day, Chéry says she and Bogues have remained connected. Bogues became a volunteer at the peace institute and they've helped one another heal.
"For me, I know what it felt like to have a child be killed on the streets," says Chéry. "I did not know and did not want to know what it felt like to have a child be convicted for killing someone."
"To me, they let me know that I'm not the only person that went through this," Bogues says. "And I still felt so bad for her. I met so many people that made life easier for me mentally."
Teaching 'Healing And Reconciliation'
Now Bogues comes in to help out in the institute office as Chéry works to bring together other offenders and victims' families. It's all about healing.
The peace institute has just launched what it's calling the Intergenerational Justice Program to do just that. Chéry says they're trying to provide a safe place without blame and without shame to help people whose lives have been affected by homicide move forward.
"So that they can begin their healing and reconciliation so if they do see this person on the street it's this thirst for revenge that then comes out," says Chéry. "But it's that choice — I can either walk away and go a separate way or I have the tools to approach you and wish you well."
At one of the program's first major events, one of the speakers sitting on a panel with the two moms was Bogues' son, the man who had pleaded guilty to killing Chéry's son: Charles Bogues.
Bogues has won parole. His mother and Chéry hope he can become an example that someone can learn from and make up for serious mistakes, and can be a part of the effort to interrupt the cycle of violence.
This segment aired on August 14, 2015.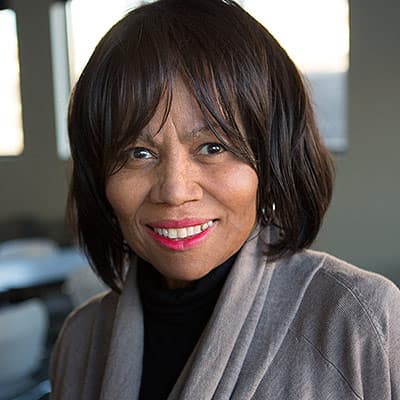 Delores Handy Reporter
Delores Handy was formerly a host and reporter at WBUR.