'Juror 83' Is First Tsarnaev Juror To Speak About Trial Experience, Death Penalty Decision
Resume
The judge in the Boston Marathon bombing trial has rejected a motion brought by The Boston Globe and joined by WBUR to publicly release the names of the trial jurors.
In a ruling Monday, the judge said the list would remain under seal while the defense seeks a motion for a new trial. The judge stated that because the defense wants to examine social media activity of trial jurors, releasing the jurors' names will enable reporters to interview the jurors and muddle the inquiry with "headlines and evening news." Neither the defense nor the prosecution have opposed the release of the jurors' names.
As the judge was issuing the decision, Kevan Fagan, "Juror 83" in the trial of Dzhokhar Tsarnaev, sat down for an interview in our studio with WBUR's Jack Lepiarz and David Boeri, who both covered the trial.
The 23-year-old became the first juror to agree to be named, to have his picture taken and to talk about the trial, though he would not discuss the jury's deliberations.
Fagan told WBUR that he may not have voted for the death penalty had he known that some bombing victims wanted Tsarnaev to get life in prison. He said he likely would have changed his vote had he been aware of opposition to the death penalty by the parents of 8-year-old Martin Richard, the youngest victim killed in the bombing.
"If I had known that, I probably — I probably would change my vote. But then again, if I knew that I wouldn't be on the jury either," he said in the interview. The jurors were ordered to avoid media coverage of the trial.
He is co-authoring a book about his experience titled "Juror 83 — The Tsarnaev Trial: 34 Days That Changed Me" that is expected to be released at the end of September.
The full interview is transcribed below.
---
Jack Lepiarz: If you could just paint a picture for us, of what was going on with you as we go into this trial [on] January 5th?
Kevan Fagan: Sure, at the time, I was still 22. I had a part-time job at Best Buy. Trying to stay up on school work and all that stuff and figuring out, like, 'alright, where am I going to go with my life?'
David Boeri: You're the closest in age to Dzhokhar Tsarnaev.
KF: That's correct.
DB: Could you relate to him in any way?
KF: Of course.
DB: How?
KF: I mean first and foremost, you know, being so close to his age I remember — or I tried to remember, how it was when I was 19, 20, 21 and the attitude that I had. You know, I was a little bit more staunch and haughty as a person, and now I'm a little bit more humble and respectful — or I try to be. So, yeah, I could totally relate to him in that regard.
DB: You're looking at him during the testimony, what do you see in his demeanor? Did that influence you?
KF: No, not any more than anything else. I saw a disheveled, pale, frail for his age, man in front of me. But that's pretty much it. It was hard to read him.
DB: In the end what was the key element that led you to decide that he should receive the death penalty?
KF: I — I, you know, thought about it obviously a lot. But he still chose even with what I think — there was influence from his brother. He still chose to leave that bomb there for about four-and-a-half minutes. So it's hard to get away from that and the damage and strife that it caused. You could try to brush it up. There's just no brushing anything like that up as much as you want to. As much as I, you know, wanted to.
DB: So you're talking about brushing things up. I mean were you trying to brush up the reasons?
KF: I did maybe a little bit, you know, especially in regards to his brother and the influence that his brother had — which I think he did. And also, you know, there was a lot of testimony from his former classmates and friends and trying to view him in the best light possible as well given the circumstances and his actions. So in that regards that's kind of my brushing up.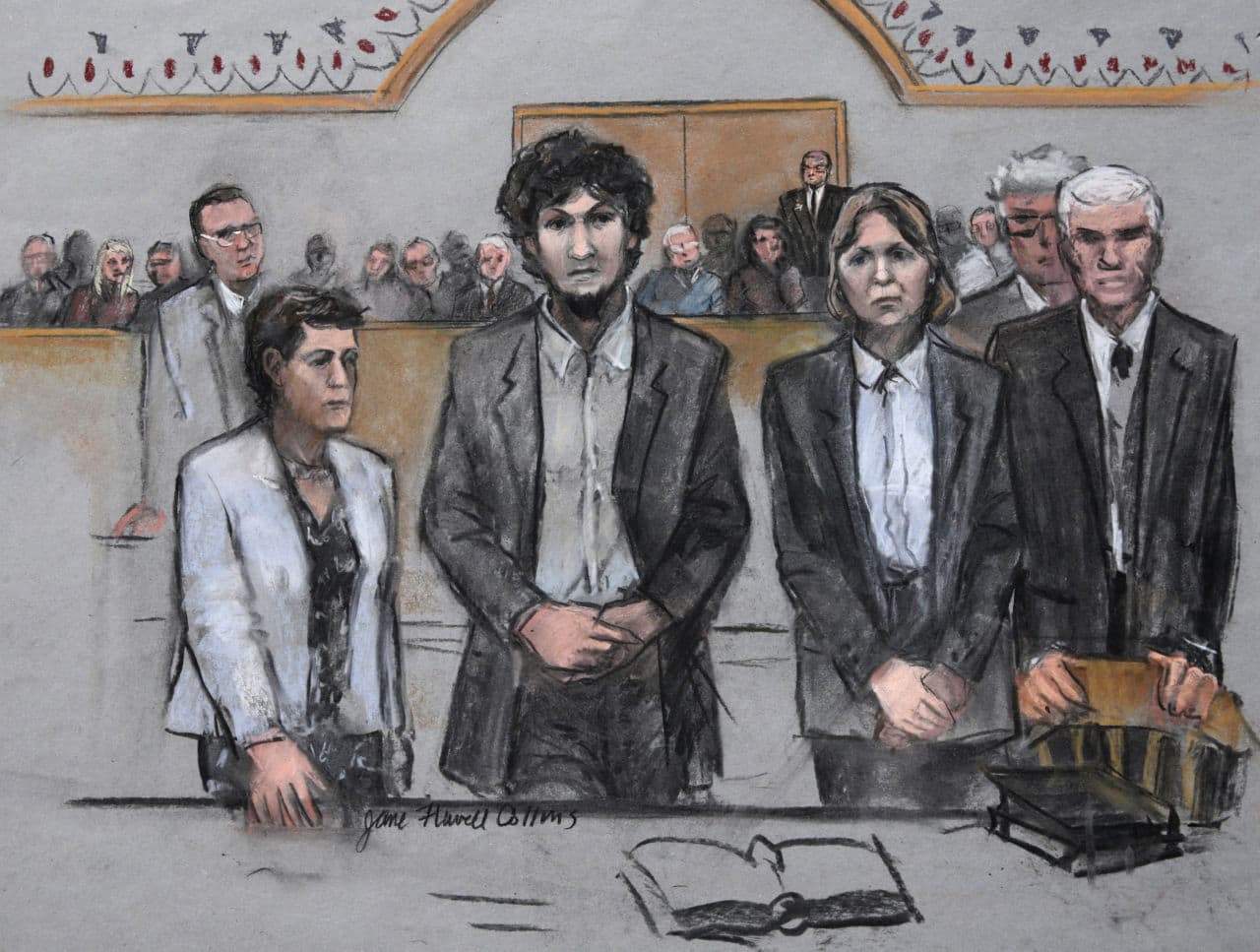 DB: What impressed you? Did you find anything persuasive in the defense case?
KF: I think it was a very hard case, and I'm not a lawyer, so I don't know if there have been harder cases to defend. I think they did the best that they could for their client.
DB: You didn't know at the time that the Richard family and other families had written to the U.S. Attorney and to the Justice Department saying they were opposed to the death penalty?
KF: Oh sure. No, I had no clue about that.
JL: If you had known that, would you have changed your vote?
KF: If I had known that, I probably — I probably would change my vote. But then again, if I knew that I wouldn't be on the jury either.
DB: What do you mean?
KF: If I went out of my way and disrespected the judge and went against his orders about researching things. That wouldn't have been very fair or judicious of me.
DB: How did you manage to stay off social media during this whole time?
KF: It was actually really easy. The only thing I use is Facebook, and I usually cater to, you know like, fitness posts, you know, humorous posts. So avoiding the trial was actually really easy. If it was on the news, my dad would turn off the news or change the channel. I didn't hide the fact, before the whole process started, with my immediate family that I was potentially on this jury, and I can't speak about it. So I didn't want to know anything about anybody's opinions or whatever. And I made that very clear with people.
DB: Do you think this trial should have been conducted somewhere else? That it would have been better off had it been conducted somewhere else? That it would have got more public confidence?
KF: You know, I don't know how the rest of the country feels about the trial, and Mr. Tsarnaev and everything that went on. Could it have? Maybe, but you know, I think anywhere people could have been exposed to what happened on that day and been somehow affected, so I think it'd be really hard to get away or find like one group of people that had no connection whatsoever to what was going on, you know. The Internet's done a great job at kind of breaking down those barriers.
DB: So you've sought counseling because of your experience as a juror?
KF: Yes. You know at first I said, 'you know, maybe I don't need it. You can just kind of process it on your own.' But talking about it does help. Getting it out in the open and trying to be a little bit more OK with it and what you saw.
DB: Was it what you heard, what you saw, what you witnessed or partly what you decided what the verdict would be?

KF: For me personally, it was definitely what I heard and what I saw, and then, of course, you know, I've never had to make a decision like that in my life. Choosing between somebody getting the death penalty and somebody getting life in prison. And I hope I never have to do something like that again.
JL: You say you're still in the process of decompression. What happens now?
KF: Well, some of the things I know I'm not going to forget. But to try and take away very emotionally jarring testimony and images and try to view it objectively and put it in some sort of perspective for myself is definitely part of that decompression. But my mind still goes back every now and then. It's not something that I'll ever forget, that's for sure.
This segment aired on August 25, 2015.