Gov. Baker Calls North-South Rail Link 'Interesting,' But Is Cautious About Costs
Play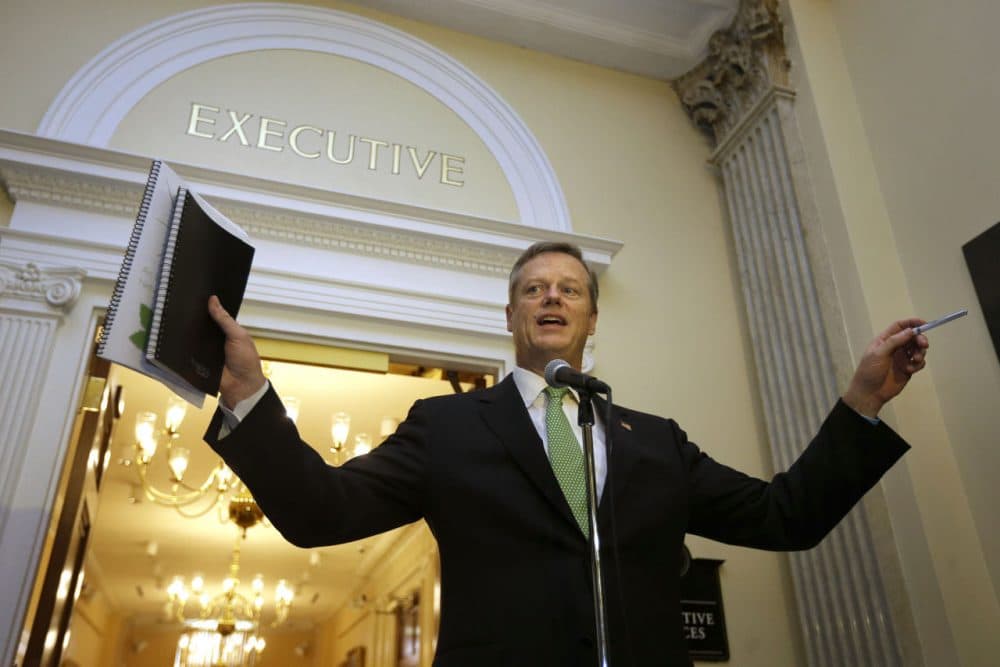 This article is more than 7 years old.
"Interesting." That's how Gov. Charlie Baker described a proposal to make train travel in and out of Boston easier, by building a tunnel between the city's North and South stations.
However, the governor is taking a cautious approach, noting that the plan — championed by former Govs. William Weld and Michael Dukakis at a private meeting Wednesday — could cost taxpayers a lot of money.
Currently, trains take half an hour to get in and out of South Station. If the trains were to travel through South Station, they could move out in minutes. An architect present in the meeting with the governors calls dead-end stations like North and South stations, conceived in the 19th century, obsolete technology.
"And what I would say is the most compelling part of the argument is the opportunity, instead of having to have big staging areas at both ends ... the most compelling part about this is the ability to run a train all the way through," Baker said to reporters after the State House meeting.
Baker likes the fact that a train link from South to North Station would allow commuters to connect to the subway in more than one place, and thus shorten their commutes.
The proposal would connect the train to the Blue Line, either at a new Aquarium train station or at a revamped North Station.
One potential benefit: less congestion on the downtown subways, because commuters could get off the train and connect directly to the line that takes them to work.
But the governor says his highest priority is to fix the MBTA.
"But obviously, in the larger context of economic development and regional planning, not just for the Boston area but for the rest of the commonwealth, this is certainly something that's worth considering as part of that," he said.
Baker does not see the tunnel as a reasonable alternative to expanding South Station, but he does not rule out pursuing both projects.
The Republican Weld slipped out without talking to reporters.
The Democrat Dukakis says new technology has reduced the cost of digging tunnels dramatically. He says this is not the Big Dig.
"And in fact, we used an older version of this technology on the Alewife extension, so it's not as if we haven't done this," Dukakis said. "And the [Massachusetts Water Resources Authority] has used this technology repeatedly on its tunnels, so we're not strangers to this."
Dukakis notes other major cities have built train tunnels. For example, Philadelphia connected its two train stations 30 years ago.
"Los Angeles, of all places, is building a downtown connector, rail underground connector, two miles, three stations, $1.4 billion," he said.
The Boston tunnel would be a mile long, two or three stations. Estimated cost: between $2 billion and $4 billion.
The two former governors gave Gov. Baker a financial analysis that projects that with savings in maintenance and added revenue from an estimated 96,000 commuters* a day, the project could pay for itself.
Correction: An earlier version of this article misreported the estimated number of daily commuters the rail link would attract. We regret the error.
This article was originally published on September 10, 2015.
This segment aired on September 10, 2015.