Cheese-Lovers, Come With Us As We Descend Into A Cambridge Shop's (Stinky) Cave
Resume
Americans love cheese. According to the USDA, we ate about 34 pounds of cheese per person last year. But how often do we think about who makes our cheese, or about its journey from France or Vermont to our crackers?
Well, some local cheese mongers are waging a campaign to raise awareness about cheese origins, cheese integrity and cheese abuse.
A Subterranean Education
About a dozen people looking to learn more about cheese arrive at Formaggio Kitchen, a specialty foods shop in Cambridge, for an after-hours class with a provocative name: "Brave the Caves."
The group is here to explore something equally provocative: the cheese cave in Formaggio's basement. Cheese caves are cool, underground rooms that are quite common in Europe.
"Often times cheese shops will have special relationships with their cheese makers, and they'll send them fresh cheeses with the idea that their shops know how to bring them to kind of perfect maximum fruition," says Christopher Vamos, Formaggio's cheese cave manager. "These are relationships that are fomented over years and years."
These days, cheese caves are pretty trendy in this country. You can find them in fine restaurants, upscale hotels and even the supermarket chain Wegmans. But when owners Ihsan and Valerie Gurdal built the one at Formaggio back in 1996, it was novel.
At the top of a stairwell in the shop's kitchen, cave manager Vamos shares stories about "cheese nerds" and "cheese personalities" clamoring to get inside the cave — including culinary legend and Cambridge resident Julia Child.
Child, then in her 80s, wasn't agile enough to descend into the subterranean room on her own. So Vamos says owner Ihsan Gurdal — a strapping former Olympic volleyball player from Turkey — stepped in.
"The story was he carried her down this mighty flight of stairs in his mighty arms," Vamos says. "We have cheese celebrities shuffling through here all the time, giving us the thumbs up."
In the basement, shelves piled with aromatic wheels crafted by international and domestic artisans line the walls. Vamos and his team are charged with watching over these living food products, almost like foster-parents.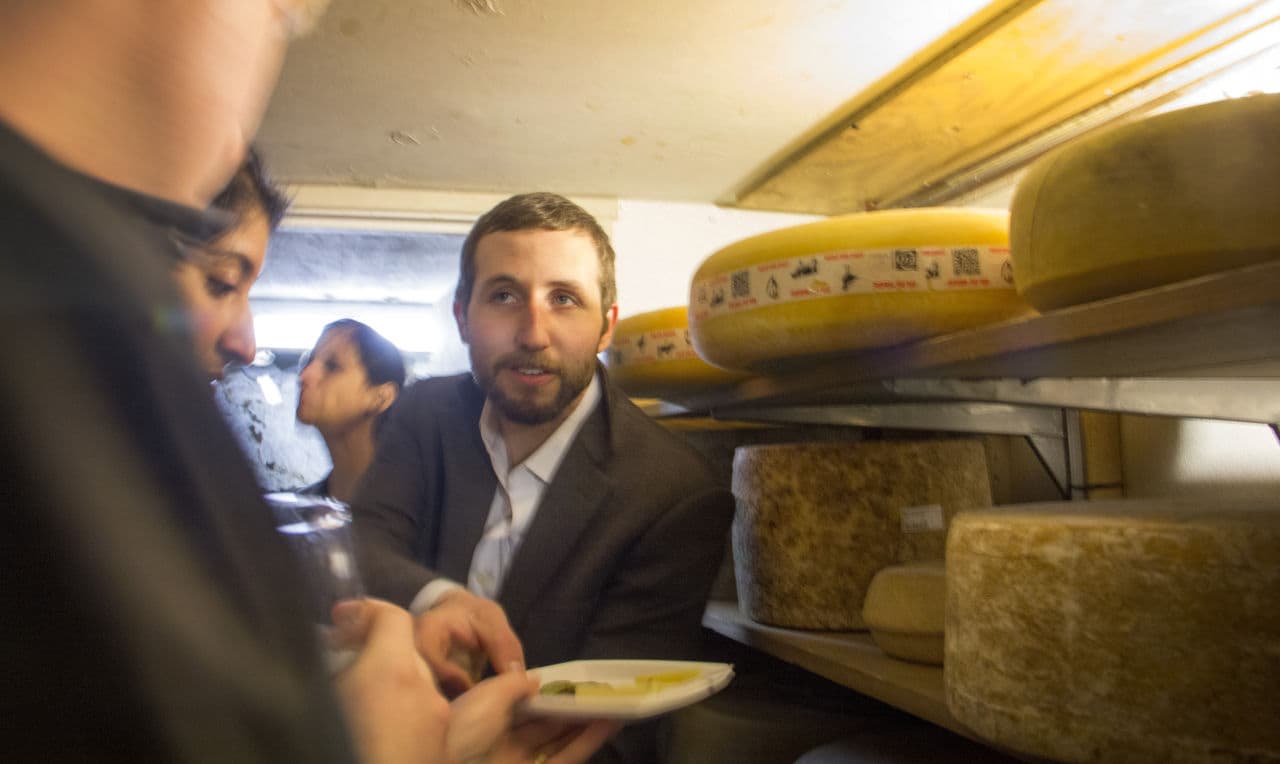 As Vamos hands out samples paired with craft beer he explains how milk is transformed into cheese over time with help from microbes — including bacteria and cheese mites (yes, mites!) — that conjure unique flavors, scents, textures and colors.
Then Vamos leads the group to an even smaller space beyond the narrow antechamber.
"In this room — which used to be my boss' old office — we keep blue cheeses, stinky cheeses, smelly cheeses and cheeses that need more moisture, " Vamos says. "They need to be a little bit warmer."
The walk-in-closet-sized chamber has sensitive temperature and humidity control systems designed to emulate a mountain cave's conditions. Vamos surveys the cheeses on the shelves and says every wheel at Formaggio has a human story behind it.
Seeing Cheese As 'A Living Food'
There's the Comté made by Marcel Petite in a World War II French military bunker. And the cheese brokered by a woman who represents shepherds in a co-op in France — she keeps one wheel for herself as payment after she sells 10. Then there's Vermont-maker Michael Lee's tale.
Lee raises and milks about 40 goats to make cheese at Twig Farm in West Cornwall, just south of Burlington. He crafts over 10,000 wheels of cheese each year and says Formaggio sells 20 to 30 percent of his product.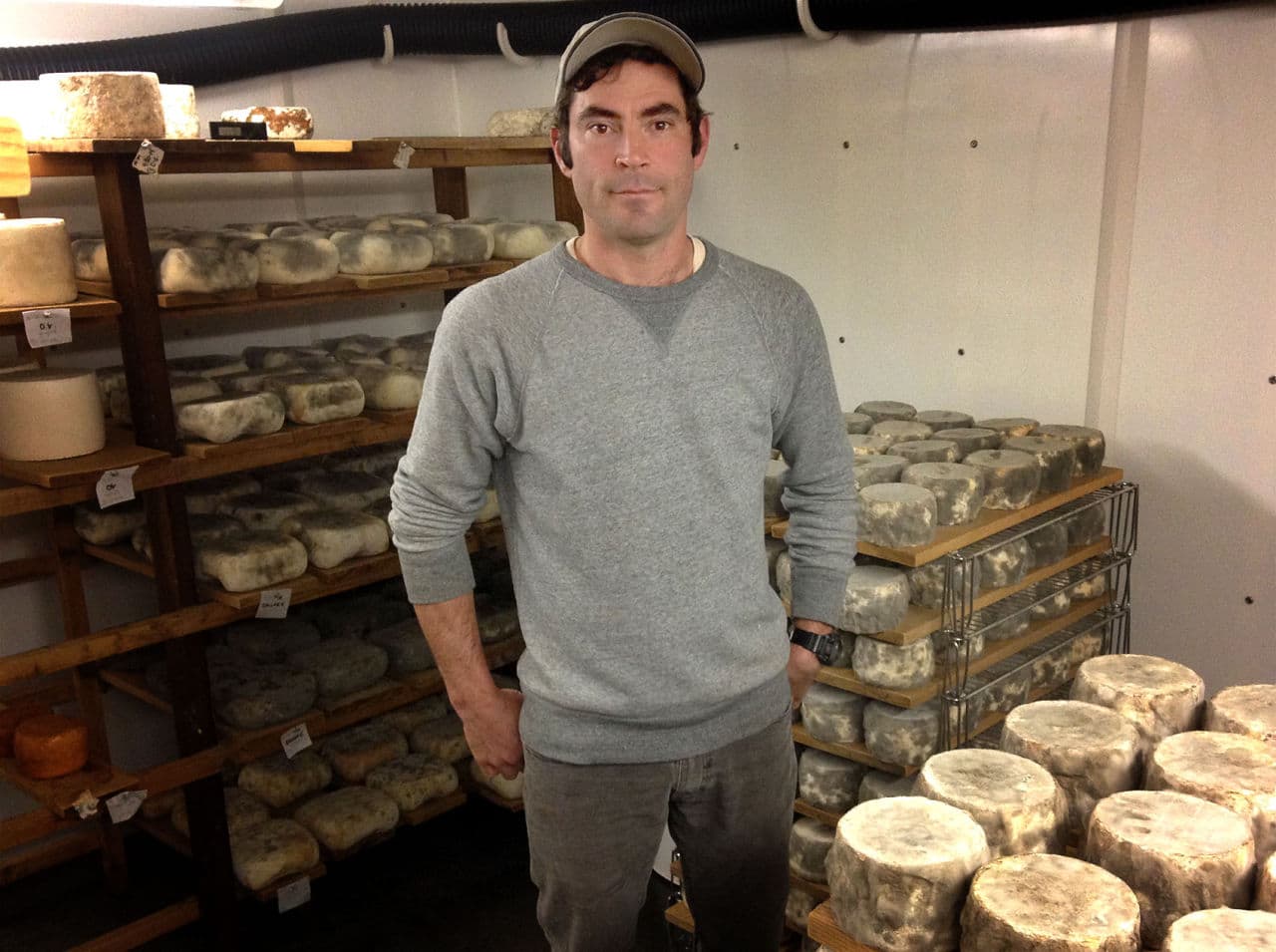 "If you look at cheese as a living food, then it would only make sense that you would want to take care of it," Lee says. "If you think of it as a commodity that is, you know, X number of calories, so much fat, so much sodium, etc., then you're going to treat it a different way entirely."
Lee recalls a horror story when his sister found cheese he made and shipped to a shop in Salt Lake City.
"If you look at cheese as a living food, then it would only make sense that you would want to take care of it."

Michael Lee, cheesemaker at Twig Farm in Vermont
"She took a picture, and I was like, 'Oh my god, what happened to that cheese?' " he recalls, with an appalled laugh. "It had suffered temperature abuse, wrong moisture conditions, too long on the shelf... everything, really. It was awful."
But Lee trusts Ihsan Gurdal at Formaggio Kitchen to treat his product with care. The cheese maker likens the cheese monger to a curator.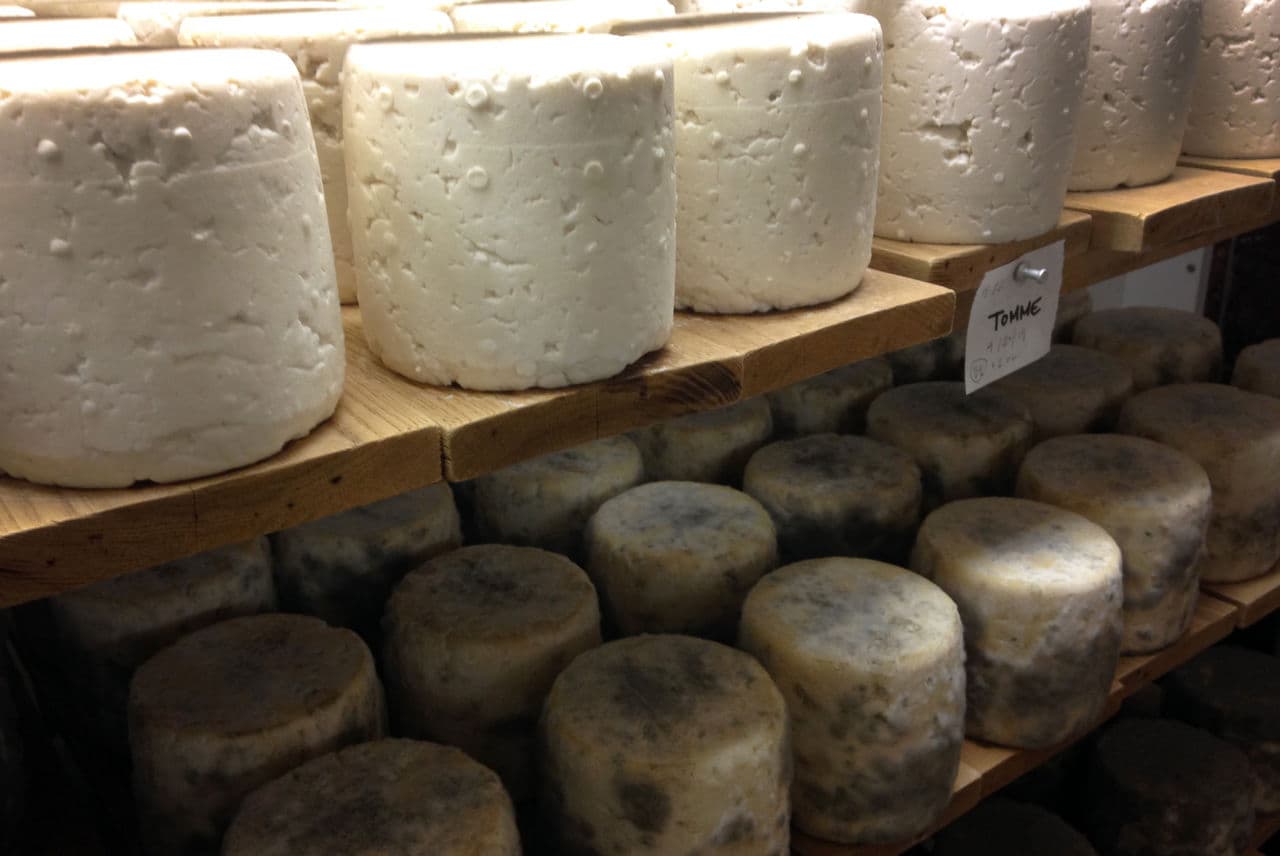 Preventing Cheese Abuse
Back in Formaggio's cheese cave, Ihsan Gurdal explains what drives his philosophy.
"I think our biggest motivation is going to the farm or going overseas and tasting a product that's just made by that farmer and getting blown away by the quality, by the complexity — and then seeing the same cheese three months later in a store almost punished," he says.
Handcrafted cheeses can get damaged in transit or storage. And it breaks Gurdal's heart to see it. He grew up in Istanbul eating cheese every day, and has been on a more-than-two-decades-long quest to prevent cheese abuse.
"What we wanted to do is find great cheeses, take good care of them, and get them to the end user — the customer upstairs — in the shape they were meant to be eaten," Gurdal says.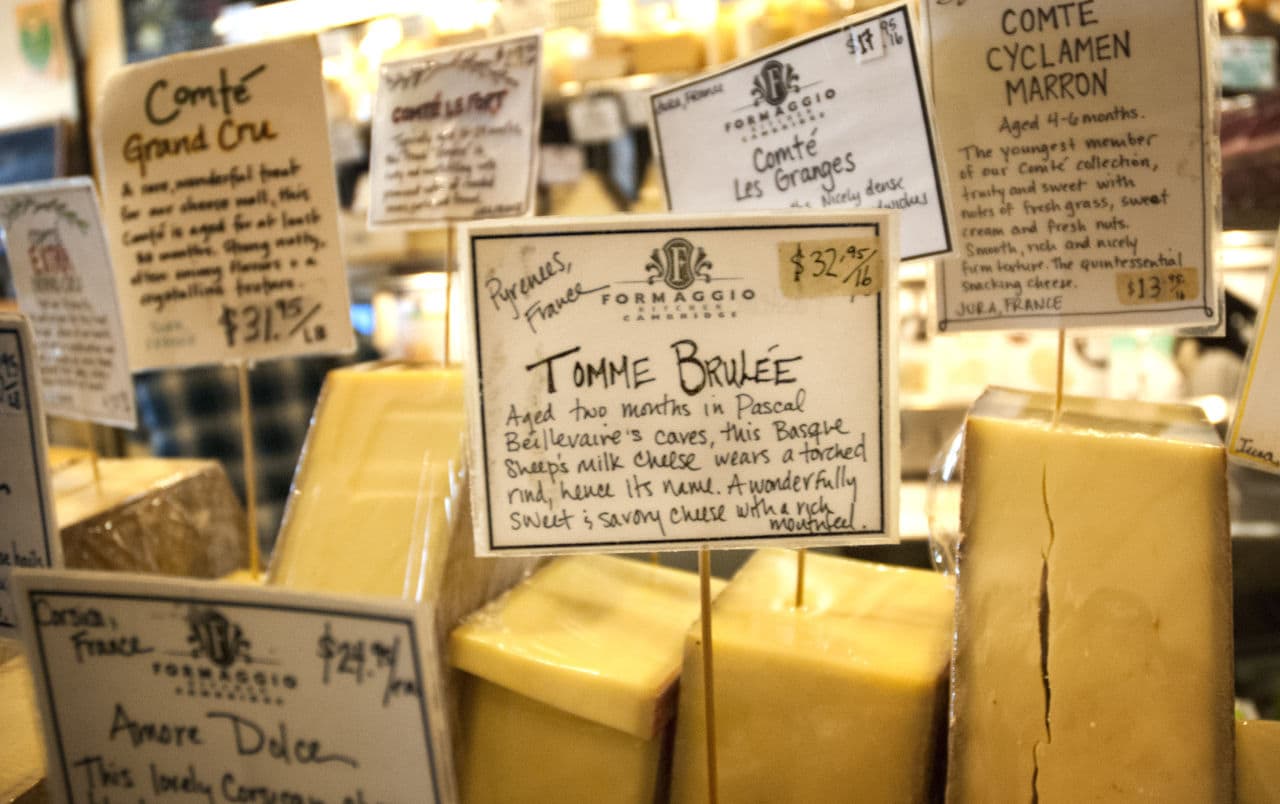 Gurdal and his team work hard to find their cheeses. He points to a dominant cheese distribution system in Paris where importers choose from a vast catalog. But Gurdal doesn't do that because he managed to infiltrate France's tightly regulated artisan market.
"Even our French cheese monger friends said, 'Good luck, they're not going to deal with you,' " Gurdal recalls. "And I don't know why, but we got really lucky and now we buy single shepherd, single shepherd, single shepherd, single shepherd," he says, patting a few wheels in the cave. "And these cheeses don't go to Paris."
Or to other stores in the U.S. either.
Constantly Finding New Things
Upstairs the amount of cheese in Formaggio's glass display is intimidating. Josh Diaz and his wife came to the "Brave the Caves" class hoping for some education and demystification.
"It felt like stepping into something you'd see in Europe 200 years ago," Diaz says, then reflects on the previous two hours. "What did we learn? My gosh — so much. I am now confident about eating the rind! I've always been very skittish about it, I mean, it tastes good, but I didn't know if this is right."
That kind of epiphany is music to the cheese monger's ears. Gurdal also leads cheese appreciation seminars, tastings and certificate programs through Boston University's food and wine program. But while the recognized cheesemeister was inducted into the French Guilde du Fromag, and also named an agricultural chevalier in that country (joining chefs such as Alice Waters and Julia Child), he says he still has a lot to learn and pass on to others, including his staff.
"We're constantly finding new things. And it's nice to see the new generation — the youngins — coming in and taking over," Gurdal says. "I don't do much ordering anymore. Or finding. They're doing it."
Even so, Gurdal still worries about lovingly made cheese not getting the respect it deserves. But the outlook is good. The USDA says more Americans are eating artisan cheese, and sales of processed cheese are down.
Correction: An earlier version of this report gave the wrong date for Formaggio's building of the cheese cave. It was built in 1996, not 1997. An earlier version also spelled Marcel Petite's name incorrectly. We regret the errors.
This article was originally published on September 29, 2015.
This segment aired on September 29, 2015.