Honk Music Fest Turns 10: 'Marching Band Culture, But It's Kind Of Twisted'
Resume
The Honk! Festival of Activist Street Bands, the annual international roundup of brass ensembles in Somerville, marks its 10th anniversary this Oct. 9 to 11. Many are activist bands that will be playing at protests this weekend, supporting higher minimum wage and immigrant rights.
But mostly Honk is a giant, joyous, raucous street party — with lantern parades Friday night, outdoor concerts in Somerville's Davis Square on Saturday, and a parade from Davis Square to Cambridge's Harvard Square on Sunday. It's all free.
To learn more about what's planned, I spoke with Trudi Cohen, who plays bass drum in Somerville's Second Line Social Aid and Pleasure Society Brass Band (listen to them rehearsing above) and is one of the founding organizers of Honk: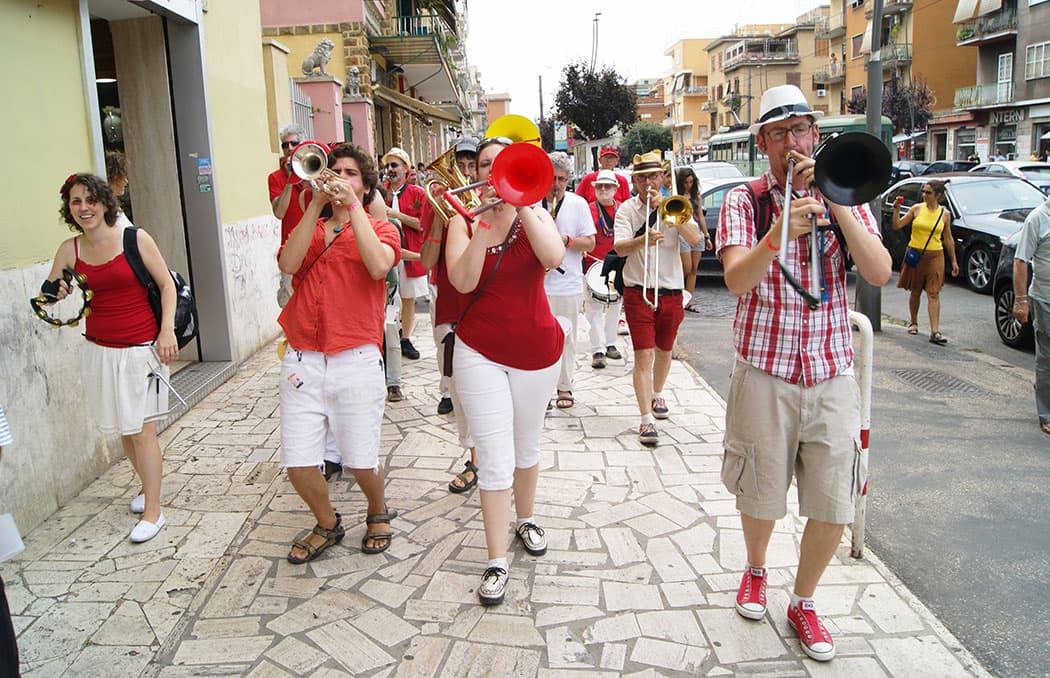 Trudi Cohen:
•  "When you get out of the subway in Davis Square [on Saturday], you'll already be hearing music. There are seven venues in parking lots and parks and squares around Davis Square that each will have a band playing and changing every hour. There are no stages. There's no microphones. The public gets up close. And there's a lot of dancing."
• "There is some evocation of marching band culture, but it's kind of twisted. So there are some bands that look like they're wearing marching band uniforms, but they're slightly off. Hot pink instead of something more typical. But you'll see something that will remind you of high school marching bands and also of clowns."
• "Some of the bands which will be coming this year include New Creations Brass Band, which plays traditional New Orleans jazz music. DJA-Rara that's a group of Hatian immigrants who play traditional rara music, which is played with these horns that each has one note. Each musician plays one note of a melody. A new band this year is called School of Honk, a project to invite everyone and anyone to play a brass instrument and join a band. And I think there are going to be 50 or 60 people in that band of all ages and all abilities."
• "On Sunday, starting at noon, in Davis Square, there's a giant parade with all the 29 bands together with a lot of community groups, which marches from Davis Square to Harvard Square, as part of Oktoberfest."
• "You go out on the street and you play a song with a street band and every kind of person is attracted to it and shows up and wants to hear more. It's surprising."
• "Maybe the Honk Festival offers something to people that's missing in their lives. Maybe the sense of doing something all together with a community and being in a public space together and having fun. The Honk Festival hit that need and desire in people."
---
Related:
• "An Oral History: How The Honk Music Fest Began Here And Spread Around The World"
• "As Honk! Turns 10 Years Old, We Ask 10 Bands To Share Memories Of The Music Fest"
• "Photos: 2014 Honk Music Festival Parade From Somerville To Cambridge"
---
Greg Cook is co-founder of WBUR's ARTery. Follow him on Twitter @AestheticResear or on the Facebook.