Hilarious Tracheotomies, No Bedside Manner — 'Doc Martin' Is Back In Business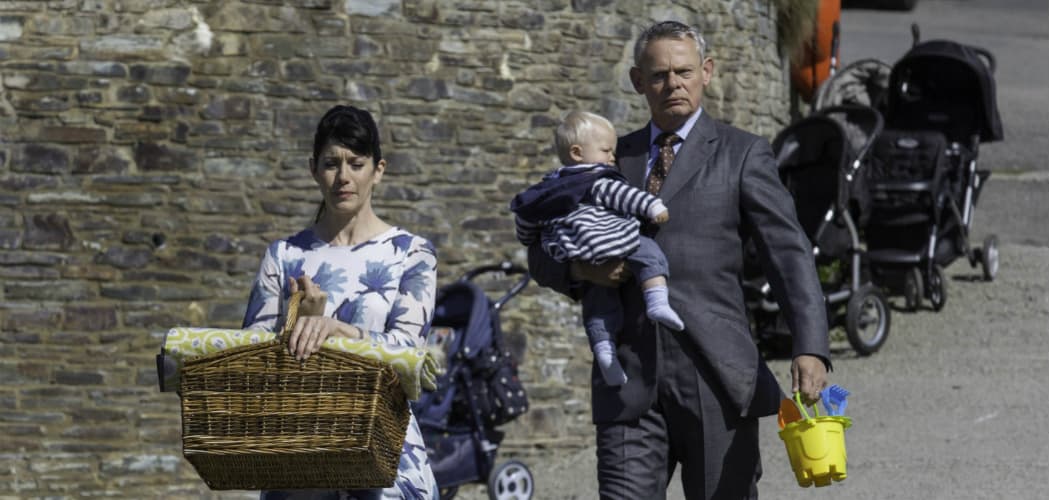 This article is more than 5 years old.
There are a rash of high-quality shows that have debuted recently on cable, pay cable and streaming. "The Leftovers" on HBO; "Homeland" on Showtime; "Fargo" on FX, for starters. And while I'll dutifully be in front of the television for all of them, the show that has me most excited is the streaming of Series Seven of "Doc Martin."
That's Doctor Ellingham to you, or so Martin Clunes' character insists. No one in the fishing village of Portwenn does call him that, of course, except for the lovelost pharmacist, Mrs. Tishell, who stalked him for a season and still sees him as a soulmate.
A quick primer: Doc Martin is a brilliant doctor and Clunes, who is nothing like his character in real life, is a brilliant actor. He was assigned to Portwenn partly because his phobia of blood took him out consideration for top jobs in London. He has the bedside manner of Whitey Bulger — well, no, Bulger supposedly liked dogs and elderly ladies — but that only makes Doc more endearing to the hail-fellow-well-met townsfolk.
His formality — dressed in suit and tie while eating alone in his living room — matched against the Cornwall small-town informality is only part of the charm of the show.
He's about as good at showing his feelings as your average zombie unless it's one of exasperation with the local constabulary ("You idiot!") or a patient who doesn't follow his instructions and starts to explain why ("Stop talking").
So now it's on to Series Seven, available for streaming on Acorn TV. The first two episodes are up now with others to follow on consecutive Mondays through Nov. 16. Acorn TV has a wealth of British (and other) series, many of which debuted on "Masterpiece" or "Mystery" on its site, and there's a 30-day free trial. Also, the DVD set will be available for Christmas stockings and will then run on WGBX, Channel 44, in late winter or early spring.)
Much of the coming eight episodes focus on his relationship with Louisa (Caroline Catz), whom he married last season, only to fall on hard times with her by the end of the run. As bad as he is at showing it, it's obvious that his love for Louisa and his son, James Henry, is unreserved, so much so that he's agreed to see a therapist recommended by his Aunt Ruth. Ruth is played by the great Eileen Atkins, who should be giving lessons on aging gracefully, or as she says, "Slowing down doesn't mean coming to a standstill." Louisa, vacationing in Spain, isn't in the first episode at all, and even when she returns in the second, there's a feeling that the first two episodes are mildly amusing setups for the rest of the season.
But don't touch that dial, or streaming device. The third episode is one of the best in the series.
There's the usual horseplay with the patients as when one tells him that he can't take the prescribed time off that Martin says he needs in order to rest his leg.
Patient: "This is a crucial period for us."
Martin: "Fascinating. NEXT PATIENT!"
And the scenes of Portwenn living outside of time — turntables at the radio station, and they're not retro — always are good for a laugh. In movies ("Local Hero") and TV series ("All Creatures Great and Small") set in small villages there's a cutesy element to the carryings-on, even in many Agatha Christie type murder mysteries.
But "Doc Martin," while gloriously reveling in all that, goes beyond. Most of the characters are good souls, but they're also often lost souls, unable to find meaningful connection. Almost anyone could be a closeted, or not so closeted, depressive.
That they often fight their way out of the darkness into the glorious light of Portwenn is what gives the show an air of transcendence, particulary at its best moments. And the unintended humor with which they do find the light is another part of the equation.
There is a tracheotomy in the third episode that would make you squirm if it weren't so hilarious. (I won't spoil how a tracheotomy can be hilarious.) The third episode is the best of the first six episodes made available to the press, but the couples therapy between Martin and Louisa looks to be the emotional center of the season. Asked for a frank sentence about Martin she says, "He has no social skills whatsoever." Louisa has some 'splaining to do about her own emotional baggage.
Any work of art creates a world that sheds light on our more prosaic lives. By that standard, "Doc Martin" is a work of art as well as a soulful comedy. Whatever you call it, it's great to be able to visit lovely Portwenn again and kick back with a pint of the pub's best bitter and all these marvelously flawed, endearing characters.
---
Ed Siegel is critic at large and editor of The ARTery.