With Fare Hikes On The Table, Here's How Much Your Ride Costs The MBTA
As the MBTA considers another round of fare hikes, the agency is quantifying just how much it spends to subsidize every trip riders take across the system.
According to data discussed Wednesday at a meeting of the T's control board, the transit agency spent an average $2.07 to subsidize each of the 395 million rides passengers took during the 2015 budget year.
But the subsidy varies dramatically depending on the mode of service.
For example, the T spends $5.75 to subsidize every ride on the commuter rail, compared to just $0.61 per subway ride — which accounts for the bulk of the T's ridership. On the RIDE, the agency's paratransit service, which is mandated by the Americans with Disabilities Act, the subsidy skyrockets to $45.53 per trip.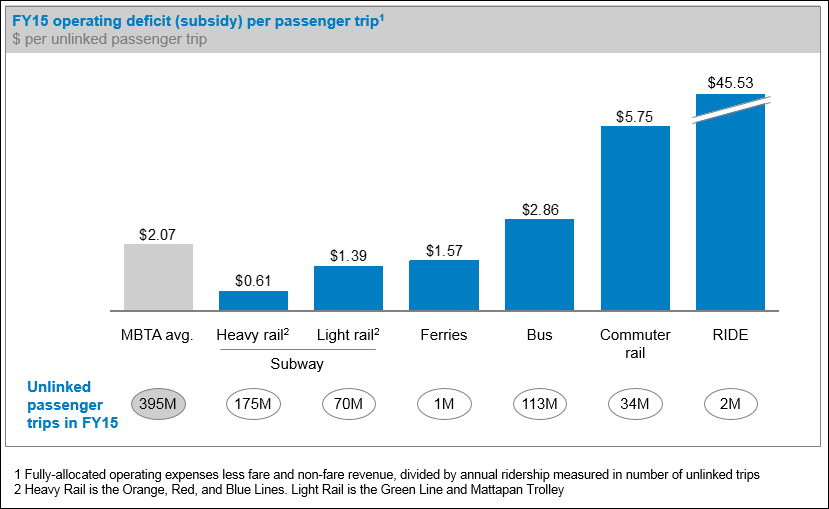 The T calculated the data by determining the difference between the revenue each mode generates (both fare and non-fare revenue, like advertising and parking) and its operating expenses. They then divided that number — the operating deficit — by the number of rides by mode.
The T's chief administrator, Brian Shortsleeve, said he wasn't making any specific proposals based on the data yet, but that it would be used as the agency decides how to spend capital, update routes and increase fares.
"It also speaks to where do you want to try to drive ridership," Shortsleeve told the T's control board.
For example, high ridership means a lower subsidy for subway and Green Line trolley riders — but some would say those systems are already over capacity. On the commuter rail, however, Shortsleeve said there's room to grow ridership in order to lower the per passenger subsidy.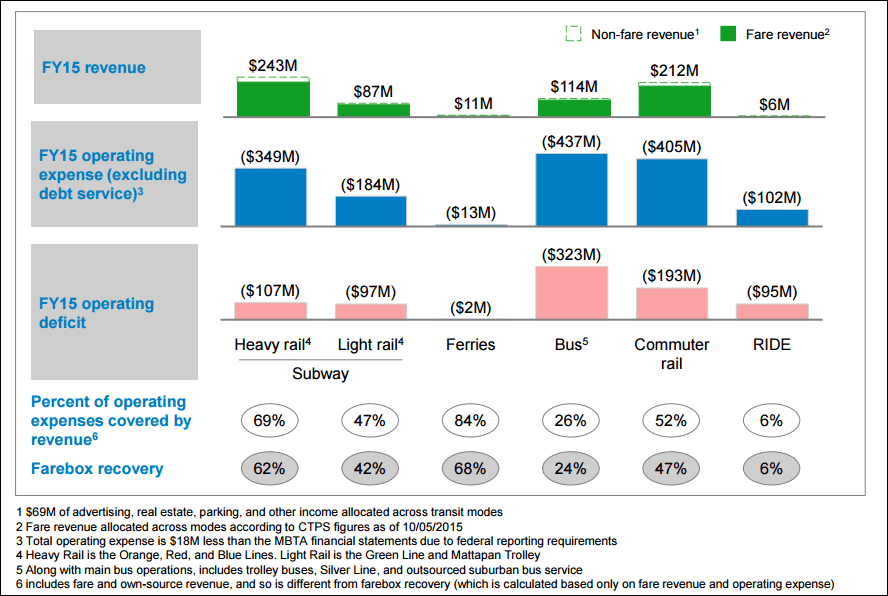 Transportation Secretary Stephanie Pollack said during Wednesday's meeting that the data is consistent with what she's seen in the past. She noted that the T is currently working to complete a new socio-economic analysis of riders who use the various modes to determine "whether that variant in subsidy is justified by the capacity of our riders to afford different amounts."
Shortsleeve also noted issues around equity — and how as a public service the T subsidizes certain modes more than others based on the populations those modes serve.
"There are different demographics in these areas — demographics of boat riders in Hingham is different than the demographics of the bus population," Shortsleeve said. "And that's core to the whole service planning exercise — this continual test of equity to make sure as you think about service planning and you think about fares, you're doing it in an equitable way."
This article was originally published on October 22, 2015.