'Nosferatu' Just Got Creepier: Berklee Students Create New Score For Classic Silent Film
Resume
Vampires are everywhere these days — on TV, in the movies — and definitely on the streets this Halloween weekend.
But the very first blood-sucking creature-of-the-night to appear on the big screen was Nosferatu, in German director F.W. Murnau's now iconic 1922 silent film "Nosferatu: A Symphony of Horror."
Berklee College of Music Professor Sheldon Mirowitz fell under Nosferatu's spell when he first saw the film in the 1970s, and its chilling clutches never let go.
These days the composer passionately leads a silent film scoring class at Berklee, and also heads the Berklee Silent Film Orchestra. In an effort to breath new life into the vintage movie genre, Mirowitz recently led his students in creating a brand new score for "Nosferatu."
And the Boston Pops were set to perform the contemporary Hollywood-style soundtrack Friday night, while the classic horror movie plays above the Symphony Hall stage.
Bumping Up The 'Creep Factor'
"Nosferatu" is Mirowitz's 10th student-driven silent film scoring project.
"I don't look at this as a nostalgic piece of history," Mirowitz said passionately. "I look at what we do as doing the thing that silent films are about — which is that the music brings them back to us now wherever we are. We're part of the filmmaking."
Mirowitz's eight students are all majors in film composition. He flips through a printout of their weighty, re-imagined, modern score for "Nosferatu."
"It's about 400 pages," he said, "which is a lot of score."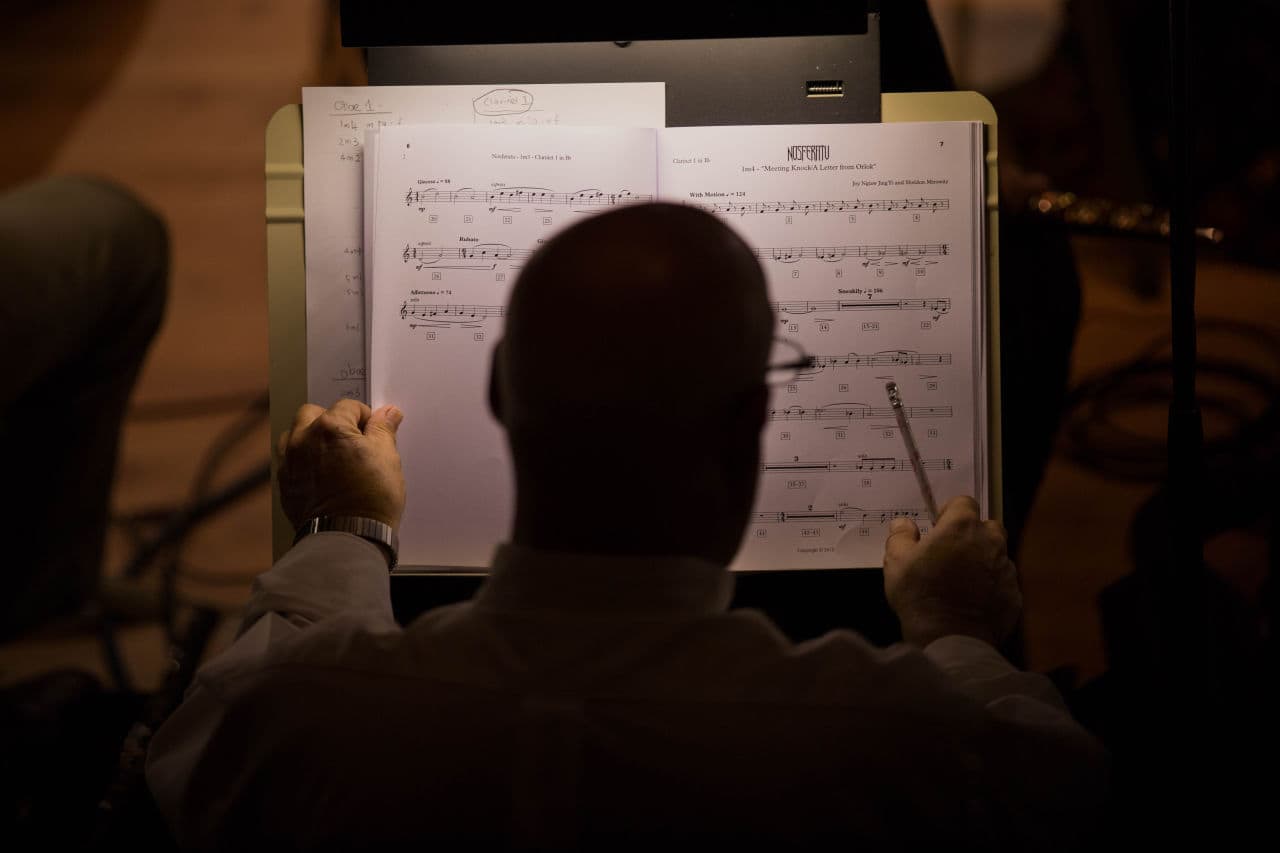 The collaborators started by building on a main theme Mirowitz created for the project with a synthesizer. He divided the film into eight sections of 10 to 17 minutes — one for each composer to work on. Then as a team they knit the music together, making sure the final score sounded cohesive.
Joy Ngiaw, 20, was assigned the music for the opening segment, which the class referred to as a "reel."
"It was really exciting, because the first reel was what the audience would hear — the first thing they hear," she said. "And you gotta do a good job to suck the audience in, and set mood, the tone and emotion of the movie — and introduce the characters."
Each character gets his, her, or its own a musical theme, which is known as a "leitmotif." There are the innocent, young lovers Ellen and Hutter; their music is generally light and affectionate. Then there's the ghoulish Count Orlok, Nosferatu's alter-ego, who lives in Transylvania.
Mirowitz said it was critical for Orlok's music to be ominous and frightening.
"He's white with big ears, and a giant nose, and skinny," the professor explained. "And he kind of glides around, and wears black things — and he's weird."
But not quite as weird as Nosferatu. Orlok transforms into that terrifying vampire at midnight.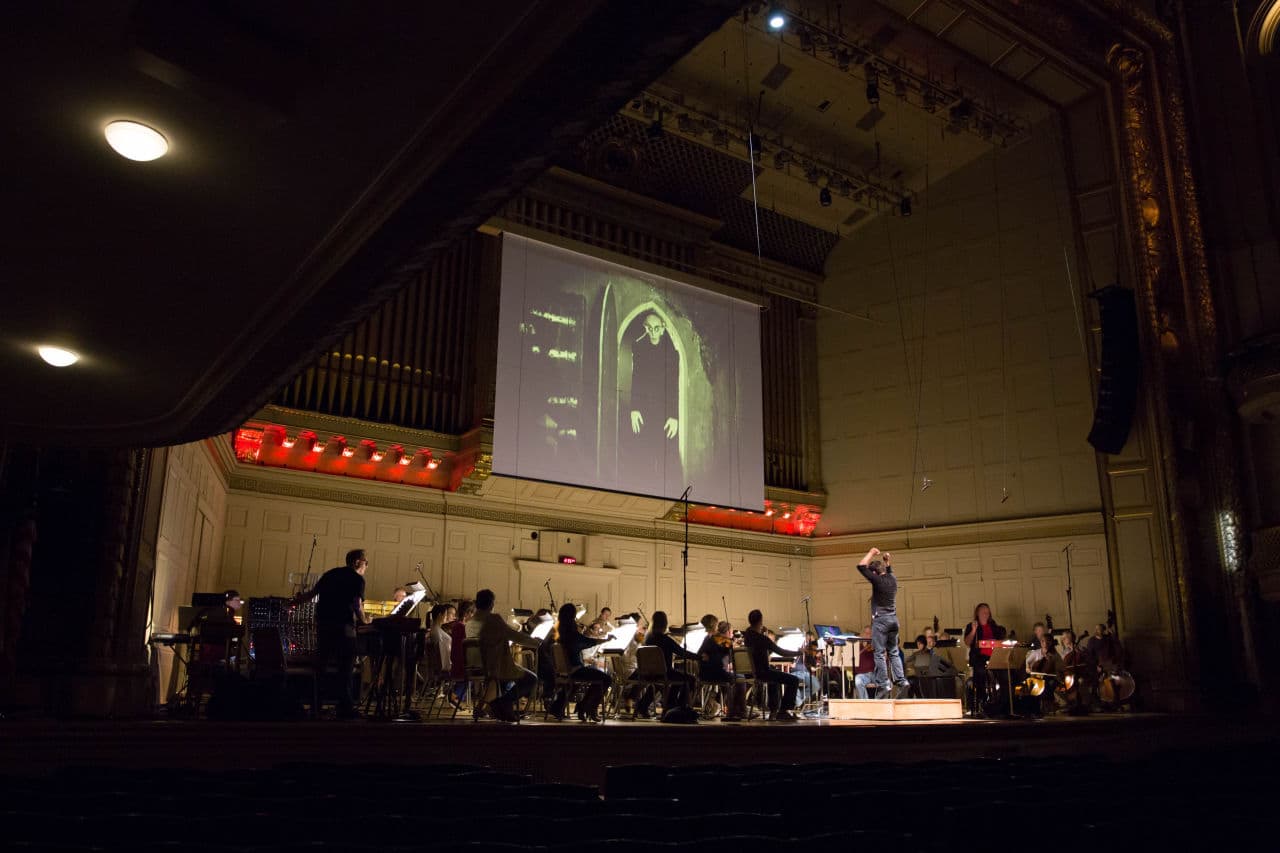 In the new score, the instrument that represents the seminal vampire being is the theremin — an early 20th century electronic instrument that's a weird-sound staple in science fiction and horror films.
Rob Schwimmer, who says he's been making music with the theremin for about 20 years, came up from New York to play in the "Nosferatu" performance at Symphony Hall. On stage during a recent rehearsal his hands never touched the instrument. Instead he waved them between two metal antennas, as if he was conjuring sounds out of thin air.
Schwimmer says he's honored to have a role in the Berklee students' "Nosferatu" premiere, and he said the music they created really bumped up the "creep factor."
"I mean it's a scary movie to begin with, and so they're really capturing it with all these spine-tingling moments," he said. "And it's nice that they put the theremin in. You know, the theramin, it's got a history of scary stuff. I mean it doesn't have to be that way always, but here we are, it's almost Halloween, so why not?"
Keeping Everyone 'Slaved' To What's Happening On The Screen
There's also a MOOG System 55 modular synthesizer on stage, played by Berklee professor Michael Bierylo.
These aren't the usual instruments of the Boston Pops, Keith Lockhart admits. After rehearsing the Berklee student's new score for the first time, he said the team had "done an amazingly good job," calling it "very atmospheric."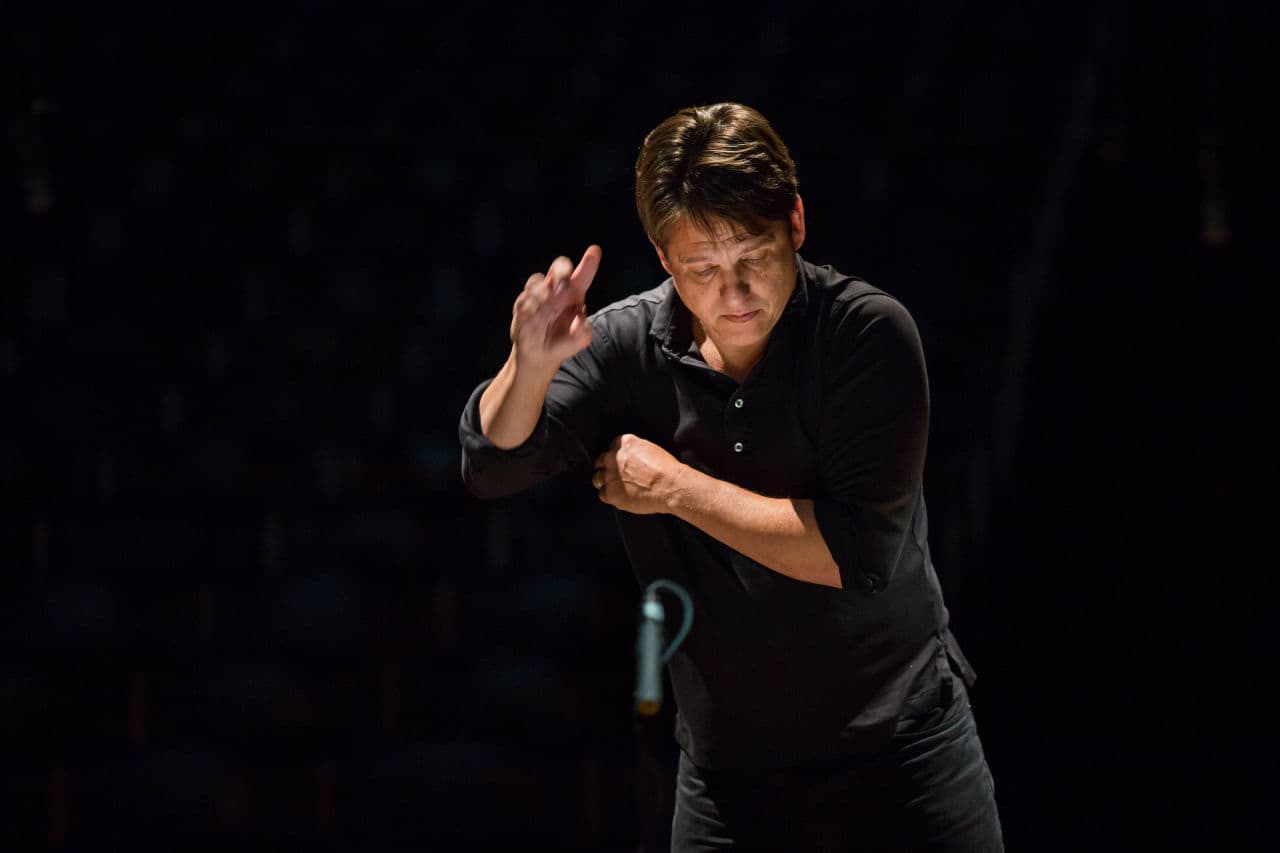 Lockhart majored in German in college and said he's a big fan of "Nosferatu." The Pops have played along with movies before, but this is their first time accompanying a silent film.
"When you conduct a score to film — which we've done quite a bit, with great musicals like 'Singing in the Rain,' movies like 'Home Alone' last Christmas — it is cues, followed by dialogue, followed by more cues," Lockhart explained. "And you're never playing for more than 10 or 15 minutes at a time."
But for this silent film the musicians will play nonstop for 93 minutes. Lockhart told me that's about the length of a Mahler symphony. And his job is to keep everyone "slaved" to what's happening on the big screen.
"One mistake, one lapse of concentration, one stopping to itch your nose, that sort of thing, and you're lost," he said, laughing.
But Mirowitz, the Berklee silent film professor, has faith in Lockhart and the Pops. For him and his students, Friday night's Halloween Eve screening and live performance will be magical.
"A movie is a dream that we dream together," he mused. "And a thing about silent film is that it's a thing that we do live, in a place where we can all make this reality happen together, and that happens with the band, with the music, with the film and with the audience."
And with the sinister Nosferatu, who's also making his Symphony Hall debut.