Boston's French Community Still 'Rattled' After Paris Attacks, But 'Heartened' By Outpouring Of Support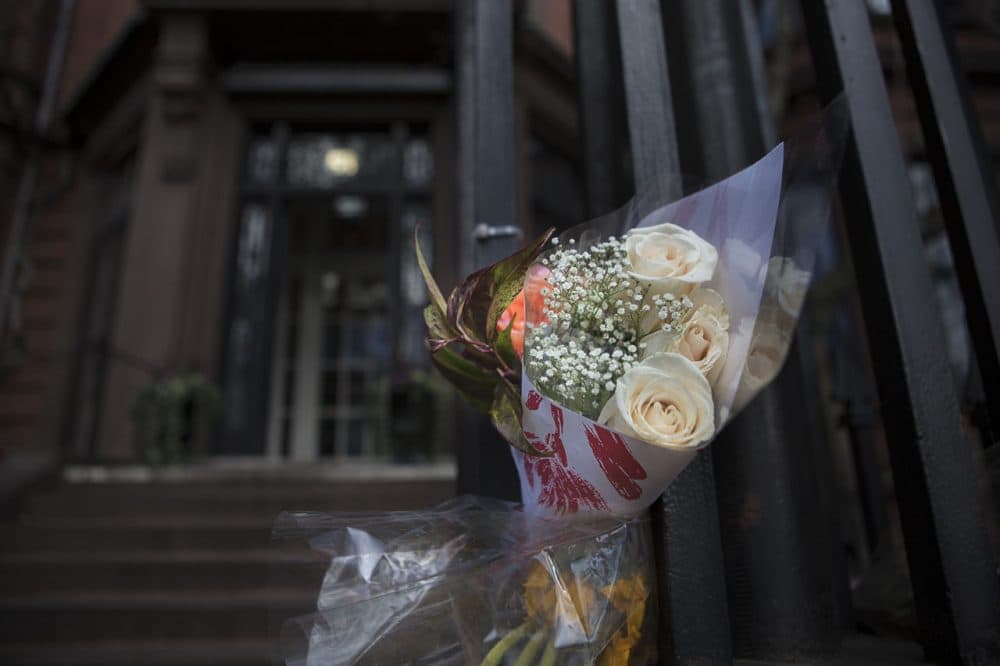 This article is more than 4 years old.
As authorities continue to investigate Friday's deadly terrorist attacks in Paris, the French community in Boston is still reeling and looking for ways to move forward.
The attacks at six locations across Paris left 129 people dead and hundreds more injured.
At the French Cultural Center of Boston Monday afternoon, in the city's Back Bay neighborhood, bouquets of flowers adorned the gate outside. A sign that read "Vive la France! From the people of the First Church in Boston" lay near the ground. Inside, a small group of staffers gathered for a moment of silence to remember the victims of the Paris attacks.
"I think all of us are still very rattled," said the center's executive director, Catheline van den Branden. "We are trying to lead regular lives, but this has affected all of us either very closely or at least somewhat. Even from this far away, we feel very close to Paris right now."
Van den Branden said the center has been "heartened" by the outpouring of support in Boston and abroad.
"It's been very positive for us to see how much we are together in this [and] to see how Francophile [the] Boston community is," van den Branden said. "So we feel we are friends and we're definitely not alone."
Sarah Reusche, an executive assistant at the center, said the support has been overwhelming.
"Just to come in Monday morning and to have flowers there left anonymously with kind notes is nice, and I hope that it helps create a space for people to share and process," she said, gazing at a large bouquet of red, white and blue flowers that had been dropped off moments before by the First Lutheran Church, located just a block away on Berkeley Street.
Reusche, 27, studied abroad in Paris while in college and said she was thankful none of her friends there were injured. She said the moment of silence was a nice way for the center's staff and visitors to be together, but she was also thinking about some of the larger issues around the attacks.
"Unfortunately Beirut happened the day before [and] there's been a migrant crisis in Calais for so long," Reusche said. "You can't forget about, unfortunately, what's been unraveling for years. I hope that world leaders remember that it's not just Paris and it wasn't just November 13."
Andrew Hahn, 39, of Arlington was also thinking about some of the major issues surrounding the Paris attacks. He described himself as a Francophile and was at the center to pick up a certificate for completing a French proficiency exam.
Hahn said he feels Europe and the U.S. need to address underlying issues, such as joblessness and marginalization, so people aren't "driven off to where these kind of movements seem attractive." He's also concerned about potential backlash for some of his Muslim friends in France.
"There is a concern as well that people aren't just lumped together with one certain act," Hahn said. "There sort of can be a backlash and one hopes that people view this in a proper perspective and don't lump everyone with one extreme group."
That was also on Cecile Roucher-Greenberg's mind Monday. Roucher-Greenberg is a French teacher at Buckingham Browne & Nichols school in Cambridge. She and about a dozen students were at the center for a French cooking class.
"It was a good opportunity to speak with the classes about violence [and] about the way the world is changing," Roucher-Greenberg said. "We've been trying to get students to have empathy, to have compassion, to know that communication is the key. We won't get out of this craziness on our own, we need to be together in that and I think that's the message we discussed with the students."
Roucher-Greenberg said some of her students had traveled with her to Paris in previous years and they felt fortunate none of their friends were hurt. She said her students were worried, but had a thoughtful discussion about the attacks on the way to the center.
Originally from Brittany, France, Roucher-Greenberg said she is saddened by the attacks and wants to see more cooperation between world leaders to address terrorism. Still, she said she feels hopeful.
"We do need to move forward," she said.
Van den Branden said the center is looking to do just that this Thursday, when they host a concert featuring French pianist Hélène Tysman.
"In facing situations like this, actually celebrating art, music, life, community is the best message we can give and I think that's how we're going to try and carry on at this point," van den Branden said.
Tuesday evening, Mayor Marty Walsh will join Valéry Freland, the consul general of France in Boston, for a moment of silence on City Hall Plaza to honor the victims of the Paris attacks.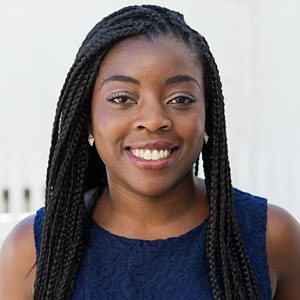 Zeninjor Enwemeka Reporter
Zeninjor Enwemeka is a reporter who covers business, tech and culture as part of WBUR's Bostonomix team, which focuses on the innovation economy.