Commentary: Iowa Democratic Voters Prefer Clinton After Paris Attacks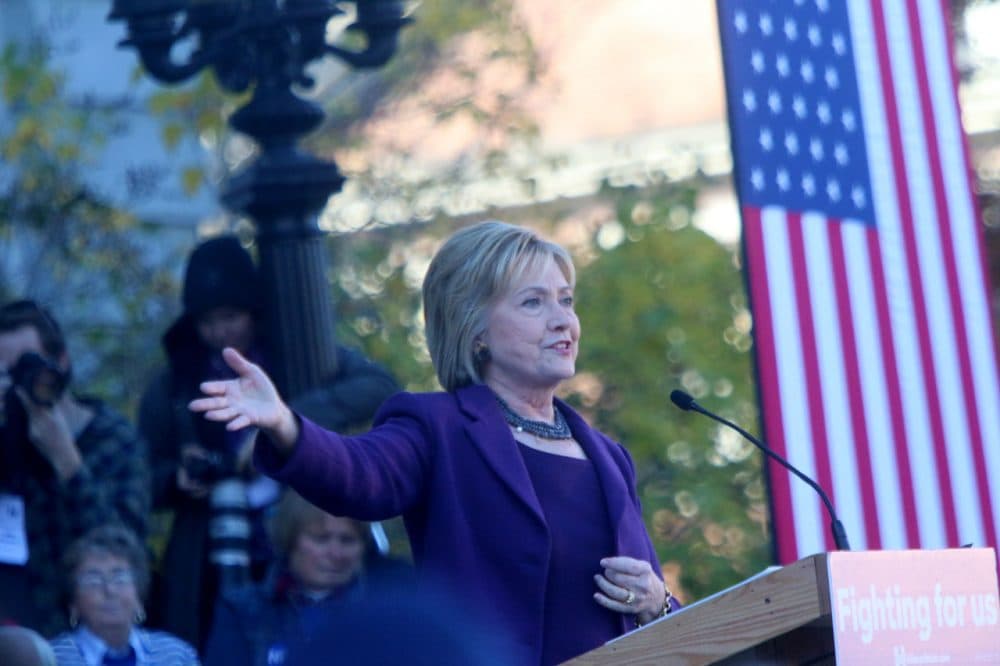 This article is more than 5 years old.
Did the Paris attacks give Hillary Clinton the Democratic nomination? A focus group of undecided Iowa Democrats overwhelmingly said "Yes."
A pool of 33 likely caucus goers in Des Moines during the second Democratic debate on Saturday showed that Clinton was the clear winner. The firm that conducted the focus group, Park Street Strategies, concluded after a three-hour discussion: "Clinton clearly won the Iowa debate tonight, and may have essentially ended the race. It was clear that Clinton's answers on terrorism, and her improved answers on domestic issues, moved undecided Iowans in striking ways."
She was the victor several ways:
-- Overall winner: Undecideds said Clinton won by a 23-10 margin over Vermont Sen. Bernie Sanders.
-- Most electable: By 31-2, voters said she is the most electable in the general election.
-- Strongest commander-in-chief: Unanimously they believed Clinton would be stronger than her Democratic opponents.
-- "Paris effect": After recent attacks in Paris, Clinton's message on terrorism was more appealing.
-- Changed their minds: 11 of the undecideds said they moved to Clinton, only three to Sanders.
As for the debate itself, Clinton set the tone with this declaration in the wake of Paris: "This election is not only about electing a president. It's also about choosing our next commander-in-chief."
Her answers were factual if mildly hawkish (for a Democrat), citing history and other factors to reply to foreign and military policy questions. In defending her vote authorizing the invasion of Iraq, she ticked off the bombing of Beirut embassy under President Reagan, the attacks on embassies in Tanzania and Kenya under President Clinton, and 9/11 when George W. Bush was president and ignored ominous warnings. After Sanders declared going into Iraq triggered Middle Eastern terrorism, Clinton said all of the aforementioned attacks occurred before the invasion of Iraq. She also put distance between her views of ISIS and the comments of President Obama. "[ISIS] cannot be contained; it must be defeated," she declared.
Sanders went hard after Clinton. "Let's not be naive about it. Why, over her political career, has Wall Street been a major -- the major --campaign contributor to Hillary Clinton? You know, maybe they're dumb and they don't know what they're going to get, but I don't think so. … Why do they make millions of dollars of campaign contributions? They expect to get something! Everybody knows that!"
Clinton's reply was not credible. She said that 9/11 prompted her to help Wall Street, although she didn't specify how. Rather than challenging Sanders to explain where she'd shown favoritism to New York's financial industry, she used the 9/11 devastation. This odd explanation will likely be used against her in coming days by her current Democratic rivals and certainly her Republican opponents. Conservatives on the Sunday talk shows all attacked her for it.
Sanders was able to discuss foreign policy, but again and again he returned to his now-routine populist message, railing against the 1 percent, big banks and the corrupting influence of wealthy and powerful donors permitted under the Supreme Court's Citizens United decision.  He used jujitsu when asked if climate change was still to him the No. 1 problem in the world, despite the terrorist attacks in Paris. He said lack of resources such as water and arable land brought on by climate changes is one reason why poor people take up arms against developed countries. It's unlikely the cowards in Paris slaughtered innocent people because they didn't have water or food.
Martin O'Malley sounded like he was running for re-election for governor of Maryland, a job he held until 2014. He spoke tediously about all the things he'd done, giving himself credit for tackling and winning just about everything that came up in the debate, taxes, minimum wages, education and jobs. He didn't claim success against ISIS, although it's possible he'll have that stitched into his gubernatorial long johns in the next debate.
O'Malley's best moment came on immigration, when he declared: "Let's say it in our debate, because you'll never hear this from that immigrant-bashing carnival barker Donald Trump. The truth of the matter is net immigration from Mexico last year was zero. Fact-check me. Go ahead, check it out," O'Malley said. Fact checkers did check. It is true.
Dan Payne is a Democratic political analyst and a regular contributor to the Boston Globe and WBUR Politicker.