The 10 Best Sounds In The Classical World In 2015
Here are some of my favorite musical recordings on CD and DVD of the past year — hardly comprehensive, but the ones I've returned to with unceasing pleasure.
1. "The Golden Apple" (PS Classics): This legendary 1953 off-Broadway (then Broadway) musical by the irresistibly tuneful Jerome Morross and the witty John Latouche has finally received the recording of the complete score it has long needed — and deserved. The story of the abduction of Helen and the Trojan War, moved from ancient Greece to turn of the 20th-century Mt. Olympus, Washington, is that rare bird — a musical that like an opera is sung all the way through. You might know its most popular song, Helen's languorously seductive "Lazy Afternoon," and I'm particularly fond of a South Sea Island parody, "Goona-Goona" ("Snug as two baboons in a bamboo tree/ I'll bamboozle you and you'll bamboozle me"), but there isn't a dull note or word in the entire piece.
Here's Kaye Ballard singing "Lazy Afternoon" from the original Broadway cast album:
2. Robert Pinsky/Laurence Hobgood, "House Hour, Poem/Jazz II" (Circumstantial Productions): This second installment of three-time poet laureate Robert Pinsky's moving, rhythmically alive, musically conceived readings of his own poems to the improvised accompaniment of the great jazz pianist Laurence Hobgood is, if anything, even better and more emotionally open than the first. "Shared spontaneity," Hobgood calls it. Pinsky reads a couple of his masterpieces ("The Figured Wheel" and "The Want Bone") and some newer work that's a pleasure to get to know better.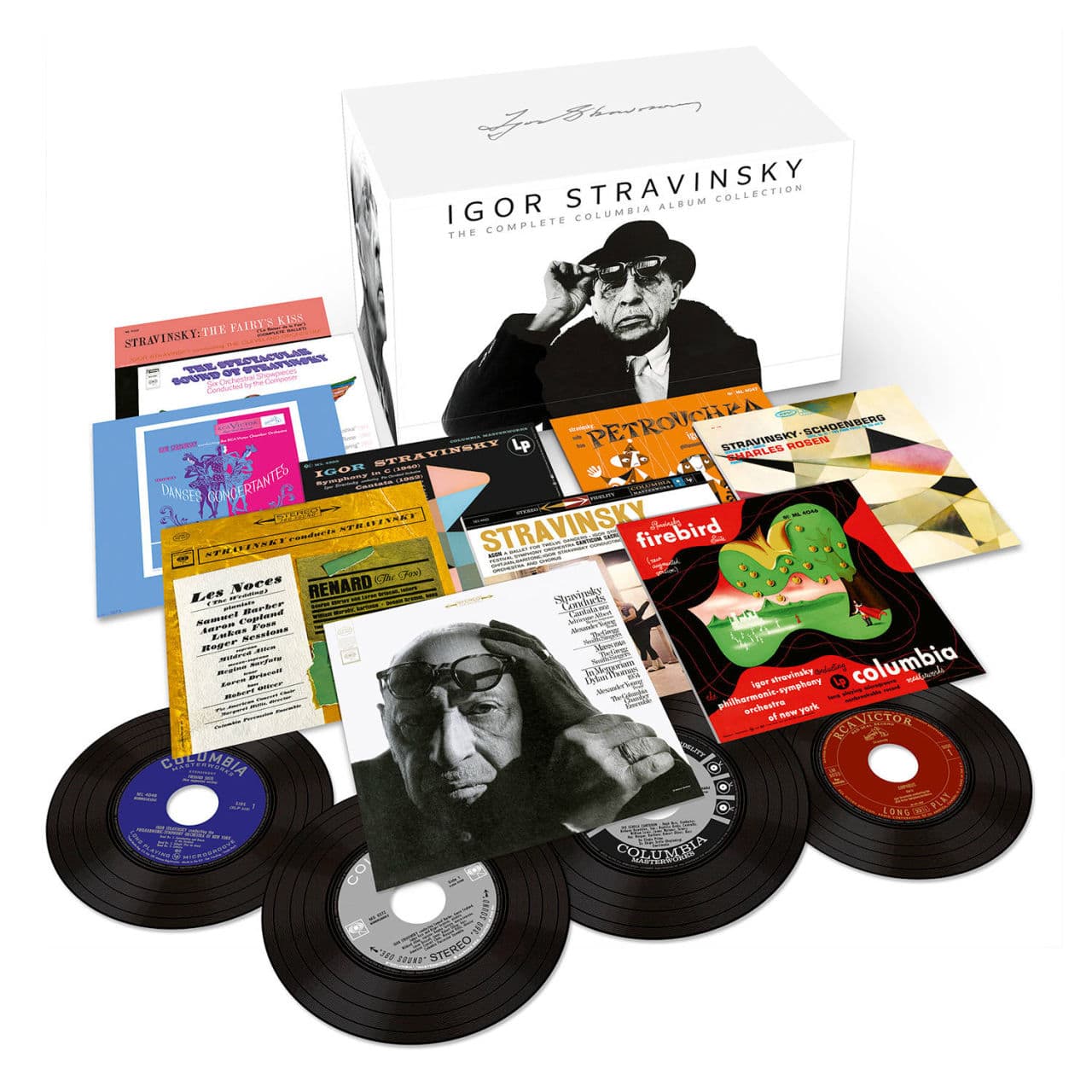 3. "Igor Stravinsky: The Complete Columbia Album Collection" (Sony): Back in 1999, Sony released a landmark 22-CD set of Stravinsky conducting his own music. But Sony has just produced something even more remarkable: a 53-disc set that includes, along with all his stereo recordings, Stravinsky's almost forgotten monophonic recordings, so that now his best performances of "Pulcinella," "The Fairy's Kiss" and "Symphony in C," with the Cleveland Orchestra, and "Perséphone," with the New York Philharmonic (and Vera Zorina reciting), are now also finally available on CD, along with his first commercial recording of his opera "The Rake's Progress," with the Metropolitan Opera, and — maybe most special of all — his first recording of "Oedipus Rex," narrated by its illustrious librettist Jean Cocteau himself, with the great British tenor Peter Pears in the title role.
4. Pierre Boulez at 90: The great French conductor and composer turned 90 this year, and he has essentially stopped performing — a great loss to the world of music. Last year, a landmark set of his complete Sony recordings appeared (and was chosen by ARTery editor Ed Siegel for his 2014 gift list). This year, a handful of extraordinary new sets are designed for anyone interested in Boulez or 20th-century music. First, there's a 10-CD set of recordings by Le Domaine Musical (1956-1967), the concert society created by Boulez for the performance of 20th-century and contemporary music (Universal). Then there's a 14-CD box of all the recordings Boulez made for the Erato label (1966-1992), which includes composers Boulez never recorded elsewhere — Xanakis, Donatoni, Grisey, Harvey — including the first recording of a rare Stravinsky arrangement not even on the complete Stravinsky set ("Pierre Boulez The Complete Erato Recordings"). There's also a spectacular 44-disc limited edition of all the 20th-century music Boulez recorded for Deutsche Grammophon ("Pierre Boulez: 20th Century"). The set Boulez himself might be happiest with is a 14-disc compilation of his own complete works, or as he prefers to call them, "Work in Progress" (DG).
5. "The String Quartets of Joseph Haydn, The Schneider Quartet" (Music & Arts): I've been waiting for decades for these marvelous Haydn Society recordings from the 1950s to be released on CD. Conductor/violinist Alexander Schneider, a member of the Budapest Quartet, organized this stellar group, and although they never quite completed all the Haydn Quartets, they managed 15 CDs worth. Just as Haydn invented the modern symphony, he also really invented the string quartet. Elegant, tuneful, moving, witty, endlessly inspired, these are some of the most appealing works of chamber music ever composed. And they have never found more winning performers. I love this set.
6. Steffani, "Niobe, Regina di Tebe" (Erato/Warner Classics): The highlight of the 2011 Boston Early Music Festival was the best production in the history of the festival, and it was a revelation — a rediscovery of a major work by a nearly forgotten composer. Agostino Steffani's "Niobe, Regina di Tebe" ("Niobe, Queen of Thebes") turned out to be a marvel of melodic writing and dramatic stagecraft. Lutenists Paul O'Dette and Stephen Stubbs conducted the BEMF Orchestra and a cast including the scintillating soprano Amanda Forsythe as the ruthless title character whose ambition leads to the tragic demise of her many children ("Like Niobe, all tears," says Hamlet of his mother), and superstar countertenor Philippe Jaroussky as her star-gazing husband. In this studio recording, Niobe is sung by Karina Gauvin and Forsythe sings the more romantic role of Manto. Jaroussky's contemplative aria about the harmony of the spheres, "Sfere amiche," remains the sublime high point.
7. "Decca Sound" (Decca): The endless riches of this extraordinary 53-disc box set of the earliest high fidelity recordings from the British company Decca (London Records in the U.S.) are enough to get you through another year of great listening. My favorites? Edith Sitwell and Peter Pears in "Façade," reciting Sitwell's clever and sinister poems set to William Walton's delicious dance music. Ernest Ansermet's "Petrushka," Ataúlfo Argenta's Albeniz and Turina, Roger Désormière's Poulenc "Les Biches," Benjamin Britten conducting his early "Sinfonia da Requiem," the Amadeus Quartet with Clifford Curzon playing Mozart piano quartets and the Griller Quartet with Dennis Brain in Mozart's Horn Quintet, and Erich Kleiber conducting Beethoven symphonies are just the tip of this fabulous cornucopia.
8. Hindemith/Wilder, "The Long Christmas Dinner" (Bridge Records): Adapted in 1960-1961 by both composer Paul Hindemith and Thornton Wilder himself from Wilder's 1931 one-act play, compressing 90 years of one family's history into a single continuous dinner party, this brief gem of an opera, getting its first English-language recording, is both acerbic and sentimental, tuneful and edgy. Its contemplation of passing time mixes elements of Wilder's celebrated plays "Our Town" and "The Skin of Our Teeth" with his considerably more bitter screenplay for Alfred Hitchcock's "Shadow of a Doubt." It begins with an out-of-tune "God rest ye, Merry Gentleman" and ends in near silence. A competent cast and the American Symphony Orchestra are under the sturdy direction of Leon Botstein.
9. "The Apu Trilogy," Ravi Shankar (Criterion Collection): "The Apu Trilogy" (1955-1959), the first major masterpiece by Satyajit Ray, the great Indian filmmaker and one of world cinema's most novelistic directors, has just been reissued in a spectacular restoration. But I want to call your attention not just to these extraordinary films but to the uncannily evocative score by the celebrated Indian composer and sitar player Ravi Shankar, which creates the perfect aural world for this achingly moving story of a boy coming of age in India against all the odds.
10. The DVD collection of Jeanette MacDonald and Nelson Eddy's Hollywood musicals (Warner Archives): Soprano Jeanette MacDonald and tenor Nelson Eddy teamed up for eight Hollywood musicals in the 1930s and '40s, and became America's singing sweethearts (though they were not a couple off-screen). The films are sentimental, melodramatic, sometimes comic, and always tuneful, with memorable songs by Sigmund Romberg, Victor Herbert, Noel Coward and Rodgers and Hart, plus an occasional opera aria. "Maytime" has a stellar featured performance by John Barrymore as MacDonald's jealous voice teacher. "Rose Marie" features young James Stewart as MacDonald's delinquent brother trying to escape the Canadian Mounties. The films are expertly directed, mostly by W.S. ("Woody") Van Dyke (of "Thin Man" fame), and rise to some powerful emotional climaxes, as in "Ah! Sweet Mystery of Life," the grand duet from "Naughty Marietta." The individual films have been appearing on DVD in dribs and drabs but now they are finally all available in just two DVD volumes.
Editor's Note: Details of the offerings on "Igor Stravinsky: The Complete Columbia Album Collection" have been clarified. 
This article was originally published on January 01, 2016.