Independents Poised To Roil N.H. Primaries For Both Parties
Resume
New Hampshire independents are the real deal.
Many of the state's "undeclared" voters, as New Hampshire calls them, move back and forth between the two parties' primaries rather than pulling the same ballot every cycle. Adding last-minute intrigue is the fact that independents can choose on primary day whether to vote in the Democratic or Republican contest.
A new WBUR poll of undeclared Granite State voters shows that Democrat Bernie Sanders and Republican John Kasich would most benefit from a strong turnout of independents voting in their respective party primary.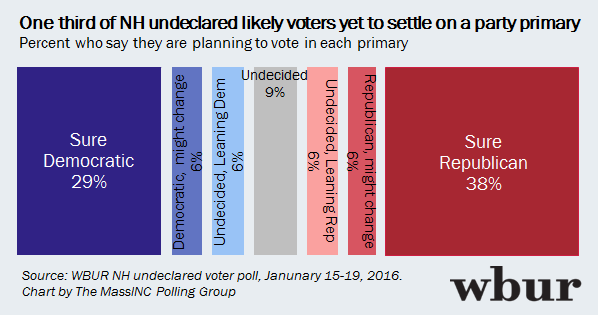 Thursday's poll also shows that New Hampshire's likely undeclared voters are taking their time — a third still haven't fully made up their mind which ballot to pull on Feb. 9. All of this introduces a significant dose of uncertainty, and gives independents an enormous amount of influence in determining the outcome of both parties' contests.
This squares with recent history in New Hampshire, where election records show clear evidence of independent voters surging back and forth across party lines and changing the face of the state's primary contests. The state's voter file contains vote history for each and every voter in New Hampshire, including what (if any) ballot they chose in each presidential primary. The 2000 and 2008 cycles were the last two with meaningful contests on both sides. Between these cycles, about 35 percent of the undeclared voters who voted in both years changed their party ballot selection. 

This was mostly a matter of many who took the Republican ballot in 2000 moving to the Democratic side in 2008, adding tens of thousands of voters to the Obama/Clinton match-up. Looking at those who chose the Republican ballot in 2000, about 45 percent who showed up again in 2008 changed their preference and voted Democrat. Ultimately, the massive independent vote on the Democratic side was not enough to nudge Barack Obama ahead of Hillary Clinton, who enjoyed strong support among Democratic partisans. But the leftward charge of independents in 2008 changed the contest on both sides, leaving indie-favorite John McCain with a much smaller lead in the Republican contest than he otherwise may have enjoyed.
The new WBUR poll shows this phenomenon is set to repeat itself. Among those who have already decided on a party ballot, 29 percent plan to choose the opposite ballot from their vote in 2008. And with a large chunk yet to decide on a ballot, this could increase further.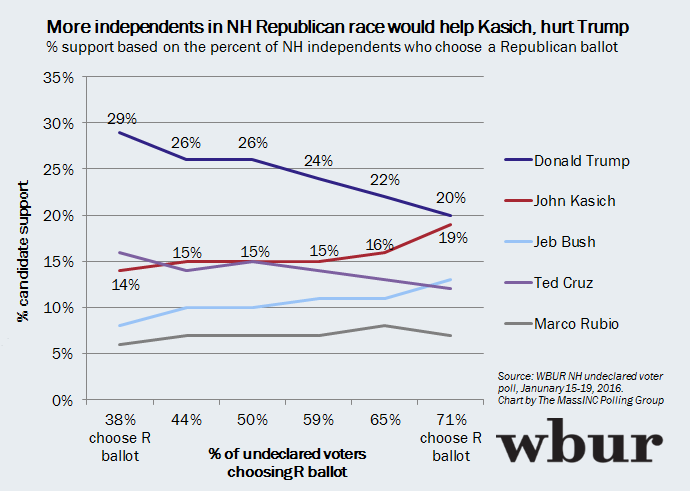 How many ultimately choose each ballot will impact the outcome of both contests this year. Sanders does exceptionally well among Granite State independents. The more of them who pull a Democratic ballot, the better for Sanders. On the other side, Kasich (and Jeb Bush, to some extent) stands to benefit most if independents flock to the Republican ballot. Kasich does the best among the independents leaning toward the Democratic ballot. If they change course at the last minute and vote Republican, Kasich could over-perform his poll numbers by a considerable margin.
On the flip side, Donald Trump, Ted Cruz and Clinton would rather see undeclared voters pull the other party's ballot. Trump does the best among the most committed Republican-leaning independents, as does Cruz. He would rather not see those on the fence about which ballot to choose fall on the Republican side. The fence sitters are the most likely to go for Kasich.
A 25- to 30-point lead for Sanders in this poll means his total lead is likely somewhere in the teens, once Clinton's strength among Democrats is factored in. And for Kasich, any of the turnout options shown in the chart have him placing either in second or tied for second with Cruz. Both are great results for him and add evidence to the idea that Kasich may be gaining momentum just as the Granite State marathon nears the finish line.
The fact that many in New Hampshire have yet to choose a party ballot with just a few weeks to go leaves a lot of room for last-minute shifts in the candidate head-to-head numbers. Adding to the uncertainty is the fact that this year will likely feature more registered independents than ever before. While the parties have grown only slightly in the last couple of decades, independents have almost doubled in number. They now make up nearly 44 percent of the ranks of New Hampshire voters, and have comprised a record share of recent presidential contests.
New Hampshire's primary is famous for coming down to the wire. With the independent vote still very much unsettled, this year may be no different.  

Steve Koczela is president of the MassINC Polling Group and a regular contributor to WBUR Politicker. He tweets at @skoczela. 
This segment aired on January 21, 2016.