Several Dozen Suspected Gang Members Arrested In Boston-Area Raids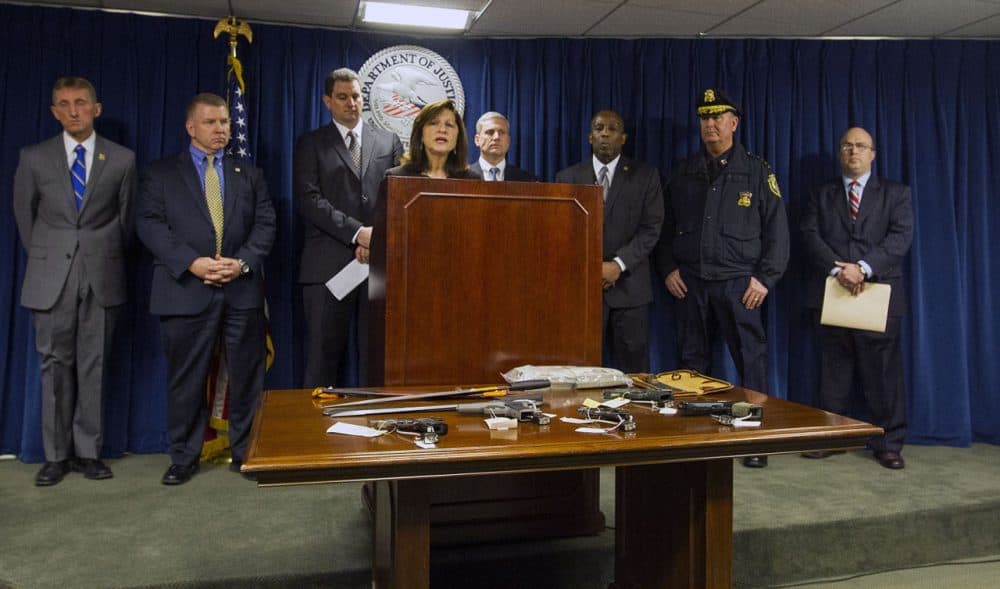 This article is more than 7 years old.
Federal authorities say several dozen Boston-area members of the violent Salvadoran street gang MS-13 were arrested in early morning raids Friday.
U.S. Attorney Carmen Ortiz said during a press conference Friday afternoon that over 400 law enforcement officers carried out arrests in Chelsea, East Boston, Everett, Lynn, Revere and Somerville.
Of the 56 suspects indicted on charges related to murder, drug trafficking and weapons violations, Ortiz said 37 had been taken into custody as of midday Friday — including the leader of the gang's East Coast operations. The rest are being "actively sought."
With more than 6,000 members in the U.S., Ortiz said MS-13 remains the only street gang designated by the U.S. as a "transnational organization." She said locally new members are often recruited inside high schools, including in Chelsea, East Boston and Everett.
Ortiz's office says most of the 30,000 MS-13 members worldwide reside in El Salvador, Mexico, Honduras and Guatemala.
Harold Shaw, who is in charge of the FBI's Boston office, described the gang's emphasis on violence during Friday's press conference.
"Aspiring members must kill and be beaten, exemplifying their new level of brutality that comes as being part of this gang," he said. "To instill fear, many of this gang's assaults and murders are brutal, using machetes to attack their adversaries, resulting in slow painful deaths."

Shaw also said MS-13 often persuades middle and high school students to commit the most violent crimes, "knowing they'll face less severe penalties because of their age."
Ortiz said the gang was connected to the murders of five people, including the 2014 deaths of Katerin Gomez and Javier Ortiz, both of Chelsea, and the recent deaths of East Boston teenagers Wilson Martinez, Irvin Depaz and Christofer Perez-De la Cruz.
In addition, the indictment references 14 attempted murders that date back to 2008.
Residents in Somerville received an alert Friday morning that a known MS-13 gang member had escaped federal custody while being transported in the area of Union Square. That suspect, who Ortiz said was not named in the indictment but was wanted on immigration charges, was arrested in Everett before noon Friday.

This article was originally published on January 29, 2016.