Why Do We Still Have So Many Issues With The Idea Of 'World Music'?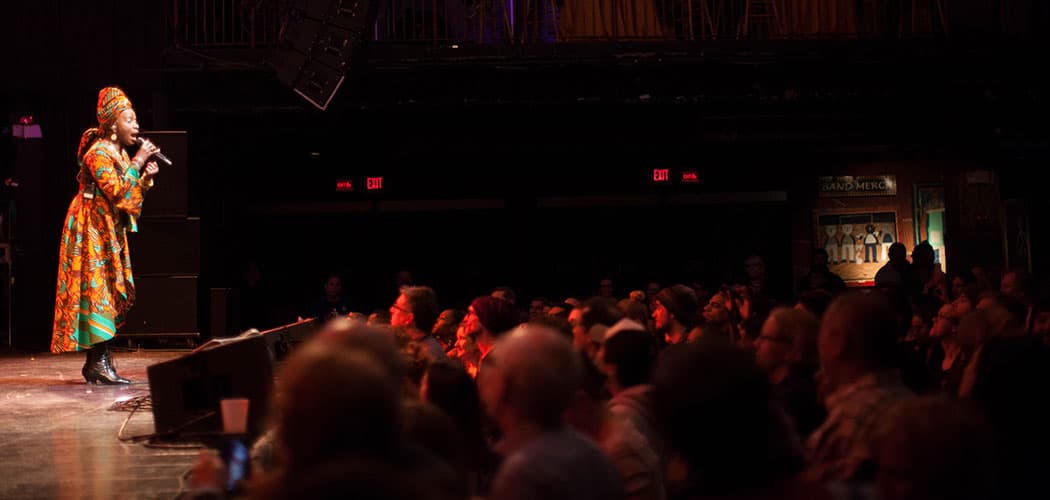 This article is more than 5 years old.
A couple of weeks ago, I invited a friend along as my plus-one to the first CRASHfest at the House of Blues in Boston on Jan. 24, a festival of Afropop, jazz, Latin, folk and rock music, hosted by the performing arts organization World Music/CRASHarts. At the mention of "world music" the conversation quickly devolved into jokes about braided beards and bongo drums. "I'm going to ask everyone what zodiac sign they are and then nod knowingly," my friend texted dryly.
In retrospect, it's a little surprising that the term "world music" still evokes the specter of hippies and kumbayas, at least to some. Much has been written over the years, by critics and ethnomusicologists alike, debunking the more nefarious clichés associated with the term, as well as locating the roots of these tropes in colonialism's long and racist history. Such conversations inevitably lead to the conclusion that the designation is at worst offensive and at best inaccurate. Yet the genre known as "world music" persists along with its negative associations.
NPR's Anastasia Tsioulcas neatly distilled the problem in a 2014 article about New York City's globalFEST: "Even within the 'world music' community, nobody likes the term 'world music.' It smacks of all kinds of loaded issues, from cultural colonialism to questions about what's 'authentic' and what isn't (and who might get to police such inquiries), and forces an incredible array of styles that don't have anything in common under the label of 'exotic Other.' What's more: I believe that in many people's imaginations, 'world music' means a kind of fairly awful, gloppy, hippy-ish, worldbeat fusion. It's a problematic, horrible term that satisfies absolutely no one."
Speaking to me the day after CRASHfest, Maure Aronson, the founder and executive director of World Music/CRASHarts, begged me to discard the term altogether. "World music implies absolutely nothing, in my opinion. It was a term that was used in the '80s, that was used to market a certain genre of music, which has long been left behind," he said. Eventually he tired of my line of questioning. "Your conversation is boring," he told me. "It is not a new conversation. It is a conversation that was probably put to bed in 2005."
I can't begrudge Aronson his irritation. After 25 years, the hand-wringing over world music must seem endless. And it's probably unhelpful, from a booking standpoint, to think too rigidly about genre. The question driving World Music/CRASHarts is not "is this world music?" but simply: Is it appealing? Is it inventive? Does it bring a fresh perspective to the table?
At CRASHfest, any lingering apprehension about pan flutes or fusions was wiped away. The lineup was diverse in the best sense of the word; age, race, nationality and musical genre were no limitation. There was Monsieur Periné, a charming swing band from Colombia; Kishi Bashi, an American singer and violinist who makes effervescent pop; Debo Band, an electrifying Ethiopian fusion outfit from Boston; and the headliner, the ebullient Afropop icon Angélique Kidjo, to name a few. (The only act that raised my fusion-phobic hackles was The Dhol Foundation, a bhangra group from London whose coordinated drumming routine to a pre-recorded track of hyperactive Celtic fiddle music felt a tad Disneyesque.) The crowd was a mixture of young and old—it may have skewed slightly toward the under-40 set—and though majority white, it was far from homogenous.
One of the biggest misconceptions about world music may be that the fusing of many musical influences inevitably results in a diluted product. Not so for the artists at CRASHfest. Angélique Kidjo's set was urgently, relentlessly groovy, anchored by her sturdily emotive voice. And Kidjo was fiercely political. "Now, lately, rape has become a weapon of war," she declared by way of introduction to "Kulumbu," a song of peace. "And who pays a huge price [for] that? Women. But once conflicts of war are over, we are never asked to sit down at the table of negotiation, to write a peace agreement that lasts forever." Nothing wishy-washy about that.
Another highlight was Leyla McCalla, a New Orleans-based singer-songwriter and cellist whose trio played a mellow, intimate set on the smaller Foundation Room stage. McCalla's music is steeped in her Haitian ancestry and classical music training as well as Cajun, blues, and swing music. But whether McCalla was singing in Haitian Creole or playing a Cajun fiddle tune on her cello, those elements never seemed disparate, marked as they were by a mesmerizing, mournful minimalism.
In its inclusion of American-centric acts like the pop singer-songwriter Kishi Bashi, the Boston roots-rock band Session Americana and the Americana outfit The Steel Wheels, CRASHfest offered a subtle rebuff to the clichés that hover around world music like a cloud. Many of the negative stereotypes associated with the genre stem from the implicit understanding that there is "music"—i.e. rock/pop in the Anglo-American idiom—and then there is "world" music: music from East Asia and the Global South; music by brown people and people from developing nations; music of others, people who are not modern, not white, not us.
Michael Birenbaum Quintero, a professor of ethnomusicology at Boston University, identifies two main problems that stem from the popular understanding of world music: first, the misconception that the genre's music is primitive, pure, and unsullied by modernity; and second, that so-called world music artists have historically been dealt an unfair economic hand. (Consider the critique, outlined in Steven Feld's 1988 article "Notes On Worldbeat," that Paul Simon's 1987 album "Graceland" did not adequately recognize or compensate Simon's many African and American folk collaborators.) Quintero worries that with the rise of widely available sampling technology, musicians from around the globe are increasingly at risk of artistic and economic exploitation.
"The idea of a separation between the West and the rest is increasingly hard to hold onto," says Quintero. "And so what that means is that people are increasingly cosmopolitan: both people from outside of quote-unquote 'the West,' whose lives and whose musical imaginaries are infused with music like jazz or hip-hop or pop music or whatever, and by audiences here in the West who also have, increasingly, an ear open for these sorts of things."
"Look at Monsieur Periné," says Aronson. "They are a Colombian group, but they are influenced by other parts of the world. They are not playing traditional Colombian music at all. They are playing music that they like to play."
Quintero also points out that that the mocking stereotype of world music audiences as hippyish, back-to-nature types has its own problems. "I think that the opposite of this kind of romantic understanding of authenticity is a kind of ironic stance," he says. "And so people tend to approach this music as something that is packaged as this close-to-nature sort of authenticity. When in fact there's some very, very sophisticated things that are happening. I think the understanding of quote-unquote 'world music' as just being about drum circle, kumbaya sort of thing is in some ways just as demeaning as actually believing in that kind of romanticism."
When I think about it too hard, I start to feel very postmodern. "World music," after all, was born as a marketing tool, a shorthand by which record labels could sell international artists in Britain and the United States. But why, in any other context, do we need to label things? Words are just words, music is just music, and genre is a lie.
Of course, that line of thinking is based on a lie, too. No music emerges from a cultural void — and rarely, for that matter, a commercial one.
"I'm not so worried about the label of world music itself," says Quintero. "I think that the real issue with world music as a phenomenon is simply: Do people with other musical voices really have a voice? Are they free to express themselves in ways that make sense to them? Are they being slotted into this kind of place of romantic difference, noble savage? Are they being totally homogenized into a commercial, popular understanding of music? And secondly, do they have a voice not only musically and artistically and aesthetically, but do they have a political voice and an economic role in what's happening?"
Yet, even with all the self-awareness within the genre — the pages and pages of academic literature written on the subject, the assertion of people within the industry, like Aronson, that all music, no matter its country of origin, ought to be regarded simply as music—audiences still look to organizations like World Music/CRASHarts to provide a perspective contrary to the mainstream. "It's appealing to me because the only music that I was exposed to was music from my particular sector of America," Somer O'Brien, a CRASHfest attendee, told me. "I'm from outside Philadelphia, so I'm kind of East Coast, semi-urban, middle class, white. And I grew up on classical music, so that really sticks me in a particular path in terms of musical exposure. And I find that incredibly boring and unstimulating."
Aronson points out that when fans go out to see Tinariwen at the Paradise, they don't think to themselves that they're patronizing a world music concert—they're just going out to see a cool band from Mali. But without World Music/CRASHarts, groups like Tinariwen would pay far fewer visits to Boston. Aronson's organization is one of the few in town to consistently bring in so-called world or global music artists (World Music/CRASHarts works almost exclusively with touring performers); even when these musicians appear in rock clubs like the Paradise or the Sinclair, which are booked by Crossroads Presents and The Bowery Presents, respectively, it is usually in conjunction with World Music/CRASHarts. And the city's local representatives of, say, Afropop or Latin fusion rarely make appearances in these more mainstream venues. Were we to truly regard ourselves as global citizens and do away with the notion of world music altogether, then an organization like World Music/CRASHarts would be rendered obsolete.
There is no real danger of that happening anytime soon. CRASHfest made me feel lucky that Boston can call World Music/CRASHarts our own. And at the end of the evening, as festival goers trickled out from the bars and the two smaller stages and converged on the main hall for Kidjo's set, it was a sense of togetherness that reigned.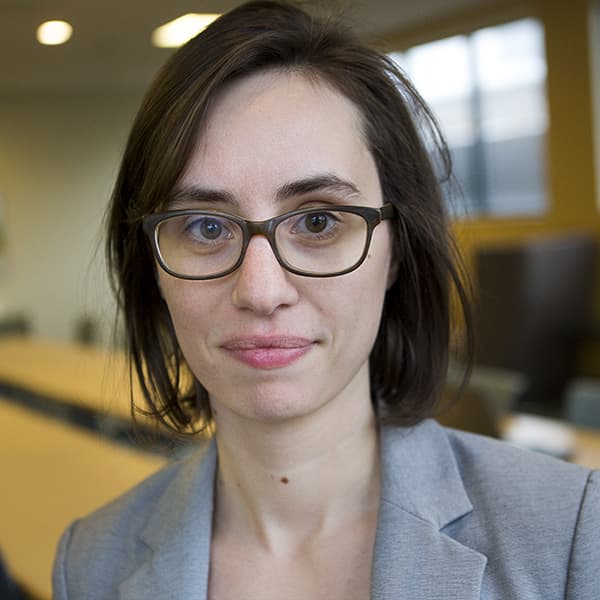 Amelia Mason Arts And Culture Reporter
Amelia Mason is an arts and culture reporter and critic for WBUR.