Commentary: Has Gov. Baker Conceded The Mass. GOP Primary To Donald Trump?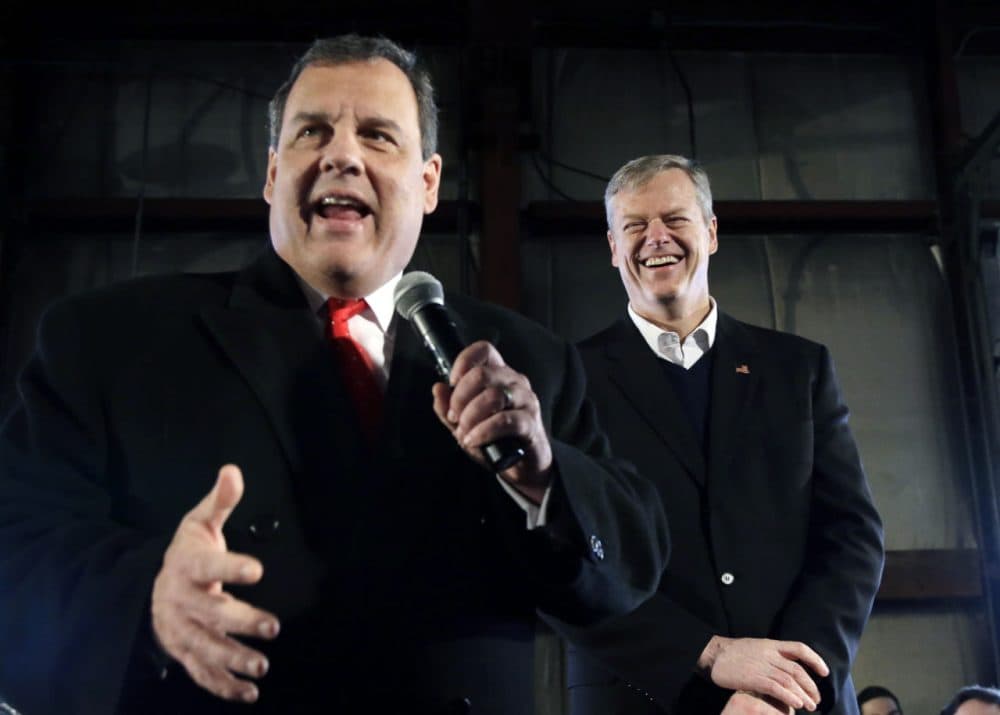 This article is more than 5 years old.
In January, I wrote about Gov. Charlie Baker's "quandary" — whether he would "stay silent" on the Republican presidential race.
Right before the New Hampshire primary, Baker endorsed New Jersey Gov. Chris Christie. New Hampshire polls made clear that Christie would lose big and be out of the race, but it seemed expedient for Baker to endorse his old friend for a few reasons:
1) He owed Christie for past support.
2) He could later claim to have supported a candidate against Donald Trump, whom he had criticized.
3) He could then revert to neutrality so he didn't get embroiled in the GOP demolition derby, and thus maintain his nonpartisan image, which is part of his popularity in this heavily Democratic state.
The state's media have been unusually supportive of Baker. Flattering media coverage is certainly a factor in the governor's high popularity. But the State House press corps did him no favors by not pressing him on an obvious question: Once Christie quit the race, would Baker endorse another alternative to Trump — Florida Sen. Marco Rubio or Ohio Gov. John Kasich? With no pressure from the media — no editorials, columns, talk show commentary — Baker felt free to stay neutral. It was the path of least resistance. There was no pressure to explain how he could do nothing and allow Trump to coast to victory in this state GOP primary.
Now, when polls suggest it's too late to stop Trump in Tuesday's primary here, a Boston Globe editorial and op-ed urge Baker to announce his support of another candidate. "Baker shouldn't allow Trump to win Massachusetts without a fight," the Globe editorial said. "Um, Charlie, wake up; the GOP needs you," is the headline of Scot Lehigh's column.
In earlier times, the state media would have long ago pressed the governor to take a stand. After all, he is the Republican leader in this state. He has been actively promoting his candidates for the Republican State Committee, so it's not as if he is totally nonpartisan. Why then would he not try to stop a Trump victory here? By not endorsing another candidate against Trump, and by not using his political organization, Baker is, in effect, conceding this state primary to Trump.
And now Christie, the man who Baker endorsed for president, has endorsed Trump. Baker said he was "surprised, but not disappointed" by Christie's endorsement. Apparently it doesn't affect Baker's decision, or indecision, to let Trump cruise to victory here. It's so late now, it probably doesn't matter if Baker did announce support of Kasich or Rubio. He had the chance months ago to organize and lead opposition to Trump. He chose not to do so.
But Baker's quandary won't vanish after this state's primary. If Trump is the GOP presidential nominee, Baker will face questions that he cannot effectively evade: Will he support Donald Trump in the general election? Will he vote for him, and campaign for him?
Todd Domke is a Republican political analyst and regular contributor to WBUR Politicker.