5 Ways To Diversify The Music Industry Right Now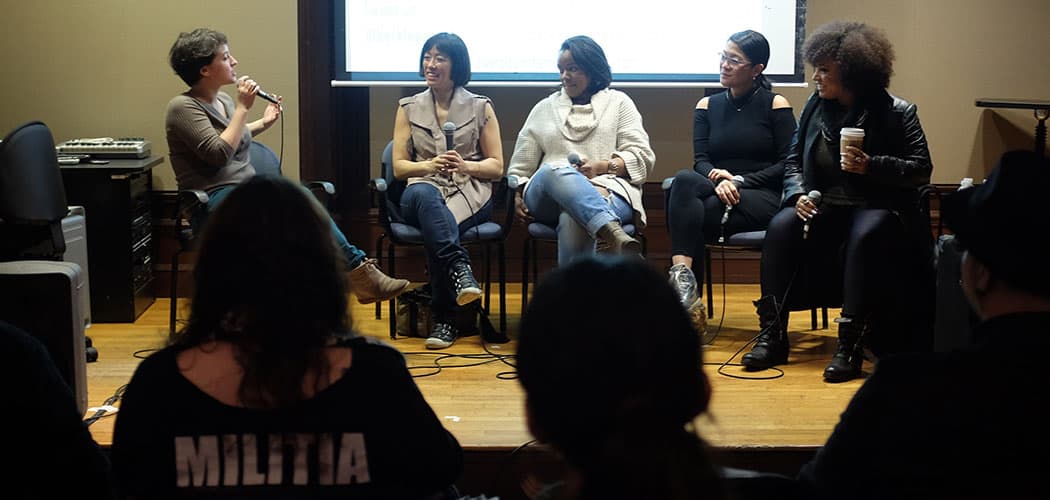 This article is more than 6 years old.
From the outside, the music industry can look diverse, with stars like Beyoncé, Kanye West and Bruno Mars making headlines every day. But too often that isn't the case, especially in industry leadership positions that serve as gatekeepers for those starting out.
That's what Berklee College of Music students Corliss Lee and Haley Haerr-Hartmann found when they began attending industry panels and events in preparation for life after graduation.
Frustrated by the homogeny, the two founders of the student-led After Berklee Panel Series organized a daylong conference entitled "Diversity in the Music Industry" at Berklee in Boston on Saturday, in partnership with the networking nonprofit Women in Music.
A morning panel of people of color in the industry featured a wide-ranging discussion on the challenges facing minorities in the music business and offered heaps of practical advice to young people trying to break in. Based on that conversation, here are five ways music industry professionals can work to diversify the business:

1. Stop putting people in boxes. The panelists, all women of color, spoke repeatedly of being shut out of certain sectors of the music industry because of assumptions based on their ethnicity.
"I was told, up and down, that the only way I could be in the music business as an Asian person was in this kind of group where I would be the token Asian," said Elizabeth Chan, the self-described "queen of Christmas" and CEO of Merry Bright Music. "And when I tried to be a solo artist, executives would tell me, 'No, because in the United States, Asian artists don't make it.' "
Militia Vox, frontwoman of Judas Priest tribute band Judas Priestess, said, "I've turned down every record deal I've ever been offered, because they would see me — I do hard rock, I do metal and stuff — and they would look at me and they'd be like, 'Tina Turner!' "
2. Support self-starters. "You'll notice that everyone on this panel, they made their own way," said Becky Yee, a portrait photographer and the founder of Around Digital Media. "So, we're on a panel for diversity — it doesn't exist. An Asian-American Christmas singer-songwriter: it didn't exist, but [Chan] created it. So whatever music you have, you can create [space for it]."
3. Take chances on music that breaks the mold. "When I was coming up, my first band was an industrial band," said Vox. "And name one black person in industrial music: you're looking at her. That was it. And actually my first industrial band started down the street from here. We didn't know what we were doing. We were just having fun and making dark and heavy music and playing at crappy clubs in Boston. … And then labels started peeking around. And they were like, 'Oh, they're doing something different. Maybe we could get some of this.' Because we had packed houses."
4. Improve the diversity of networking events and do more outreach aimed at minorities. The panel itself was a step toward solving the problem it was designed to address. The panelists emphasized how important personal connections were to making it in the business, for both performers and those trying to break in behind the scenes.
Chan offered an example: "The reason why I got [my music] licensed on '[Keeping Up with] the Kardashians' is because I met the music supervisor not once, not twice, not three times, not four times, not five times — six times, in six different cities around the country, at six different conferences. And then he finally remembered me and said, 'You're the Christmas girl and the Kardashians are doing this secret Christmas special, and I think maybe we might want to license something from you.' "
5. Encourage young people just starting out to stay true to themselves. With extra pressure on minorities and women to conform to stereotypes, the panelists urged musicians not to bow to the compulsion to fit in. Chan said that it was crucial to be passionate about your artistry, because a lot of the time the work involved in breaking into the business would be difficult and discouraging: "It already sucks to begin with, but if it sucks and you're doing something that you love, then it's awesome. But if you're not true about who you are as an artist and you're doing this stuff and it sucks, you're going to kill yourself. It's going to really suck. I say this because the music business is about the survival of the fittest. And it's about those who are authentic to themselves."