Behind The Scenes Of The BSO's Ambitious Shostakovich Recordings
Resume
Uncertainty is the music industry's new normal as companies and consumers migrate from albums and CDs to downloads and streaming platforms. That got us wondering why the Boston Symphony Orchestra — which wraps up its current season this weekend — has embarked on an ambitious recording project that seems rare and risky these days.
It's a series of 15 Dmitri Shostakovich symphonies with the classical music label Deutsche Grammophon. The first CD from "Shostakovich: Under Stalin's Shadow" cycle won a Grammy in February. The next one comes out in May.
To find what's driving this collaboration, I took a behind-the-scenes look at how one of the composer's pieces was recorded.
What's Going On Underneath Symphony Hall 
At a rainy day matinee, conductor Andris Nelsons and more than 100 BSO musicians launch into an hour-long performance of Shostakovich's dynamic Symphony No. 8. The stakes in the hall are higher than usual because this concert is being recorded for a commercial CD.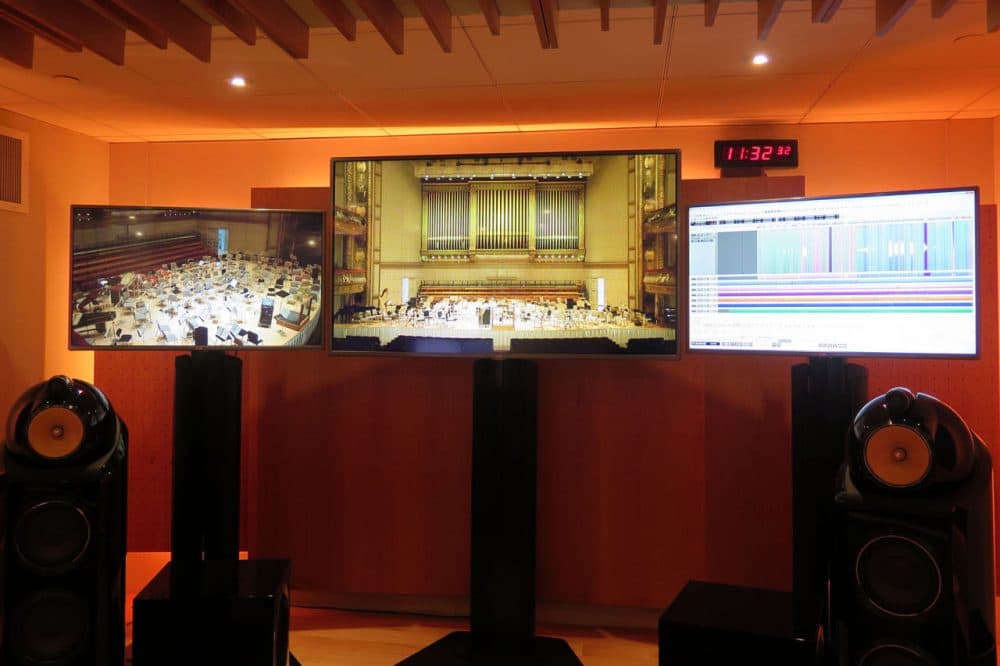 If the audience could teleport down into Symphony Hall's cavernous basement, they'd see a seasoned music production team on high alert. Everyone is listening closely to the performance upstairs, watching it on TV monitors, pushing buttons and taking notes in the BSO's newly renovated recording studio.
"It actually feels like he's moving this along a little faster than yesterday, too, doesn't it?" one producer says about Nelsons' timing upstairs.
Deutsche Grammophon President Clemens Trautmann traveled to Boston for meetings with BSO management about extending the contract for the recording project.
"I believe what we are aiming here at is to create the iconic Shostakovich cycle of the 21st century," he told me.
But Trautmann acknowledged that's no small task in a century where dozens of Shostakovich symphonies can be found online.
He says his 118-year-old classical music label has become highly selective about taking on big projects like this multi-CD cycle. It's a challenge to create recordings that can win over the digital streaming audience. Deutsche Grammophon needed the right orchestra, conductor, concert hall, production team and digitally-minded partner.
"The BSO has a great digital footprint with 10 million unique users," Trautmann said. "That is very impressive."
Especially in the classical sector, Trautmann added.
He called the Boston Symphony Orchestra a "global brand" because it tours, which helps sell albums. And there's the BSO's passionate, Latvian-born conductor, Nelsons, who has a personal connection to the music of Soviet-era Russian composer Shostakovich.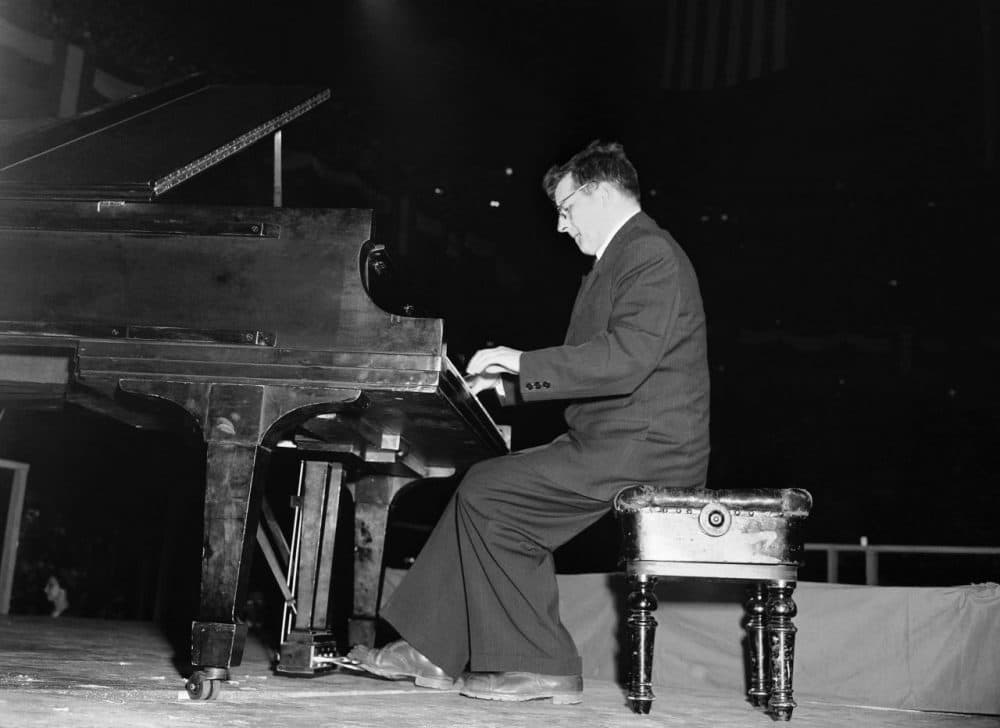 Also, former BSO music director Serge Koussevitzky championed Shostakovich's music in the U.S. The orchestra hosted the American premiere of his seventh symphony, and Koussevitzky brought the composer to Boston during the Cold War era.
Expanding In A Competitive World
Fact is the BSO has been recording on its own for decades. Its recordings are available through digital giants Amazon and iTunes, and the organization already has a working relationship with Google Play.
So why did the BSO accept the Berlin-based company's proposal to record this series of symphonies?
"We think it's critical, to further solidify our position as one of the leading orchestras of the world, to have a significant media presence," the orchestra's managing director, Mark Volpe, explained.
He pointed out that Deutsche Grammophon is part of the vast Universal Entertainment Group. Volpe hopes this partnership will expand the BSO's reach in Asia and other global markets.
"Plus, it's also something we haven't done," Volpe said of the Shostakovich cycle. Then he acknowledged, "The only risk is there are all these great recordings and you know it's a competitive world."
So how do you make a great, live, classical recording that will cut through the glut of musical content out there?
There are many ingredients that go into that recipe, Volpe said. He then highlighted one set of variables.
"This goes for pop and commercial music, it goes for classical music, it goes for jazz: You can have the greatest performance, but man, if your engineer and your technicians and your guys who are doing the mastering aren't up to it, it doesn't matter," he said.
Volpe's "hired gun," as he calls him, is Shawn Murphy. He's been producing classical recordings — including film scores for former Boston Pops conductor John Williams — for more than 30 years.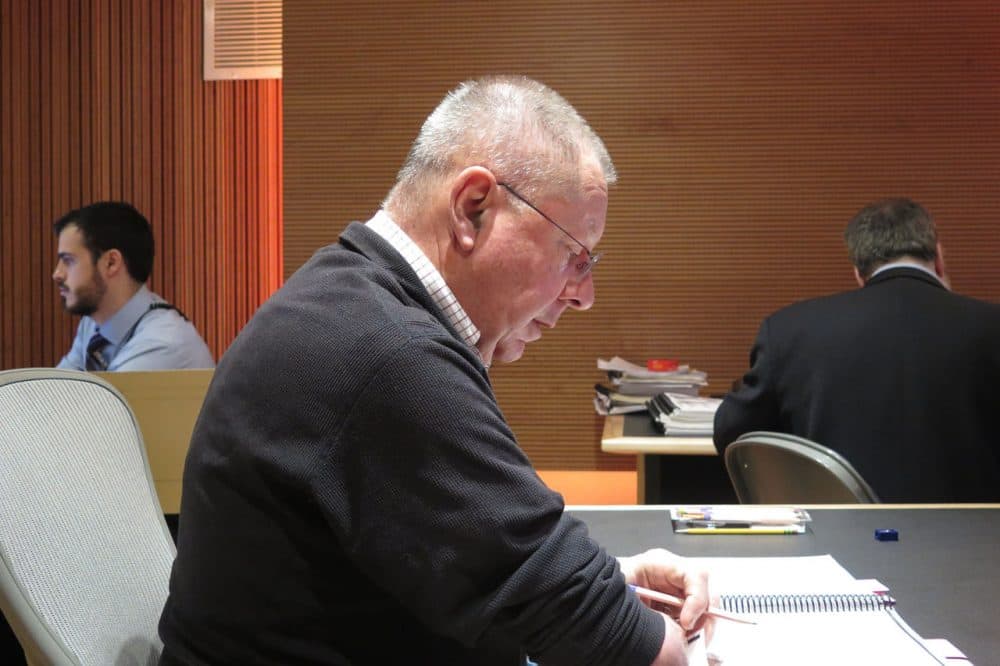 In the studio during the performance, Murphy follows along with the printed score, marking the pages with a colored pencil. He comments, "pretty great," as the musicians move into a vibrant section of the symphony.
Murphy says recording an orchestra playing in front of an audience is very different than doing it with musicians only in a controlled studio.
For this CD, the team will actually have four live performances of Shostakovich's Eighth to choose from, including this day's. They'll work with Nelsons to choose the best parts, and then edit and mix them together into what sounds like one concert.
"Based on artistic choices and sometimes technical choices," Murphy explains. "Editorially, you know, these can be quite intense. Some of these symphonies have hundreds and hundreds of edits."
After all four concerts are recorded, Nelsons will choose the final cuts with help from another person in the room: Robert Wolff. He used to be the senior music editor at the label Sony Classical.
"I've been most impressed with the fact that the Boston Symphony and Deutsche Grammophon want to do this," Wolff told me. "I saw the whole dissolution of the classical recording business, and all the orchestras that were under contract to major labels no longer have contracts, and this is an almost unique situation."
'It's Kind Of Like Being A Surgeon'
The BSO actually records all of its performances, mostly for the organization's vast archives. Nick Squire is one of the orchestra's engineers and says there are many things that can't be controlled in a live situation, including minor missteps by musicians or audience noises like coughs during a quiet solo. But they have computer programs that can actually remove unwanted sounds.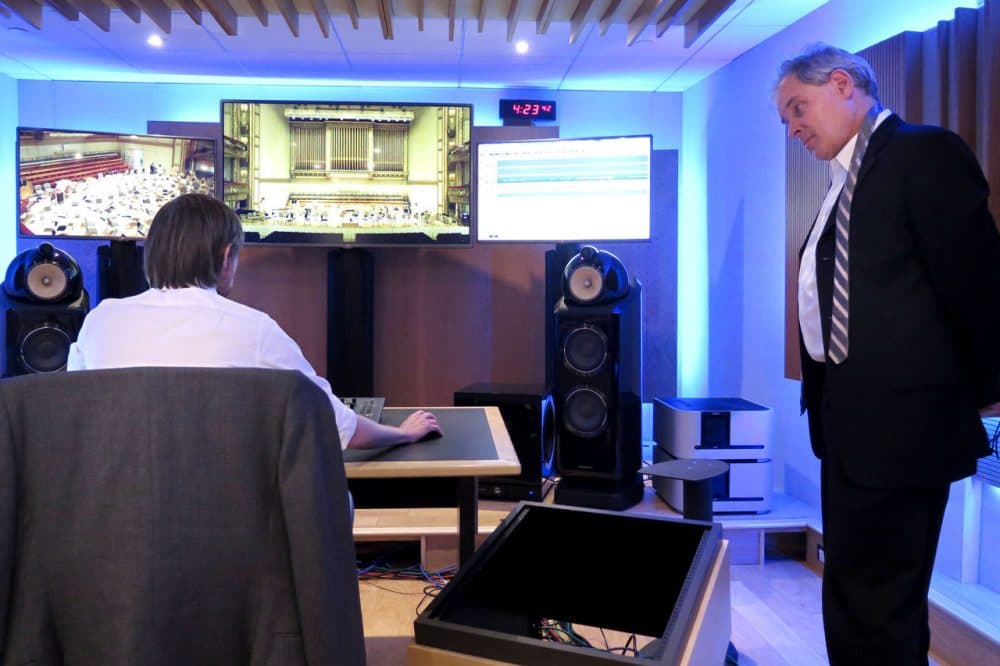 Squire fires one up to demonstrate. "It's kind of like being a surgeon," he says, "you select certain areas and the technology processes them." The coughs that echo through the hall are there one minute, gone the next.
But for Squire and the team the goal is not to erase the audience from the final recording because the people add to the energy and charm. He says you can feel the audience's presence in this Shostakovich symphony.
"There are moments where it's very tense — and finally the music releases — and you hear 2,600 people breathe at once, you know, as they're moved by this beautiful music," he says. "I think that's what makes some of these recordings so magical."
At the end of the matinee performance, Nelsons comes down to the control room for a playback session. He's changed from his conductor's suit to a hoodie and is ready to review the concert's highs and lows with the team.
Volpe is here too and says, "The goal is we finish by 1 a.m."
Nelsons leans over his well-worn Shostakovich No. 8 score. Sticky notes stick out from its pages.
"It's better than yesterday," he says, looking into the eyes of the other team members to gauge their reactions. Then he jokes, "Even the coughs sound better."
For Nelsons, recording this way — with an audience — captures what it's like to experience Shostakovich live.
"It is very close to the feeling in the concert hall," he muses.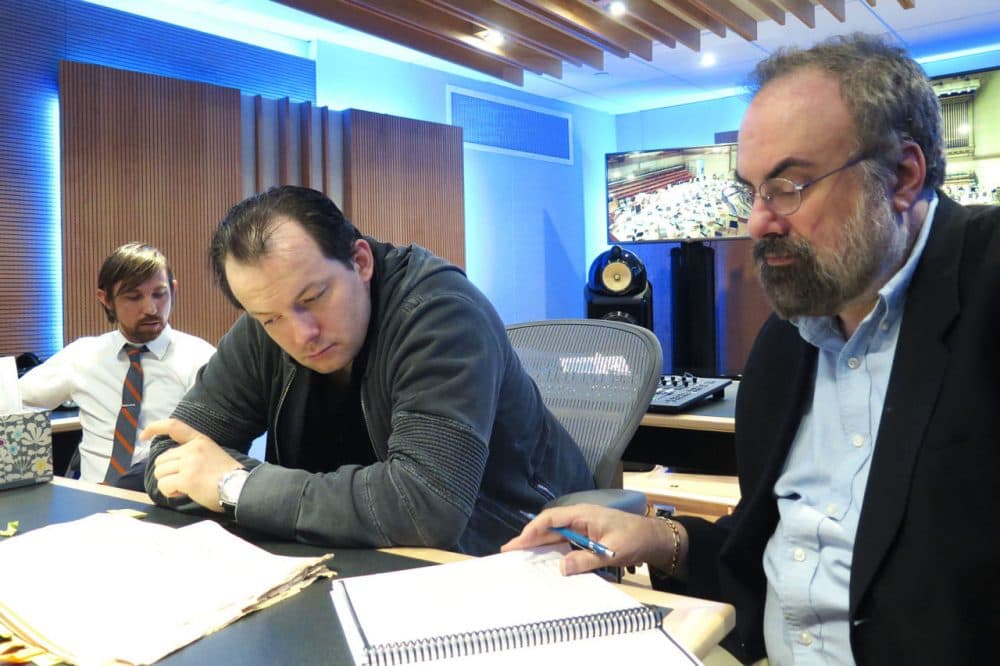 After hours of listening and discussion, Nelsons and the team selected an almost equal mix of material from two concerts, with a few parts pulled from the other two performances.
Everyone agrees that winning a Grammy this past February for the debut release in the Shostakovich cycle was encouraging. But looking ahead, Trautmann said the future of the music industry is still a mystery.
"Of course we are trying to anticipate, but we just don't know at the completion of this cycle what will be the outlets to listen to this music. We just know there will be relevant outlets," he said.
And Trautmann said those outlets will make these symphonies available to wider audiences than the lucky ones who get to hear the BSO perform Shostakovich for them live at Symphony Hall or in Europe during the orchestra's upcoming tour.
The new CD, featuring Shostakovich's Symphonies No. 5, 8 and 9, goes on sale internationally in May.