At ArtsEmerson, 'Premeditation' Should Have Thought A Little Longer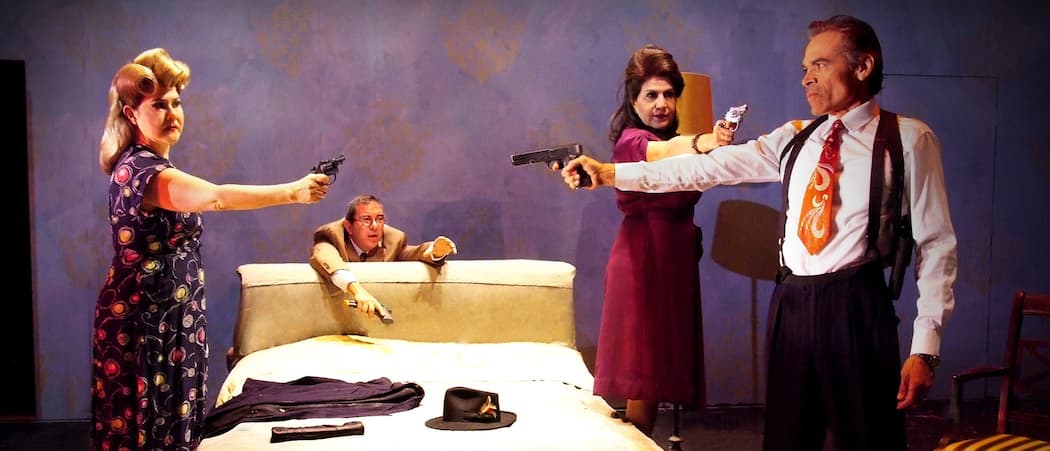 This article is more than 5 years old.
What's the difference between artful pastiche and a mismatched mess? It's a question of feel, I suppose. But though it offers some pleasant enough light comedy, "Premeditation" is closer to the latter than the former.
Latino Theater Company's four hander, at the Paramount Center's mainstage through May 14, closes out ArtsEmerson's season. Following "Historia de Amor" by the Chilean company Teatrocinema and Marissa Chibas's "Daughter of a Cuban Revolutionary," it completes a trilogy of productions by Latino artists. ("Daughter" and "Premeditation" were also seen at Encuentro 2014, a major Latino theater festival in Los Angeles co-sponsored by fellow Emerson College-affiliated group HowlRound.)
The season included productions performed in Spanish, Russian and Polish, and a Shakespeare play in which pizza was delivered to the theater and passed around the audience. The sample of cultures has been well-appreciated — as much in a piece like "Premeditation," in which the characters' Chicano heritage is cited casually as an unremarkable fact, as in ones like "Chopin without Piano" and "Three Sisters," where the piece's essential Polishness or Russianness, respectively, is central to its meaning. ArtsEmerson presents a steady stream of performances that match high-concept with invigorating pluralism. Even when some productions miss the mark, they enrich the local theater offerings.
"Premeditation," directed by José Luis Valenzuela, presents itself as a winking noir piece — fedoras, cigarettes and sunglasses are the accoutrements of choice in this story about two bickering couples and the lengths to which a person can be driven by everyday domestic aggravations. Upstage projections of silent footage of the various characters in back and white close-up adds an abstract, shadowy patina to the stage presentation. (Projection design is by Pablo Santiago.) But the tone is repeatedly undermined by au courant references to the likes of Trader Joe's and the true-crime television series "Snapped," and by the conspicuous use of iPhones, leaving one to wonder just what the play's creators are going on about. And even when it stays on-tone, "Premeditation" doesn't suggest any fresh re-arrangement of noir signifiers. It merely plays genre karaoke.
But is it funny? Sure, sometimes — though the gendered nature of the material invites greater scrutiny than we're content to apply when, say, watching "I Love Lucy."
Things open with a well-staged scene of overlapping, criss-crossing dialogue. Both couples are in their separate homes, bickering simultaneously over mundane grievances. One husband's reply seems to respond to the complaints of the other's wife, and vice versa. But rather than suggest that men and women are equally to blame in household squabbles, this scene presents the women as interchangeable, soul-crushing hen-peckers. (It's worth noting that the playwright is female — Evelina Fernández, also one of the actresses.)
We hear the ladies' grievances — about wet towels tossed on the bed and empty Doritos bags left in the car — but never see the offending behavior. The men are earnest and besieged; the women are, by turns, hysterical and cruel.
The central conceit is that Esmeralda (Fernández) meets with Mauricio (Sal Lopez) at a hotel for what appears at first to be a tryst, but is actually a business meeting. Mauricio is a hit man, and Esmeralda wants to be rid of her professor husband, Fernando (Geoffrey Rivas). Lydia (Angela Moya), Mauricio's wife, discovers Esmeralda's phone number in her husband's pocket, and soon enough she and Fernando meet up and are off to confront their spouses. Hijinks ensue.
"Premeditation" offers plenty of chuckles in the fast-moving scenes that precede an overlong, dragging finale. Lopez is particularly good, drawing delayed laughs with a series of dry one-liners. Moya is suitably over the top as both the aggrieved wife and a hotel desk clerk. The funniest material comes when these husbands and wives temporarily switch allegiances — when Mauricio repeats some of Esmeralda's more intimate complaints to her husband's face, it's hilarious.
The point to all this business seems to be that couples all face the same problems, or something. Also: women nag, and men are kind of slow. The pop-psychology touchstone "Men Are From Mars, Women Are From Venus" is invoked at one point, but this play's insights into matrimonial relations go no deeper than that. After 90 wandering minutes, it feels like this production has some 'splainin' to do.