Shakespeare's Rare First Folio Attracts Scholars — And Groupies — To Amherst
Resume
Original editions of a rare book known as Shakespeare's First Folio are touring sites in the U.S. for the 400th anniversary of the playwright's death. They represent something of a Bible or Holy Grail for actors, scholars and fans of the Bard.
Many believe if copies of the First Folio didn't survive the rigors of time, classic plays such as "Macbeth" could've been lost.
Amherst College is the only venue in Massachusetts hosting the roving exhibition, titled "First Folio! The Book That Gave Us Shakespeare." I visited to find out more.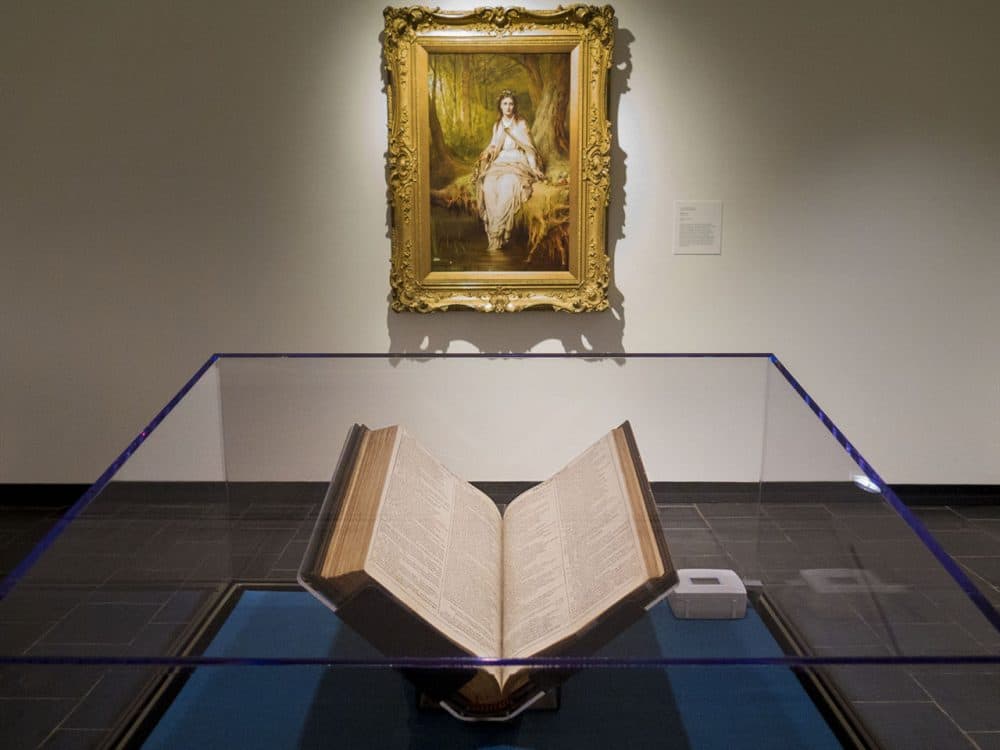 It's telling that the First Folio travels with its own protective gear. Stephen Fisher, the collections manager at the Mead Museum, is no stranger to handling precious objects, but even he says installing the First Folio display has been a big production.
"It arrived in what looked like bulletproof cases," Fisher described with a laugh. "The folio itself is in its own container. It was armored."
Now the First Folio rests comfortably in a climate-controlled glass case. It's Fisher's responsibility to monitor its condition during its month-long stay in Amherst, and he'll report his findings back to the Folger Shakespeare Library in Washington, D.C., which owns the book. He says museum security and staff are ready for an uptick in visitors that's bound to include more than a few Shakespeare groupies.
"People are going to come and see it, and it's going to be a religious experience for them," Fisher explains, "and then there are people who are going to come and say, 'That's it? It's kind of small, it's not as big as I thought. There's no pictures.' "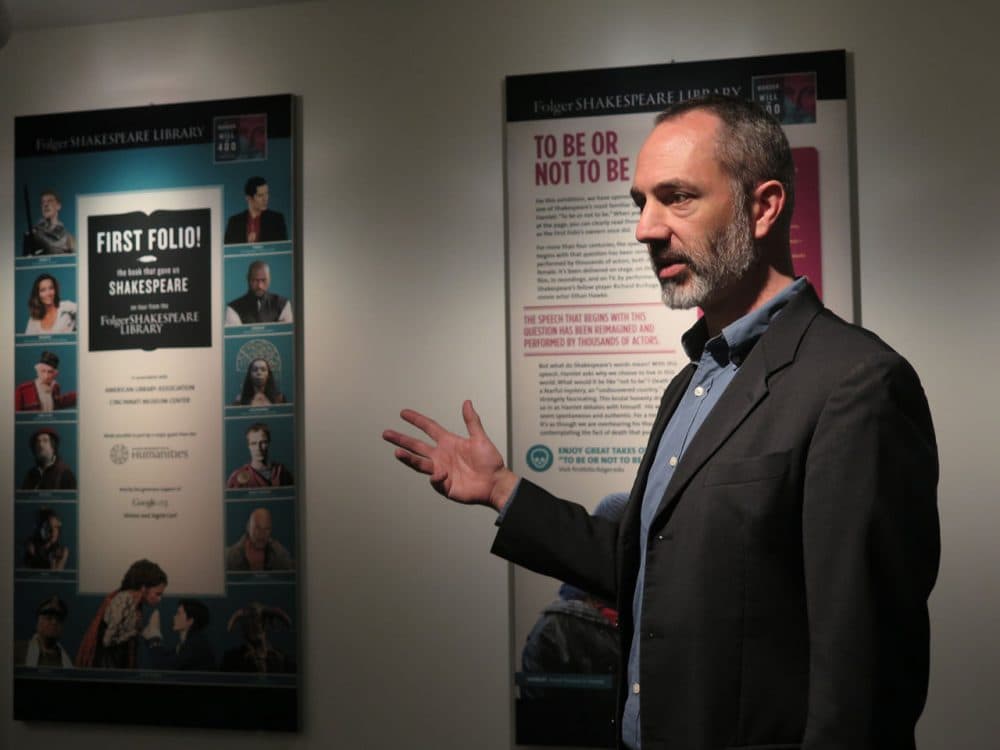 "What we now know of as Shakespeare -- you know, capital S, neon letters Shakespeare -- starts as a pretty humble book," says Mike Kelly, who heads archives and special collections at Amherst College.
But Kelly admits it's not as humble as, say, a Penguin paperback of "Hamlet." He admires the folio's gilded pages and beautiful binding. Also the fact that the publication of this big, fat tome of three dozen plays was groundbreaking in 1623.
"The folio format is generally the format for things like the Bible or the encyclopedia," Kelly says. "And so this was breaking a barrier by saying that these plays deserve this physical format."
"When this came out with 36 plays in it, 18 of these had never been published before, so this is our first and best source for a lot of these plays," Amherst College English professor Chris Grobe explains.
Before the First Folio, Grobe says many of Shakespeare's plays were printed in cheap, quickly-produced paperbacks known as quartos that were often rife with mistakes.
"A lot of the texts that existed during Shakespeare's day were bad, pirated copies," he says. "And the actors who put the folio together specifically did it in order to overwrite all of these bad, incomplete versions of the plays. So without the folio those bad quartos might be our source for Shakespeare."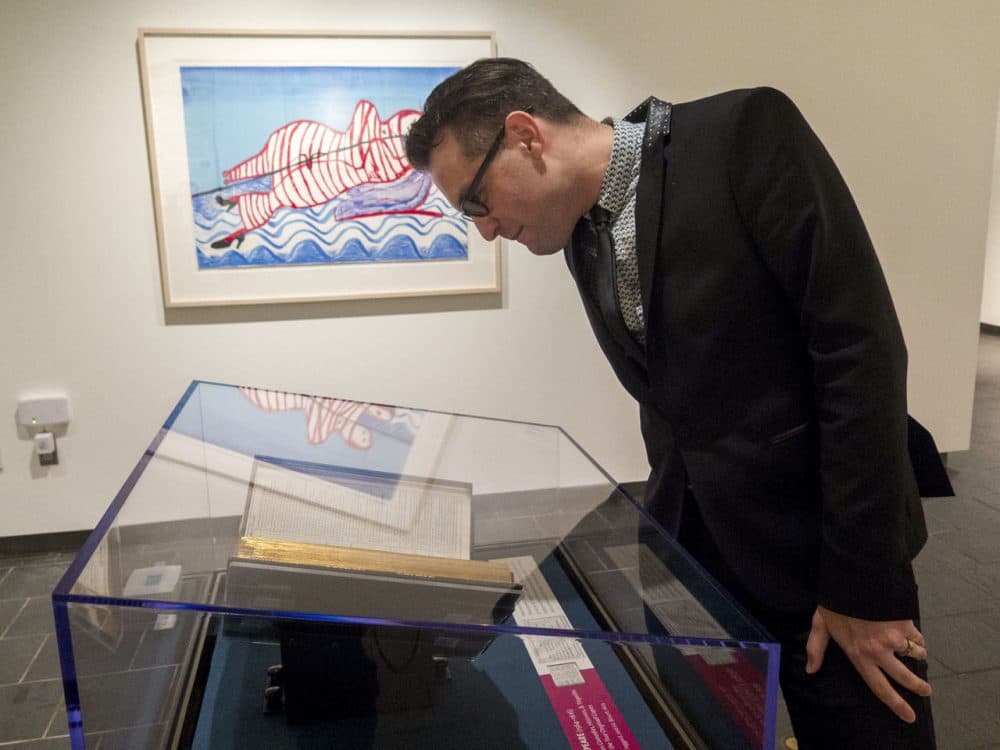 It's estimated that 750 copies of the First Folio were printed in 1623. The Folger Shakespeare Library owns 82 copies, including the one on display at Amherst College.
Collector Henry Clay Folger is an alumnus, and Grobe says his collection of First Folios — said to be the largest in the world — helped make Shakespeare, Shakespeare.
"A world without the First Folio might be a world where Shakespeare's reputation did not endure and grow in the way that it has," Grobe told me.
In the museum's display, the First Folio is opened to a pivotal scene in "Hamlet." Kelly notes how the word "tragedy" ends with "ie," not a "y."
"All the names of the characters are abbreviated, so it says, 'Ham.' Period. And then, 'To Be or Not to Be, that is the question.' "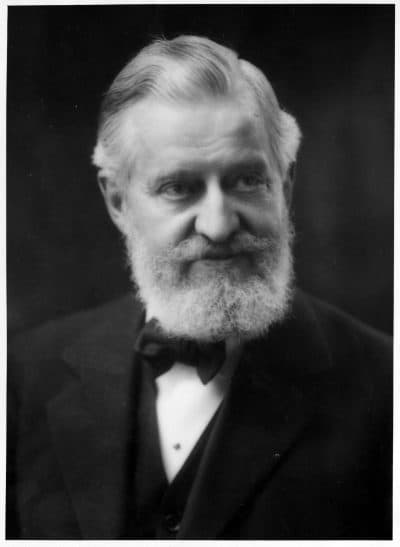 But that's not the question, according to a copy of a "Hamlet" quarto also on display in Amherst's special collections library.
"One of the earlier printings of that very speech said, 'To be or not to be, ah that's the point!' Which doesn't have the same ring to it," Kelly muses, smiling.
"No it doesn't," agrees Tina Packer, laughing. "It doesn't mean it wouldn't have been as famous, but it doesn't."
Packer is the founding artistic director of Shakespeare & Company in Lenox and an ardent scholar of the Bard. She shares a few other famous lines from the plays in the First Folio that might not exist if the book didn't exist.
"We wouldn't have 'Julius Caesar' so there would be no 'Friends, Romans, countrymen, lend me your ears,' " Packer says. "We wouldn't have 'Twelfth Night' so no 'patience sitting on a monument smiling at grief.' We'd have no 'Macbeth' so there would be no, 'Tomorrow and tomorrow and tomorrow.' "
Packer has traveled to see other First Folios currently on tour in the U.S. -- one in Mississippi, the other in Vermont.
"It fills you — well, me — with deep pleasure, and suddenly you start getting a perspective you didn't get before about what a contribution a book can make to the world," she says. "I don't think we should just think of it as an artifact to look at; it's actually a book in order for other people to be creative with."
The plays in the First Folio have inspired not just actors, but countless other artists, including Amherst native and poet Emily Dickinson.
"Shakespeare for her was the pinnacle," Jane Wald, executive director of the Emily Dickinson Museum in Amherst, tells me. "Next to the Bible the work of Shakespeare was her most highly valued literary resource."
Dickinson even had a rubbing of the Bard's gravestone: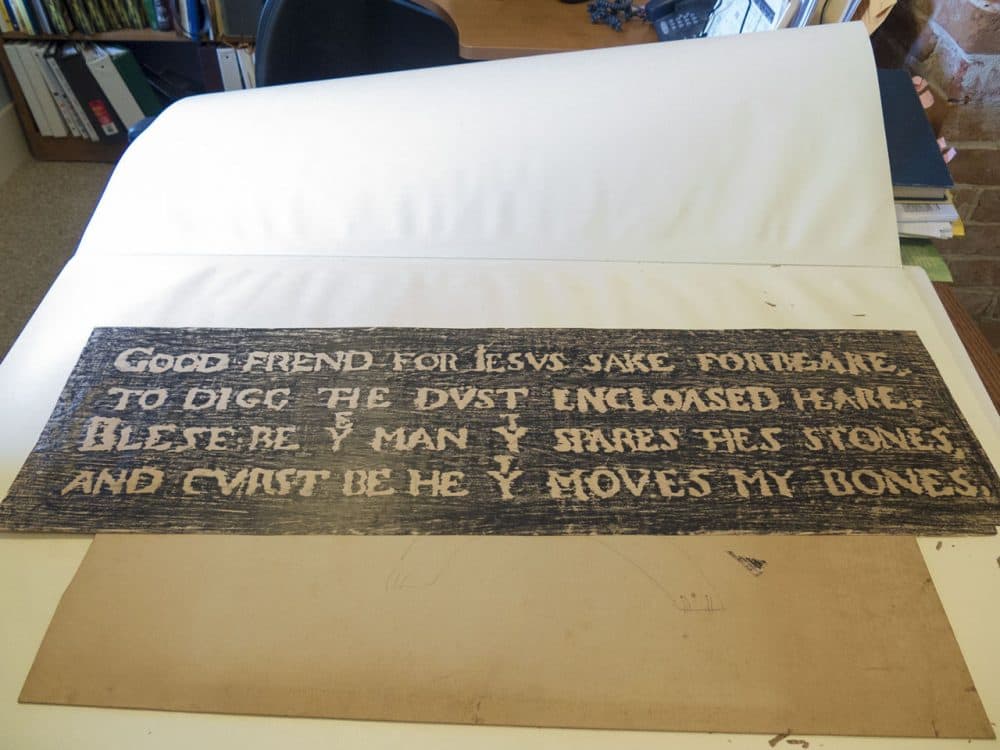 Wald mused that the poet would be thrilled to know Shakespeare's First Folio is in her hometown. Brooke Steinhauser, museum program director, agrees and shared one of Dickinson's many Bard-inspired poems:
Drama's Vitallest Expression is the Common Day
That arise and set about Us—
Other Tragedy

Perish in the Recitation—
This—the best enact
When the Audience is scattered
And the Boxes shut—

"Hamlet" to Himself were Hamlet—
Had not Shakespeare wrote—
Though the "Romeo" left no Record
Of his Juliet,

It were infinite enacted
In the Human Heart—
Only Theatre recorded
Owner cannot shut—
The First Folio will be on display at the Mead Art Museum through the end of May, with additional programming throughout the month. If you miss this First Folio's visit, you could see the Boston Public Library's copy in an exhibition opening in October.