Theremins, Trumpets And Triangles: 10 Bands To Check Out At Somerville PorchFest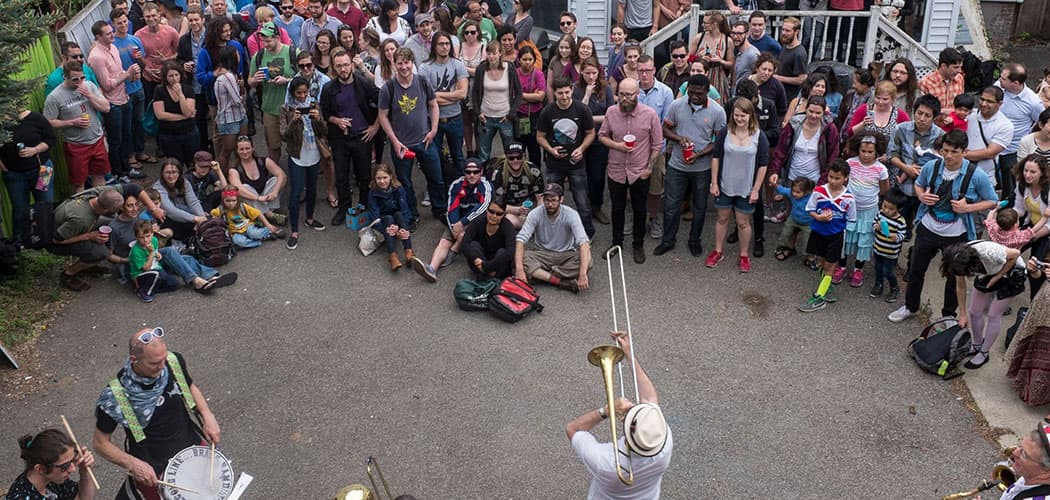 This article is more than 5 years old.
The wacky, the baffling, the sublime: You'll find it all at Somerville PorchFest. The event, now it its sixth year, is one of the longest-running festivals of its kind. (The PorchFest movement originated in 2007 in Ithaca, New York.) Somerville's PorchFest, which falls on May 21, works like this: Residents get together, decide they want to play some music on their porch/front yard/stoop, and then sign up on the PorchFest website. They are given a time slot based on their address, as the festival moves from East Somerville to West Somerville throughout the day. You can find a map and full lineup here.
PorchFest is designed for the discovery that arises from wandering, so it's important to bring an open set of ears and an adventurous pair of feet. For the folks who prefer to wander with purpose, here is a list of 10 standout acts to add to your itinerary.
---
Matt Glaser and Friends: 18 Park Place, 12 – 2 p.m.
Matt Glaser, the artistic director of the American Roots Music Program at Berklee College of Music, is a jazz and bluegrass fiddler of monstrous ability and a voracious musical appetite.
---
Tony "the Tones" and the Wombo Combo: 324 Washington Street, 12 – 2 p.m. Listen on Bandcamp here.
Good-natured jazz standards for chill vibes on a Saturday in May.
---
Fable Grazer: 135 Highland Ave., 12 – 2 p.m.
The experimental free improv collective offers a refreshingly weird experience among PorchFest's many pop-adjacent acts.
---
Emperor Norton's Stationary Marching Band: 16 Prospect Hill Ave., 12 – 2 p.m.
Boisterous and bizarre, Emperor Norton's is one of Somerville's least stationary and hardest-working bands.
---
Dan and the Wildfire: 5 Albion Street, 2 – 4 p.m.
Heartfelt, harmony-rich songs from local folk-rockers.
---
The Blue Ribbons: 10 Browning Road, 2 – 4 p.m.
With a popular Tuesday night residency at Toad in Cambridge, The Blue Ribbons have established themselves as a favorite source of live, local rock 'n' roll.
---
Jon Bernhardt, Thereminist: 9 Charnwood Road, 2 – 4 p.m.
Probably your only chance all year to witness live solo theremin music. Not to be missed.
---
Forró Zabumbeca: 18 Central Street, 2 – 4 p.m.
Happy vibes from Somerville's premiere Brazilian ensemble.
---
Porch-i-oke with Rev. Dave and the Reprobates: 239 Highland Ave., 2 – 4 p.m.
Probably your only chance all year to sing karaoke with a live band. Also not to be missed.
---
School of Honk: 5 Cutter Ave., 4 – 6 p.m.
The local, open-to-all community brass band is only a year-and-a-half old but seems to be growing exponentially, drawing huge crowds to their exuberant parades every Sunday in Davis Square. Dancing is encouraged—nay, required—and sparkle-clad group dance leaders will be on hand to assist.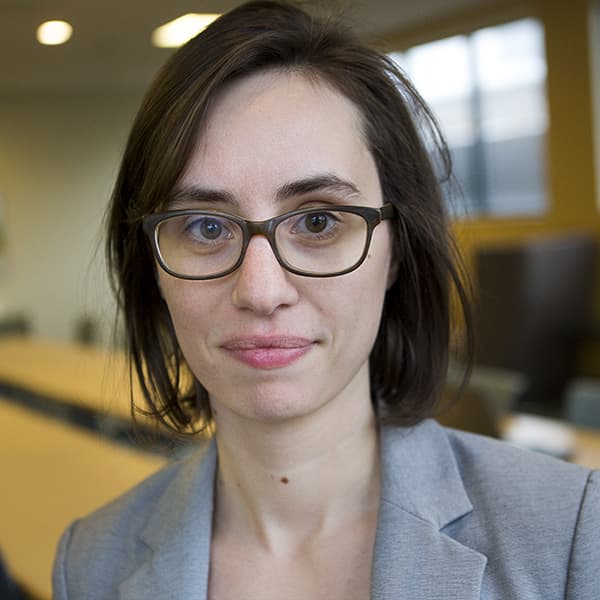 Amelia Mason Arts And Culture Reporter
Amelia Mason is an arts and culture reporter and critic for WBUR.