Art With A Purrr-pose: Cats Take Over The Worcester Art Museum
Play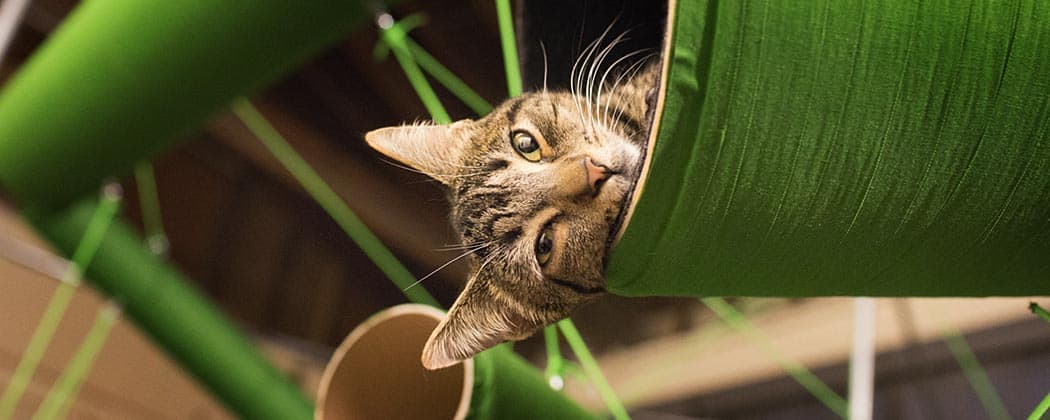 This article is more than 6 years old.
Do you ever get the feeling cats are secretly plotting to take over the world? Their bid to win our hearts and minds via pop culture is clearly succeeding with all those silly memes and videos of felines going viral on the internet. Now it seems cats are setting their sights on high art.
OK, it's hard not to poke fun and giggle at least a little bit about the Worcester Art Museum's new project titled, "Meow." It surely taps into the current, global kitty craze, but it also proves our obsession is nothing new.
"Meow" explores our age-old fascination with these furry creatures using a trove of works (many that are rarely on-view) from the museum's encyclopedic, permanent collection. And, as it turns out, this project is even playing a role in finding homes for rescue cats.

Let's face it, though, an art show inspired by cats has the potential to make some people's eyes roll. Maybe even yours.
Jon Seydl, head of curatorial affairs at the museum, admits even he's been wary.
"One risk this project has is that it's too cute," he said, smiling.
That's why it was critical for Seydl and the curatorial team to get beneath that layer of cuteness to connect with people's profound love and fear of felines.
"I will be the first to confess I'm a dog person; I'm not a cat person," Seydl said, "but I deeply, deeply respect the love of cats. And it's something you never, ever want to fool around with."
Funny thing is this project actually started as an homage to dogs.
Adam Rozan, director of audience engagement, recalls how he and the staff initially set out to honor the museum's canine mascot, Helmutt (note the spelling).
"We started looking at the collection," he explained, "and all of a sudden noticed while we're not rich in dog art, we're really rich in cats."

The team dug deep into the museum's collection of 35,000 objects to unearth and better understand cat imagery through the ages.
"That's something we're always trying to do here," Seydl explained, "to think about ways to take this collection that goes from antiquity to present day — and covers nearly every corner of the globe — and tell a story that can bring all of those aspects together."
It turns out that this subject matter is present in practically every gallery in the museum.
In a play on the number of lives cats supposedly have, the team devised nine parts for the museum's project. One is a self-guided tour for visitors called the "Cat Walk." It's a map-driven quest to find 17 cat-themed objects around the museum.
As you might expect, there are cats from Egypt, but also pieces from China, France, Japan, Greece and Italy. A work that Seydl passes every day is the huge, ornate mosaic embedded in the grand Renaissance Court's floor simply called the "Worcester Hunt Floor Mosaic."

"This is one of the most important things in the entire museum," Seydl said. "It was excavated in Antioch — so ancient Roman Syria. It dates to about 500, came to us in the 1930s and is the centerpiece of the entire museum."
For Seydl, one of the valuable things about the "Meow" project is that it encouraged his staff to look at the museum's collection in a new way. He says before now he hadn't seriously considered the cats in the mosaic and what we all could learn from them. They're not tabbies, though. They're Caspian tigers.
"One of the most touching parts of the entire mosaic is the hunter who's stolen a tiger cub and the mother and two tiger cubs are chasing after him," Seydl mused. "It's really a sort of tragic element of this mosaic."
There's also a gallery exhibition titled "The Captivating Cat," featuring about 70 kitty-driven artworks, including drawings, photographs, paintings and prints. Some are downright adorable. Others are pretty creepy, like the 1975 lithograph of a cat with bat wings terrorizing a bunch of mice. It's by artist Robert Nelson.

Seydl says he appreciates the sense of tongue-in-cheek humor guest curator Ruth Dibble injected into the exhibition. And later this summer a contemporary installation by a New York-based artist will bring live felines into the museum's education wing.
It's known as the "Cats-in-Residence" program where rescue animals will be able to hangout in an enclosed space with creative cubbies and pretty perches. Humans are encouraged to go inside, too. And they can even adopt the "residents" brought in by a local animal shelter. That's the hope, according to Seydl.
"Always with an exhibition I'm hoping that people take something that is maybe familiar to them and think about it in a whole new way and rethink their own relationship with animals. I mean — maybe leading to an adoption — or at least thinking about how art might play a role in changing people's lives," he said.
Rhonda Lieberman, the artist behind the "Cats-in-Residence" program, calls it part "purrr-formance piece," part social sculpture. This is her fourth iteration of the enclosure and the first at a museum. Lieberman, who's also a contributing editor to Artforum magazine, says past versions of her installation have helped 55 cats find new homes.
"They are just pieces that create a situation where people can enjoy the cats," she explained, "and it shows the value of rescue cats in a way that might not be the usual way people see them. We actually help them with their agenda — which is basically to live — so it's using art as a rescue vehicle — literally."
Lieberman wants to make sure people know the cats are participants, not objects.
The art museum's residence program will be populated with cats from the Worcester Animal Rescue League, just down the road. I was hoping to meet some of the future "Cats-in-Residence" there, but executive director Allie Tellier told me the cats in the shelter now will hopefully and likely be adopted by July. She did introduce me to two adult females, Fatima and Emma.
Tellier thinks the "Cat-in-Residence" program is an ingenious way to get more cats adopted.
"There might be some people who will have some naysay against having animals as part of an exhibition — almost like a zoo or something of that nature — but there is a true difference. These animals are in need of homes. They are not just being kept there to be observed. They are up for adoption."
Rescue League staff will take care of the cats during their stay at the museum. For Tellier, the whole "Meow" project speaks to the enduring links between felines and humans.
"It really does show what a beautiful bond people have with their pets — especially cats — and what the cats mean to people," she said.
That connection is made clear through the "Community Cats" show at the museum. It features more than 200 diverse and endearing works from the public.
For all you dog-lovers feeling left out — or fearing feline world domination — you're not alone. Rozan, the museum's director of engagement, says he's been getting a lot of calls from your contingent, and he's got your back. There's a special show and an Easter portrait of sorts on the fourth floor.
Yes, it's furry. No, it's not a cat. Its title? "Head of a Dog."

---
"Meow" is occupying much of the Worcester Art Museum through Sept. 4. The "Cats-In-Residence" program opens on July 13 in the education wing.