What It Takes To Turn City Hall's Stark Plaza Into A Bustling Music Venue
Play
This article is more than 7 years old.
Update 1:30 p.m.:
Boston Calling announced Friday afternoon that this weekend's festival will be the last at City Hall Plaza. The event will move to Allston in 2017. Read the full story here.
Our original story continues:
Boston Calling has made the news lately, and not necessarily because of its new video wall or lineup.
The outdoor, urban music festival is being linked to a federal indictment in Mayor Marty Walsh's administration. It returns to City Hall Plaza Friday and runs through the weekend.
The allegations of behind-the-scenes, labor-related strong-arming got us wondering about who and what it takes to pull off a three-day musical feast that transforms the stark, brick, public courtyard into a massive music venue.
So I went down on Thursday to check it out, just hours before some of the performers and tour buses were expected to start rolling in.
And sure, it takes talented artists like the mysterious Australian pop singer Sia to make a music festival, but it also takes permits. A lot of them, according to Boston Calling co-founder Brian Appel.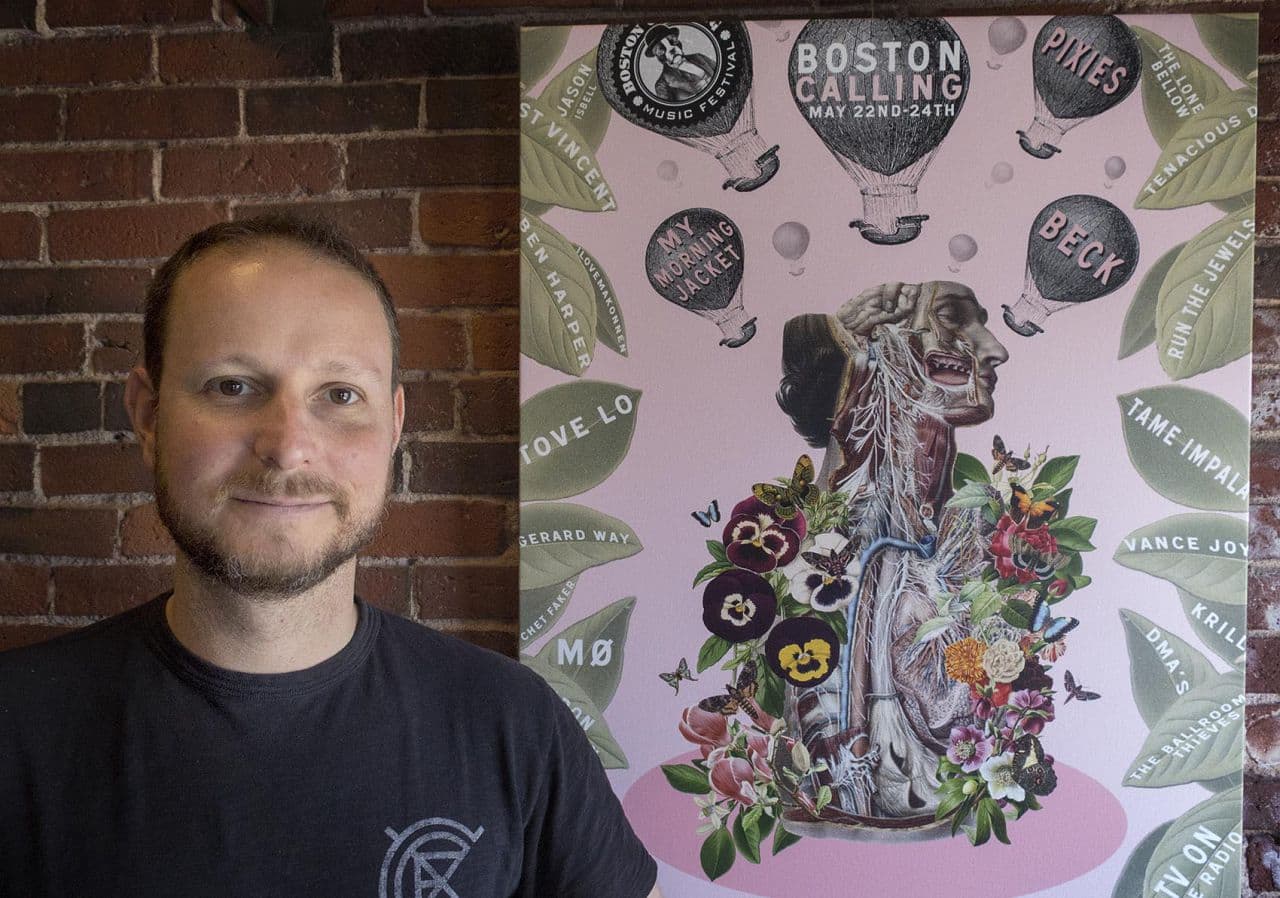 "Every food vendor needs a permit and every tent needs a permit — so you're talking dozens of permits that go into actually pulling the event together," he told me in his Faneuil Hall office conveniently located just across the street from the city's seat of government.
"You spend a lot of time in City Hall when you're doing an event in the City of Boston," Appel shared with a laugh. "So it's really easy for us to get over there and meet with key people."
Appel is also the CEO of Crashline Productions, the festival's main producer. He's not commenting on the arrest of a city official in connection with his festival because of the ongoing investigation — but Appel is happy to talk about the pile of challenges that come with putting on the festival.
This is the seventh Boston Calling since Appel's company signed a five-year lease for the space with the city, and he said every edition requires approval for the fest's layout, egress and safety plan from fire, police, inspectional services and EMS.
"It's complicated the first time you do it — and then it's complicated the second through fifth times you do it," Appel said, laughing. "And then it gets a little bit better. You start to navigate the system and understand what they're looking for every time around."
And Appel has had plenty of practice. At first Boston Calling was once a year, now a small army transforms City Hall Plaza into a giant music venue every six months. Two main stages must be specked out and built.
Ben Belanger manages one of them. He's been overseeing a crew assembling heavy, metal rigging that will hold the lights above the performers' heads.
"A lot of people think when they see a concert that it just sort of magically happens," Belanger mused, "but we're here all week setting this up — all the lights, all the sound. We're going to put in video today, and get a show going, just having fun while we're doing it."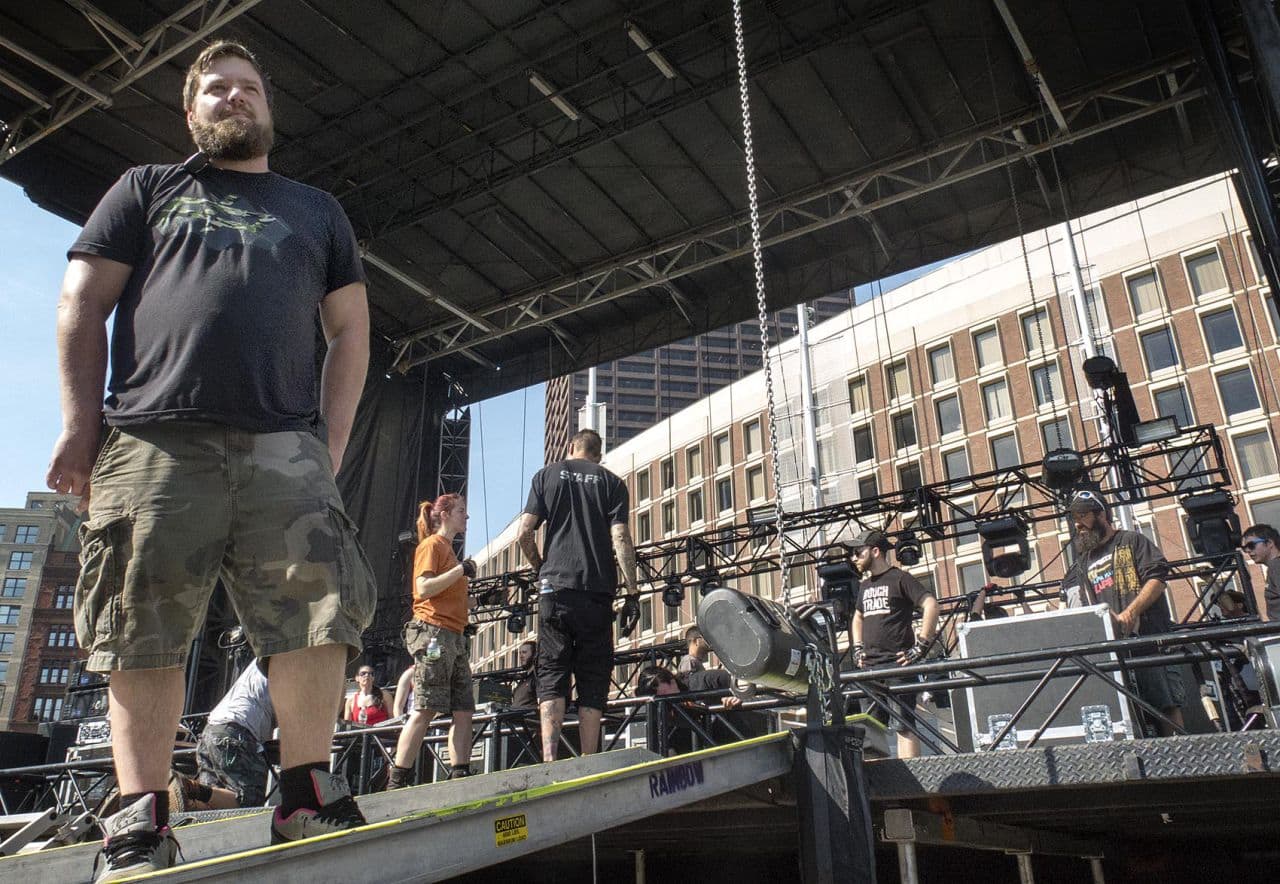 But it's a lot of work. Mike Snow, the festival's other co-founder and director of operations, said Boston Calling's success really does depend on the crew of people who help put this complex puzzle together.
"Just in production we have anywhere from 80-90 — it's usually about 40 people per stage when you factor in fork lift drivers. You got everybody from box pushers to riggers to carpenters," he said. "You know, it takes a good range of people to do it."
During the festival, Snow says the number of staff climbs to 400. And there are outside companies, too. They all have a lot of people and a lot of stuff. Every delivery is timed to the minute. Semi-trucks filled with equipment must be unloaded efficiently. Everyone is working out in the open, just steps away from construction for the refurbished Government Center T station.
Appel says this location — smack in the middle of the city — can be tough.
"I would say that we have a love-hate relationship with City Hall Plaza. If anybody that runs festivals in other parts of the country came to look at our site they would think that we're crazy for trying to pull it off here because it's misshapen and it's multi-leveled, and it's not a big giant rectangle, which you really want for a festival of this size. So we really have to try to make everything fit into a space that is really inhospitable for this type of production."
That love-hate sentiment is echoed by Snow. He says packing in the food vendors, stages and parade of semi-trucks onto the plaza is a game of inches.
"Yeah, I absolutely love-hate it 'cause everything that we try to do out here is six inches too short," he explained. "I mean, you have six acres of land and every time you come measure something and say, 'Well maybe I can move that there,' you miss by a foot or two feet."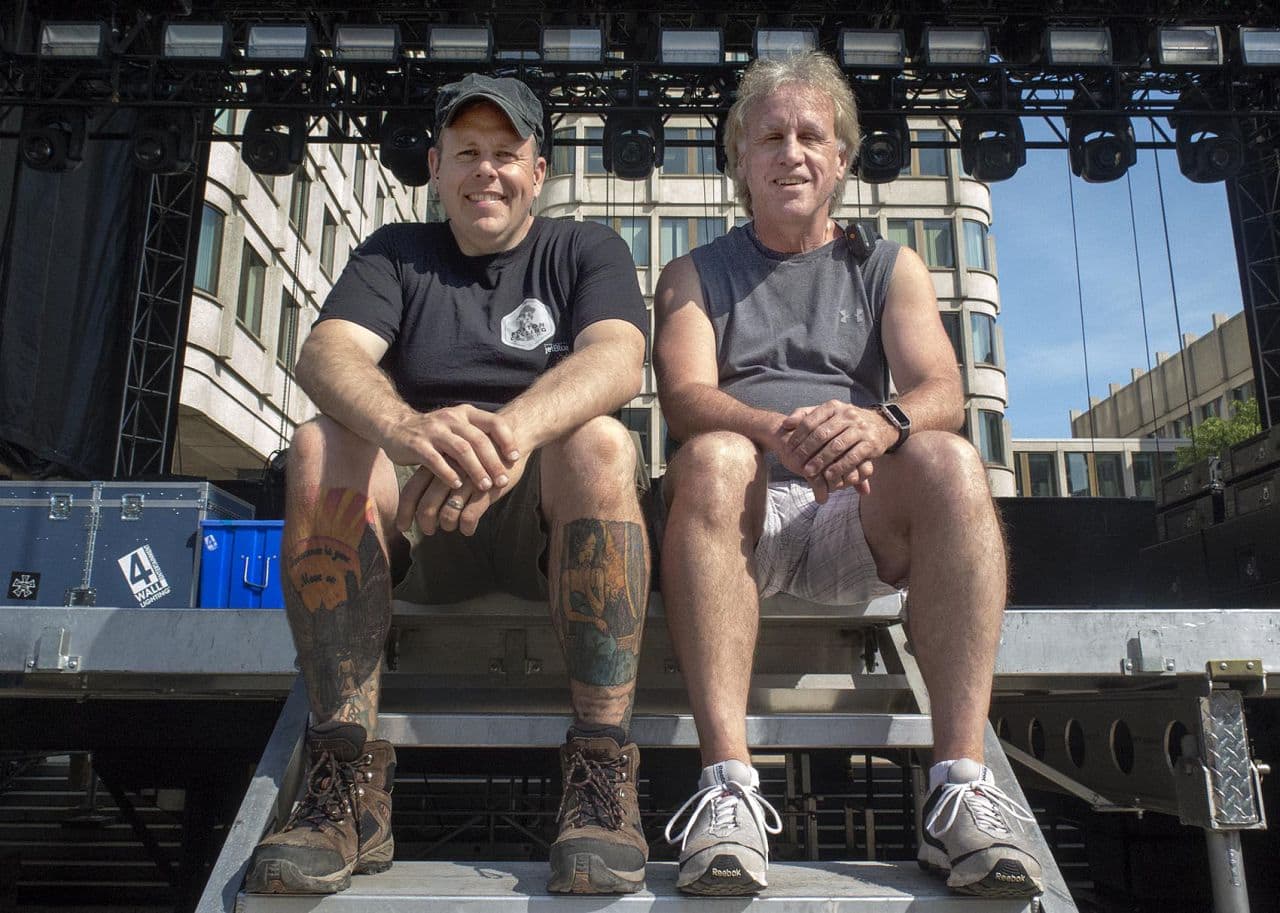 And then there are the acoustics on City Hall Plaza. There's a lot of brick, cement and glass — all hard surfaces — so the sound bounces around. It has caused issues in the past, according to Scott Tkachuk of Rainbow Productions, which provides lighting and sound service for the stages.
This year he says Boston Calling is trying a new type of audio technology that can actually steer the music from the speakers around the plaza.
"It gets it focused more to where the people are — which is cool," he said, but it still won't be the perfect listening experience for the fans. "They're still going to get some reflections — there are all these little alleyways, you know, and sound travels and reflects off of buildings — so it is tough. But I think this year should be pretty cool."
That of course is the hope. Appel said the sound, lighting, engineering and staging teams are critical to the festival's success because the 20-plus bands on the bill all have different needs.
"When you're dealing with big, international touring acts there's an expectation that the sound quality and the lighting package is top shelf," Appel told me.
That's also what the fans expect from the music lineup. It's what sells tickets.
The New England weather is another concern. In 2014, Boston Calling organizers had to evacuate the plaza because of a serious thunderstorm.
They have their fingers tightly crossed there won't be a repeat performance this weekend, but if it does rain the teams says they'll make it work, as they always have.
And parking in the bustling city is something everyone mentions as one of the biggest hassles.
"If you think parking in Boston is a pain in your Honda Civic, you should see when we have to deal with 27 different tour buses coming in on Cambridge Street, a road that's under construction right now with no sidewalks," Appel said, laughing. "I think our crew has gotten really good at rolling with it, though, so when the people come in and they're smiling and ready for a great day of music they never see any of the chaos that on behind-the-scenes to pull it all together."