50-Foot Memorial In Boston's Seaport District Dedicated In Honor Of Local Soldiers Killed Since 9/11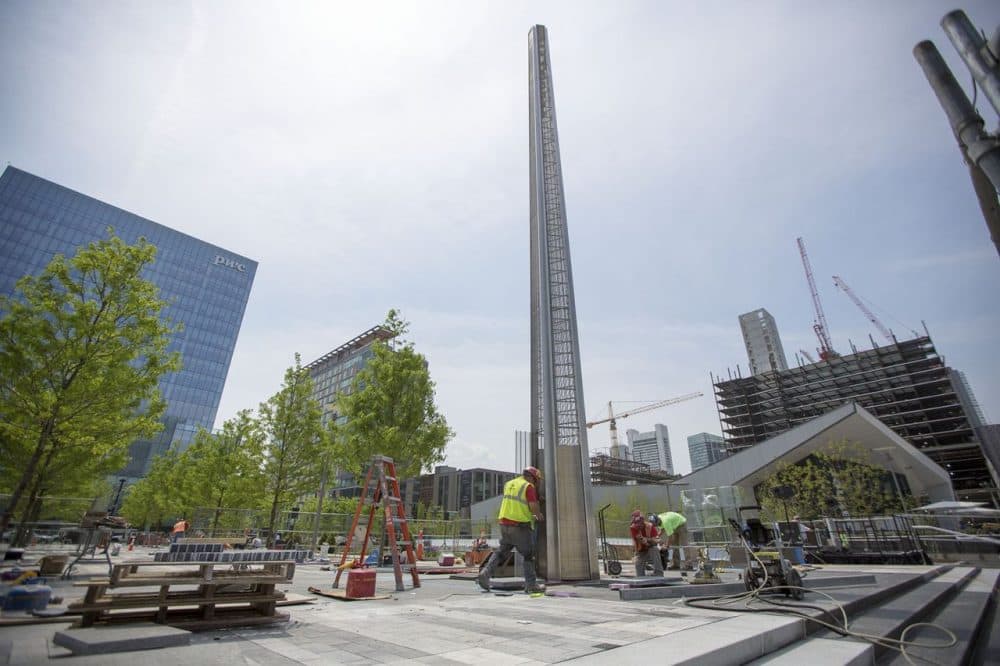 This article is more than 6 years old.
Massachusetts is getting ready to mark Memorial Day, the day set aside each year to remember members of the military who were killed in action.
American flags dot the Boston Common and more will be planted this weekend at the Massachusetts National Cemetery on Cape Cod, where thousands of veterans are buried. Those events are Memorial Day traditions, but this year there's also something new: a 50-foot obelisk in Boston's Seaport District.
The Massachusetts Fallen Heroes Memorial, which was dedicated Friday morning, honors members of the military with Massachusetts ties who were either killed in action or died while serving since the September 11, 2001 attacks.
There are 218 names on the memorial. More could be added since American forces are still involved in conflicts in Iraq, Afghanistan and Syria and other countries.
Local veterans, families of fallen service members and others came together in 2010 to establish the organization, Massachusetts Fallen Heroes, which is responsible for the new memorial.
"Basically the memorial is built around life," Dan Magoon, the group's executive director, told me on a rainy morning earlier this week as workers put the finishing touches on the monument and the park that surrounds it.
Magoon is an Army veteran who was deployed to Iraq and Afghanistan.
"It's about the men and women we lost, remembering their service and sacrifice," he said, "but more importantly, we want this to be about the future. We want the park to be a place where people will hang out and honor the sacrifice but also it will be a part of their daily lives."
The cause is personal for Magoon, because he had friends who didn't make it home. But beyond the remembrance, there's also the recognition that the finished memorial represents: another mission completed for the veterans involved.
"I think this is important for the veteran community, because we took something that didn't exist anywhere in the country and made it happen," Magoon said. "But we also built a community of vets at the same time."
As part of that, the organization has created the Veteran's Edge program, which helps returning troops access educational, employment, medical and legal services.
But Massachusetts Fallen Heroes is also devoted to doing whatever it can for the Gold Star Families who answered the knock on the door that no one wants to hear — telling them a son or daughter is not coming home.
"It's our duty to remember them," Magoon said, "but it's also our duty to care for their families and make sure they're taken care of as we move forward just as we get taken care of as veterans. As we continue to grow, that's going to be the primary part of the mission, outside of the park and the memorial. It's more about now focusing on the veterans and the families."
This article was originally published on May 27, 2016.