Beer Geek Alert: Why A Mythic Danish Brewer Made A Special Beer For Boston Calling
Play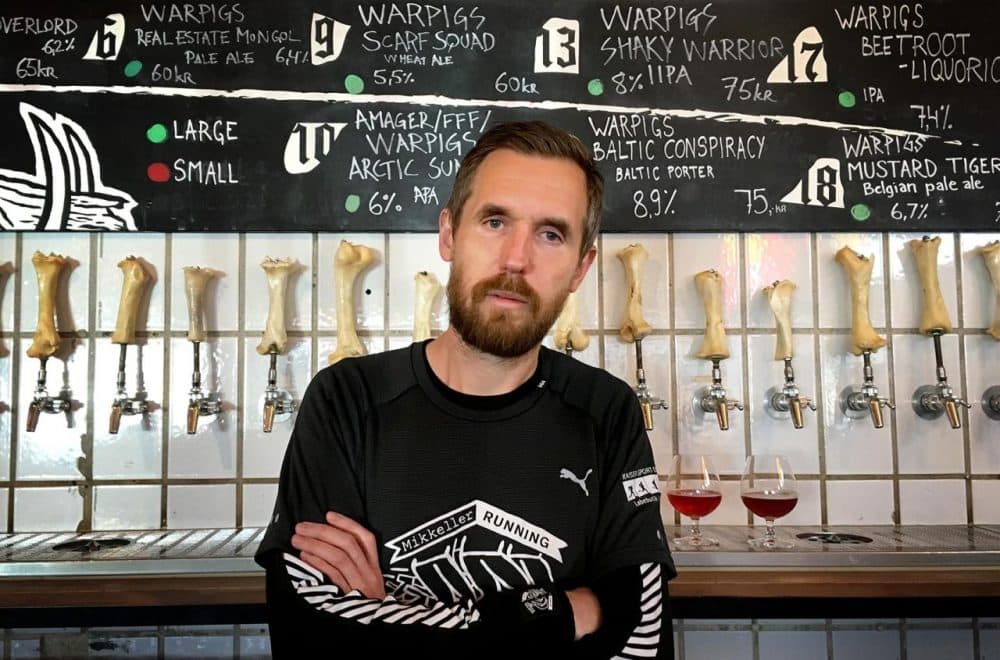 This article is more than 6 years old.
Boston Calling is underway on City Hall Plaza for the last time before it moves to the Harvard University Athletic Complex in Allston next year. And while the live music will always be the main attraction — no matter where the festival is — food and drink have become increasingly important to the organizers.
Much of the fare is local, but this year there's a new beer on tap hailing from Scandinavia. It was created by a famously innovative Danish brewer especially for Boston Calling. He's attained a cult-like status among beer aficionados. So how did this collaboration come about?
Well, it's safe to call the festival's founders beer geeks, including Brian Appel.
"We know about the legend of Mikkel — the guy who makes some of the best tasting beer in the world," Appel told me.
Plenty of people share this opinion of the brewer behind Mikkeller Beer. His unconventional conjurings are sold in more than 40 countries and are wildly popular in Denmark. While you can find Mikkeller products here, Mikkel Borg Bjergsø is not exactly a household name in America.
'The Legend Of Mikkel'
"The U.S. is so saturated with their own regional microbrewers that it's hard for European brands and international brands to really get a foothold," Appel mused. "So I'm not surprised that — unless you're a beer geek here — that Mikkel is unknown to you."
Well, I guess that makes me a beer geek, too.
Full disclosure: I was a professional brewer myself for two years in the 1990s, just as the U.S. craft industry was taking hold. After I returned to public radio, I continued to follow the micro movement and have tracked the quirky Mikkeller Beer's quiet, yet rapid, rise.
When I learned about the upcoming Boston Calling beer — and because I was travelling to Copenhagen for a vacation anyway — I asked for a meeting with the famously stoic Mikkel at one of his brewpubs there. It shares the same name with Black Sabbath's classic hard-rock song, "War Pigs."

The huge space is packed with people from all walks of life and rows of picnic tables, both inside and out, where there's a beer garden. Warpigs is in part of a hip neighborhood of Copenhagen known as the meat-packing district. The pub is a collaboration between Mikkeller and the 3 Floyds Brewing Company in Indiana.
American-style barbecue is served. There are about 20 beers on tap. The primal-looking tap handles that servers pull at the bar are bones.
The bearded, Danish brewer arrived in his Mikkeller Running Club gear, which he started a few years ago. Now there are dozens of chapters world-wide, including a fledgling one here in Boston. Mikkel talked about what led him to switch his career from math and physics teacher to beer brewer about 10 years ago.
"I just started home brewing like everybody else — and three years later, I just jumped into opening a company and started brewing more professionally," he recalled.
Mikkel has been going gangbusters ever since. He actually started as a "gypsy" brewer who took his edgy recipes to other breweries for production, including de Proef in Belgium. Today there are 20 Mikkeller operations worldwide — brewpubs and bars — in Seoul, Bangkok, San Diego (where the Boston Calling beer was actually brewed) and San Francisco. Mikkel even has a ramen shop in Copenhagen.
The Mikkeller beers are largely experimental. Sometimes extreme. I tried one at Warpigs made with licorice. Mikkeller bottle and can labels are populated by cute, colorful cartoon characters. Some names include "Beer Geek Brunch Weasel" and, at Warpigs, "Illuminaughty" and "Salmon Pants."
As for the new, custom-made Boston Calling beer "BC Dream" – it's fairly tame: a light, drinkable 4.6 percent alcohol American-style pilsner with blood orange and a lot of hops.

I asked the Danish brewer why he wanted to make a beer for an American music fest. He said one reason is that he can't get his beers into any music festivals at home.
"We have been trying to make a beer for the biggest festival in Denmark for a few years, but the sponsors won't let us, unfortunately," he told me, adding, "but we will still try."
Boston Calling has a beer sponsor too. It seems the Boston Beer Company — maker of Samuel Adams — is welcoming Mikkeller with open arms.
"They've been a very interesting brewery, and I think part of the whole craft beer ethos that we've tried to propagate is this welcoming nature to other craft brewers," founder Jim Koch explained.
"We're still only a little more than 1 percent of the whole U.S. beer business," he continued. "So there's a lot of people to turn on to craft beer. And craft brewers have realized that if we do this together we're more likely to be successful."

Apparently Samuel Adams and Mikkeller have hit it off. They will be working together at the new Copenhagen Beer Festival the Danish brewer is bringing to Boston this September. The Boston Calling founders are involved in it too. Mikkel said he feels a kinship with this U.S. city.
"The East Coast is something we can relate to being from Denmark and Copenhagen, and especially up north where it's the same climate," he said, with a hint of a smile. "I just think mentally we are on the same wavelength."
This subdued Danish brewer might not appear excited when you talk to him in person about his new Boston connections, but I suspect he is. And I'm sure all the beers geeks in town are too.