Analysis: A Way-Too-Early Look At Marty Walsh's Poll Numbers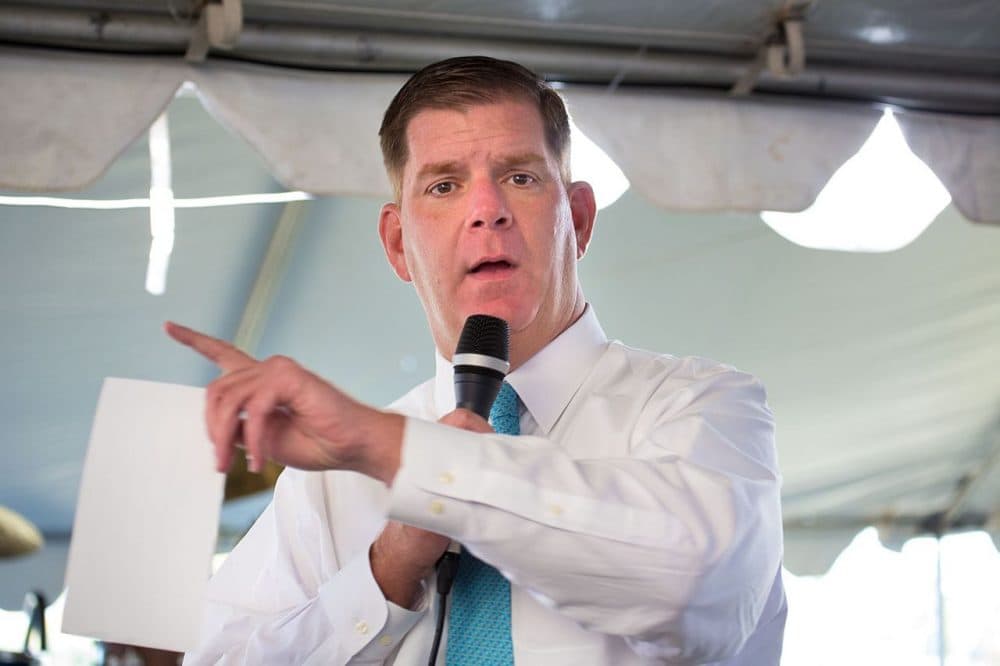 This article is more than 6 years old.
With no statewide offices up for election in Massachusetts this fall, some attention is already turning to the 2017 Boston mayoral election, when Marty Walsh will stand for reelection.
People who don't live and breathe politics (like most voters) are still a long way off from tuning in. But gossip and speculation are already heating up with still 17 months to go before Election Day. A Globe article last week questioned whether Walsh's support in the black community is waning. The cancellation of yet another high-profile event (IndyCar Boston) and the high-profile indictment of Kenneth Brissette, the city's director of tourism, sports and entertainment, are roiling the political establishment.
But whatever anxiety and interest the press and political insiders are showing, there is no evidence yet that voters are feeling anything but affection for the mayor. A recent poll circulated by the Walsh team and reported by Politico shows the mayor with a 75 percent favorability rating and equally strong numbers on various other indicators.
Some caution is warranted when looking at internal polling from a candidate or campaign. Internal polls, even from reputable pollsters (such as Global Strategy Group, Walsh's pollster), sometimes cherry-pick certain numbers for release or might release one poll that is somewhat better than others they have done. But while the numbers from this poll may be slightly better for Walsh than another poll would show, it is unlikely that they are vastly different. Pollsters have reputations to maintain and have no particular wish to be shown as foolish or unreliable by releasing polls at odds with reality. There is fairly little chance of a skew so severe that it would show a sparkling favorable rating for a mayor whom voters actually detest.
These ratings also come close to matching the approval rating from another private poll I have seen that was commissioned by an organization unrelated to the Walsh team and conducted several months back. And they are little moved from previous Walsh internal polling from October 2015, or WBUR poll data from earlier last year.
Another sign of trouble in an internal poll release can be that the poll only releases vague information about what questions were asked or how they were asked. This happened in the widely touted but deeply and transparently misleading internal polling on Boston 2024, last year's failed bid to become the United States nominee for the 2024 Summer Olympics. Walsh and other proponents insisted Bostonians were "excited," and support was "overwhelming," "rapidly growing" and "a strong majority," though even their own polling contradicted this. Despite Mayor Walsh's difficulty describing the reality of low public support in that one instance, there is no suggestion of any hijinks in this case.
Documents provided to me from the internal poll showed conventional items such as favorability, job approval and right direction/wrong track for the city. The right direction/wrong track question is the first one in the poll (which is normal), and the Walsh favorability question was second (also normal). Both questions show residents in Boston are by and large happy with the way things are going in the city and favorable toward the mayor.
Bostonians loving their mayor is nothing new. For decades, Tom Menino shook every hand, cut every ribbon, walked on water and clubbed would-be challengers with thickly rolled crosstabs showing his reliably gaudy approval rating. In the final WBUR poll before he left office, 77 percent viewed him favorably, about as high as anyone gets in political polling.
It turns out this mayoral adoration was not unique to Menino. Even before he was elected in 2013, now-Mayor Walsh was sporting a 61 percent favorability rating. Through early 2015, he held on to very high numbers, breaking 70 percent on several occasions, even as the Olympics he famously championed went down in flames and the MBTA all but stopped running for weeks.
The latest polls suggest these numbers have barely moved since then. They could also change at any time, in theory. Every poll ever taken is instantly out of date in a sense, as some external event may have changed public opinion the moment fielding ended. And the Walsh administration has suffered its share of negative press in the last few weeks. The indictment of tourism chief Brissette on extortion charges happened after the most recent polls were conducted. But Walsh has already weathered other negative headlines since his election, from the failed Olympic bid to the stream of negative press about Boston schools and the cancellation of the IndyCar race. And voters have so far stuck with him.
There has not been any public polling matching up Walsh with potential challengers, and no such challengers to speak of, so far. Anyone looking to take on Walsh would likely start out less well-known, and would face a popular incumbent with a huge war chest.
That is not to say Walsh is invulnerable. He won in 2013 with strong support from the middle of the city, running up the margin enough in Boston's communities of color to overcome his relative weakness in other areas. A challenger who could scramble the map and pull support from Walsh strongholds could potentially make things interesting. But at the moment, the evidence (though imperfect) suggests Walsh starts strong.
Steve Koczela is president of the MassINC Polling Group and a regular contributor to WBUR Politicker. He tweets @skoczela.