With $78M Renovation, Boston Public Library Aims For Friendlier Vibe
This article is more than 6 years old.
It was a room without much of a view.
Boston Public Library's Johnson building, built in 1972 alongside the central branch's beloved Charles McKim-designed main structure, had a row of windows facing onto Boylston Street — sort of. They were tinted to a hue too dark to really see through.
As if to keep would-be book borrowers at bay, the building was protected by rows of heavy, granite planks that stood guard like silent sentries. If McKim's building was a people's palace of learning, its adjacent stepbrother appeared more like a fortress.
No longer.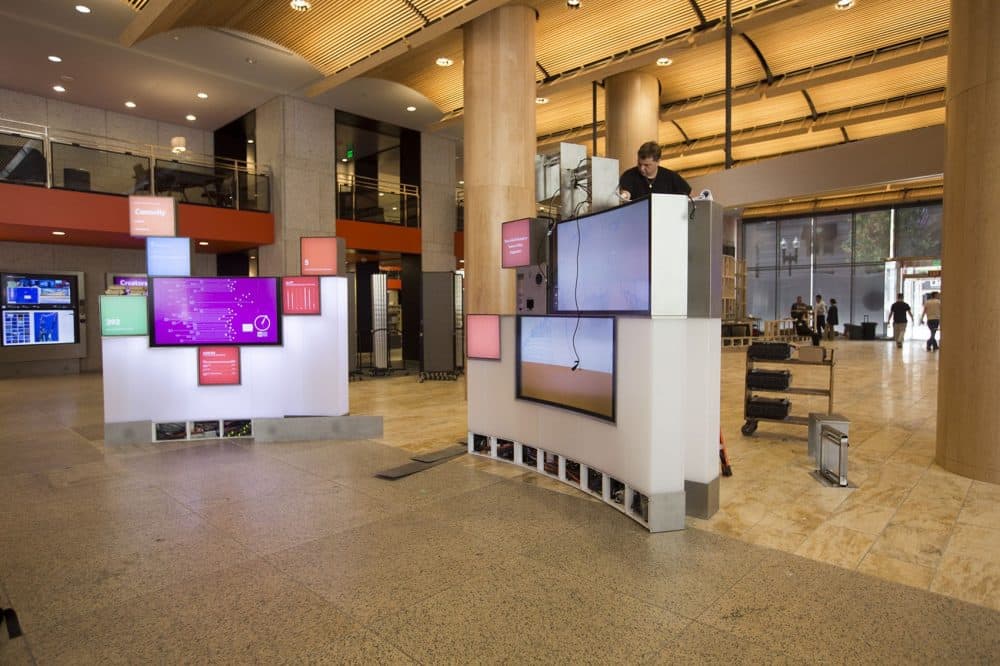 July 9 sees the unveiling of the newly renovated and refurbished Johnson building. Emphasizing natural light, color, open spaces and natural wood, the new design evokes a brighter mood. And beyond its aesthetics, the building is now home to a suite of more forward-looking, digitally informed library services.
"Society is changing rapidly, the role of libraries in society is changing, and we have to adapt and be responsive to those needs in a way that is different than 20 or 30 years ago," says newly-installed BPL President David Leonard, giving a pre-opening tour of the Johnson building on Thursday afternoon.
"Access to information, for example, used to be about working out what question you wanted to research or ask, [and you] go to a librarian and then they would help you. Today, access to information is more about learning the skills to do a database search or to learn the computer skills so that you can then go look for that information on your own," he adds.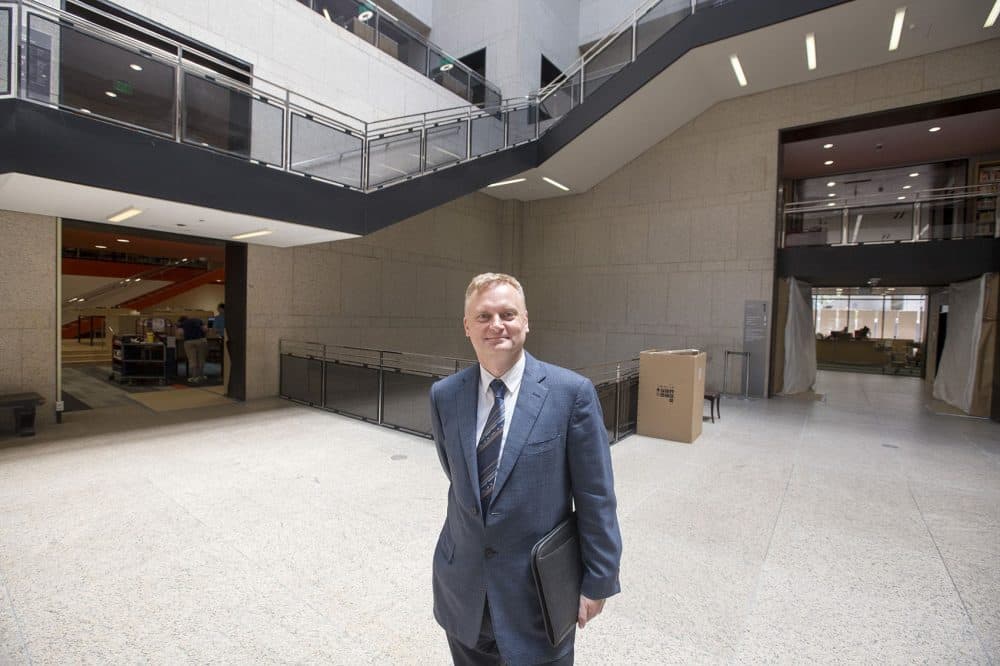 The renovations were completed in two phases, running to a combined expense of $78 million, paid by the city of Boston. The first phase, including new children's and teen areas on the building's second floor, opened to the public in February 2015. The concluding phase includes a new business library and "innovation center" (complete with tools like a 3D printer and professional design software), many more computers and work spaces available to the public and revamped setups for displaying portions of the library collection, including fiction books and DVDs.
Most dramatically, the front of the building's ground floor has been revamped to create a new welcome center and circulation desk; an area — borrowing from bookstore design — for the display of new items (including extra, non-circulating copies of popular books); space for a café due to open later this summer; and an on-air studio for WGBH that will be visible from the street.
"It becomes a very interesting ground floor experience, and in fact, the library becomes something that someone cannot only go to but pass through and inhabit as part of the city landscape, rather than being a cul de sac destination," says architect Cliff Gayley, a principal at William Rawn Associates, Architects, Inc., which designed the renovations.
At one spot in the building's now-grand atrium — two walls were removed, to create an open space that's about 210 feet long — are large touchscreens that provide access to the library's digital collection, like hi-resolution scans of maps and artwork. There are options to sort the holdings by color, or location — tools meant specifically to be fun for the casual visitor.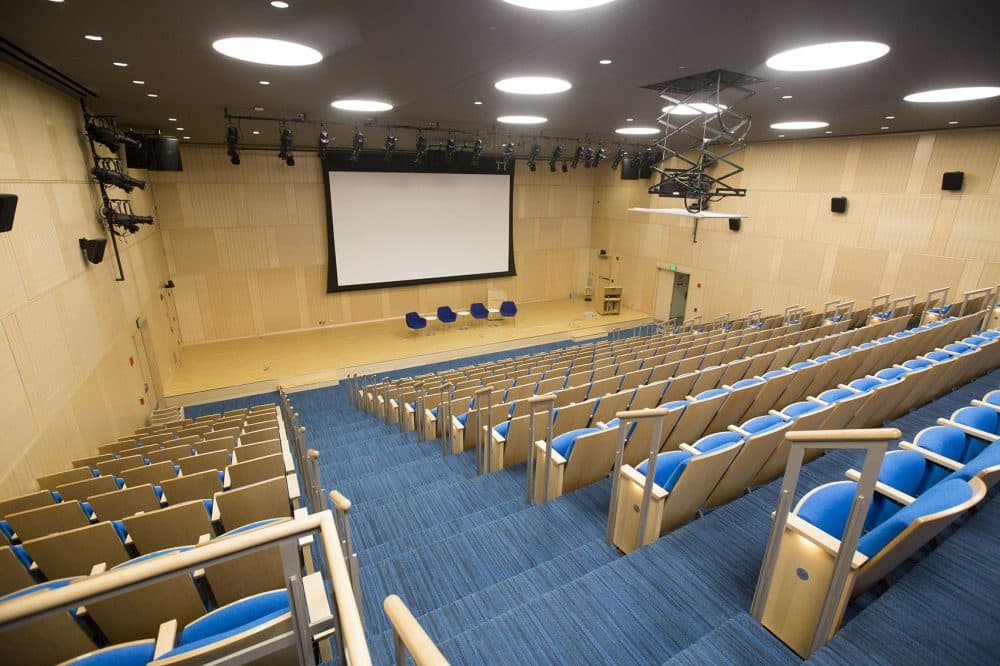 "Of course, if you were doing serious research you'd never organize the collections by color," Leonard says, playing around with the device. Searching for red items, he browses through images of an old magazine advertisement and what looks to be an anti-Nazi propaganda poster. At another cluster of touchscreens, visitors can view real-time data reflecting transactions from across the city's public library system; at a little after 1 p.m. on Thursday, a library patron at the North End branch was issued a $3 overdue fine.
Noted architect Phillip Johnson, known for work like the Glass House in Connecticut and the Seagram Building in New York City, designed the building that carries his name. He had the task of creating something to stand alongside McKim's much-admired work, which opened to the public in 1895 and is among the city's architectural gems and a tourist destination in its own rite. But the monolithic appearance of Johnson's library addition does not communicate a sense of welcome and public accessibility.
"Even going back to 1972, when this building was first opened, people were never quite happy with it. It was more of an annex than a full partner in the library complex," Leonard says. In fairness to Johnson, his writings and public comments indicate that he didn't feel he ever quite got the entrance to the building right, and that necessary design compromises diluted his intended effect. (Johnson died in 2005.)
Robert E. Gallery, chair of the library's board of trustees, said in a statement that the renovations amount to "one of the most significant milestones in Boston Public Library history."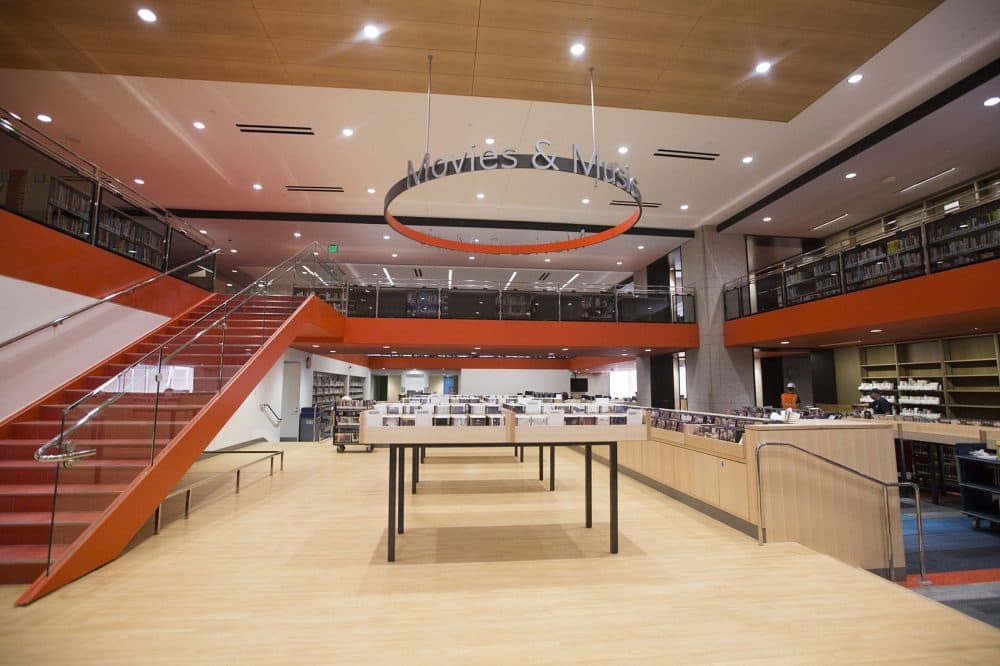 Gayley compares the wide-open, multi-purpose atrium of the newly renovated Johnson building with Bates Hall, the stately study room that presents one of the grandest and most recognizable features of McKim's building. "That reading room, in the 19th century type, is all about removing oneself from hustle and bustle of the city, and finding a quiet place and doing your work."
The new space, he says, is "very much about being of the city … something that feels very urban, that feels very energized."
On this afternoon, the space is still filled with workers in hardhats and orange vests, and the high-pitched squeal of one piece of machinery or another frequently rings out. Outside on Boylston Street, passersby are still directed away from the building by orange cones. (Those granite planks are gone, though a few were embedded in the ground, finally entombed.)
By Saturday morning, this is meant to be a much more welcoming place. Or at least, that's the plan.