Dancing Under The Stars: New York City Ballet Has A Saratoga Spring In Its Steps
I used to love going out to Saratoga Springs, New York, just over three hours from Boston (and a little more than an hour from Tanglewood), to see the New York City Ballet in its summer home.
The outdoor Saratoga Performing Arts Center, with its huge stage and excellent sight lines, was an ideal place to experience a major ballet company. At New York's Lincoln Center, rehearsals were verboten to the public and the stage door was heavily guarded. But because the Performing Arts Center is in a state park, it was possible to wander onto the grounds and watch George Balanchine rehearsing his astounding company. The repertoire then was almost all Balanchine and some Jerome Robbins. The greatest dances choreographed in the 20th century were performed by the world's greatest dancers.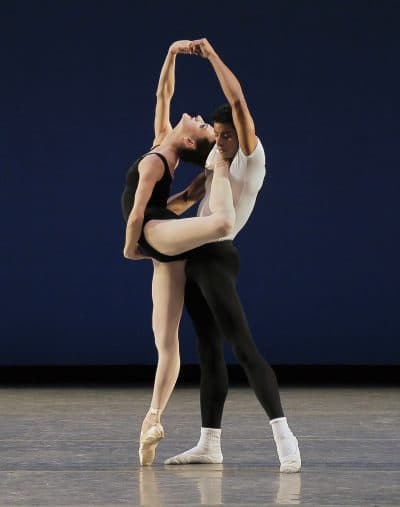 After Balanchine's death, I started to lose interest. The great dancers were retiring, and the company — under the direction of Peter Martins — seemed to be drifting. But two summers ago, I attended an evening of young NYCB dancers at Jacob's Pillow Dance Festival and I was blown away. And although they weren't dancing any Balanchine, the dancers were dazzling, musical and rhythmically incisive in the true Balanchine manner.
Later that year on television for the Kennedy Center Honors tribute to the beloved NYCB star Patricia McBride, the young ballerina Tiler Peck — by whom I'd been impressed at the Pillow — danced a number Balanchine originally created for McBride, George Gershwin's "Fascinatin' Rhythm," and suddenly what had riveted me in the old days seemed back in full force. Last summer, I returned for programs at both SPAC and Lincoln Center. I wasn't disappointed.
Now, I'm looking forward to more Balanchine at Saratoga July 20-30. For me, the high points on this summer's schedule are two programs on July 27 and 28 — an evening and matinee performance of "Jewels" followed by an evening called "Balanchine Black & White."
"Jewels" is a full evening consisting of three plotless ballets. "Emeralds," accompanied by enchantingly delicate music by Gabriel Fauré, is a dance that almost totally lost its magic in the post-Balanchine era, but Tiler Peck seems to have revivified it (at least according to the demanding New York Times dance critic Alastair Macaulay). "Rubies" is to music by Stravinsky at his jazziest, the scintillating Capriccio for Piano and Orchestra — it's one of the Balanchine pieces the Boston Ballet does best — with its roving street gangs circling the stage and brilliant ballerinas like Teresa Reichlen at their spikiest.
And finally there's "Diamonds," the apotheosis of the "white" Russian classical ballet, danced to the last four movements of Tchaikovsky's lusciously tuneful Symphony No. 3 (the "Polish" Symphony), I didn't think there'd ever be another dancer who could bring to this prima ballerina role what the incandescent Suzanne Farrell could, but I've seen the marvelously regal and deeply expressive Sara Mearns in other roles, and pray she's going to repeat that role this summer.
"Balanchine in Black & White" is the master's choreography at its starkest and most thrilling — dance as the purest visualization of complex music. The composers are Bach, Webern and Stravinsky. The exquisite "Concerto Barocco" is one of Balanchines most enduring masterpieces, set to Bach's great Double Violin Concerto. The Webern is "Episodes," which includes the composer's dazzling re-orchestration of Bach's Ricercare and some of Balanchine's most radical images.
Stravinsky is the most central and iconic of Balanchine's musical collaborators. The Stravinsky ballets on this summer's program all use the composer's later works. First the brief "Monumentum pro Gesualdo" (Stravinsky's captivating re-orchestration of madrigals by the late-Renaissance, yet strikingly modern Italian master — and murderer — Carlo Gesualdo) paired with one of Stravinsky's most challenging avant-garde pieces of serial music, "Movements for Piano and Orchestra." The concluding work is "Agon," a kind of stone-faced parody of Renaissance dances (among the instruments are mandolin, harp, xylophone and castanets), with a cast of twelve and one of the coolest yet most emotionally charged pas de deux in all of ballet.
This summer at Jacob's Pillow, former NYCB star Wendy Whelan returns with dancer-choreographer Brian Brooks for a program of solos and duets called "Some of a Thousand Words" (July 27-31), accompanied by one of America's most exciting chamber groups, the phenomenal string quartet Brooklyn Rider.
For more information on New York City Ballet's upcoming performances, visit Saratoga Performing Arts Center's website; for Wendy Whelan and Brian Brooks' performance, visit Jacob's Pillow Dance's website.