Art Meets Science To Map Where Boston Impressionist Childe Hassam Once Painted
Play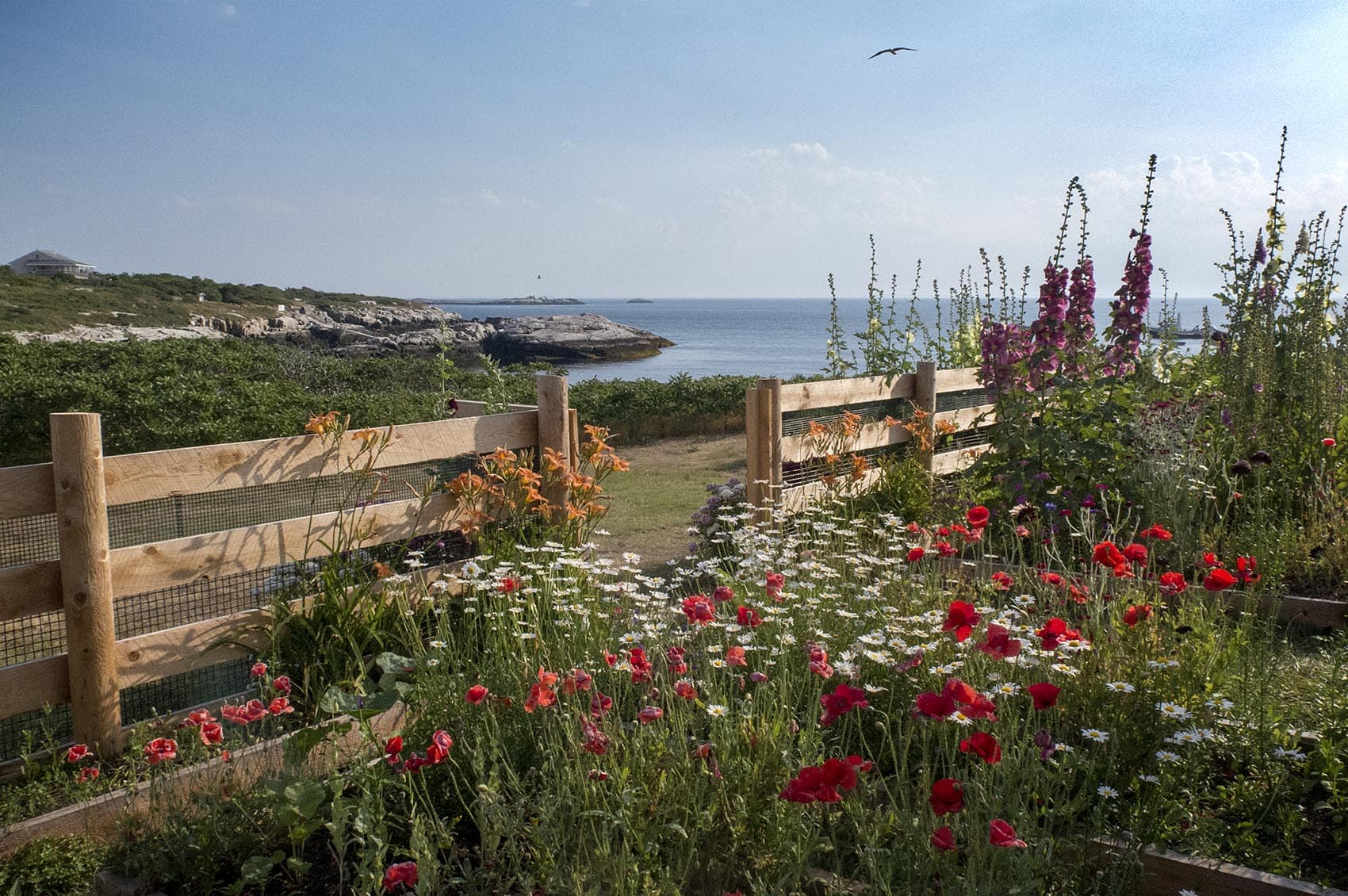 This article is more than 6 years old.
Science and art are coming together on a historic chunk of rock off the coast of New Hampshire and Maine.
Researchers at the Shoals Marine Laboratory on Appledore Island have teamed up with curators from the Peabody Essex Museum to map the exact locations where an influential Boston artist painted more than a century ago. Their results fuel the new exhibition, "American Impressionist: Childe Hassam on the Isles of Shoals."

A short boat ride to Appledore Island revealed more about why they collaborated and what they discovered.
On a calm day, the boat trip from Portsmouth Harbor in New Hampshire to Appledore Island takes about an hour. It's the largest of 11 in the Isles of Shoals, but it's still pretty tiny.
Appledore's sun-bleached, algae-draped rock formations loom in front of us as we approach the shoreline. Their pinky-white hues contrast with the countless blues in the ocean water and sky. Taken with the greens in the seaweed skirting the ocean's edge and you can understand why this remote place would appeal to an artist.
The boat taking me there is bringing food for field research staff and students who occupy the 50-year-old Shoals Marine Laboratory during the summer. They're studying the relatively untouched island's craggy geology and also its biology that includes hundreds of seagulls. The sea birds are big, loud and kind of aggressive.
Jennifer Seavey knows the gulls well. She's an ornithologist and the lab's executive director. She's also a big fan of Boston impressionist Childe Hassam. On this island she is not alone.
The artist spent summers on Appledore in the late 1800s and early 1900s capturing the island's rugged, intricate inner tidal zones in paint.
"We have staff here who have been working in the rocky inner tidal for years, and so the shoreline is very familiar," Seavey explained. "And Hassam is very true to the geology of the island."

That's why curators at the Peabody Essex Museum and the North Carolina Museum of Art asked the lab's scientists for help. The art historians wanted to learn more about Hassam's paintings and techniques by identifying and mapping the exact spots on the island where the American impressionist painted his famous marine landscapes. Needless to say, the ever-curious researchers jumped at the chance. Seavey breaks out an image of the entire island to illustrate.
"So all these red dots on this map of Appledore Island are all locations of Hassam when he was painting. And the arrows are which direction he was facing," she explained.
The scientists plotted out the destinations where Hassam trekked to set up his easel. He ventured to both populated and secluded spots all over the island. His Appledore paintings rarely include signs of people.
Seavey takes me to a high, gull-surrounded pavilion to situate us among the Isles of Shoals. Then she shows me a reproduction of a purple-hued Hassam painting titled, "The White Island Light," and explains how the researchers identified its locale.
"We knew it was going to be on the south side because it's looking at White [Island] and Seavey [Island], so you've narrowed it down to this region of the island," she pointed out. "And then this is a basalt dyke — which you can tell because it's a really narrow and relatively square at the bottom and that's how basalt dissolves between the granite. There's a lot of biology and geology in all of these paintings, which is fantastic."
Back in Hassam's day, Appledore's 95 acres were home to an upscale hotel and artists' colony founded by poet and famed gardener Celia Thaxter. Her parents owned the hotel and she was close friends with Hassam. Her salon attracted luminaries including Nathaniel Hawthorne, Harriet Beecher Stowe and Henry Wadsworth Longfellow.

While on the island, Hassam painted on Thaxter's porch but also sought out and captured weather and water-worn coves, striking headlands, and dramatic, the geological basalt formations Seavey just mentioned known as trap dykes. He also painted brilliant sunsets and glowing, moon lit evenings.
Seavey says you can tell a lot about where Hassam was — and when he was — by studying the information in his paintings.
"Art and science is united by asking questions," she told me, "and being curious, being a good observer. How you express the data that you get from those observations is different. That's where the two fields diverge."
The marine scientist shows me an image of one work titled, "Moonlight," from 1892 and tells the story she gleans from the "data."
"It's a full moon so that means I know biologically it's going to be a spring tide," she started, "and I know these rocks, and this is quite high water for this inlet, Babb's Cove. So indeed he's showing us spring tide."
Then Seavey shifts her attention to the patterns of clouds dappling the night sky.
"They're called altocumulus clouds. They are sort of the harbinger of a weather change. It typically means it's going to rain in the next six to 12 hours. And when those clouds in real life pass over stars or the moon it turns the clouds this pinky color — and he's showing that in this painting. So I just love that I can tell how accurate he is."

For Seavey and other island scientists the artist's landscapes are like time capsules to the island's past.
"There's a lot to be observed in his paintings and comparing it to the island today," Seavey said. "In fact when you got off the boat we walked past a rock where we have marked the high tide line when Hassam was here and where it is today. And so that sea level rise -- the difference between those two lines — is associated with climate change. And we can see a lot of signatures from climate change 100 years ago til today. That's an amazing use of art and science mixing together."
Robin Hadlock Seeley echoed her colleague's words.
"One of the things you can tell is the inner tidal seaweed pattern has been stable all these years," Hadlock Seeley said. She came to the Shoals Marine Lab as an undergraduate in 1976. Her graduate dissertation was on archeological seaside snails.
"When I look at a Hassam painting, much the way Jen does, I'm studying the rocks, I'm studying the seaweed," she said. "But most of the time I wish I could transport myself back to that time to do some collecting of some of these species so I could see what they looked like back then."

Now Hadlock Seeley is the academic coordinator for Cornell students here and says Hassam's spirit has been a part of Appledore Island as long as she's been here.
"He was like a member of the family," she recalls, laughing, "and now he's really gone big time! But my husband and I met out here and one of the first things we did when we built our house was fill it with Childe Hassams — just to make us feel more at home. His paintings always been special to people who know Shoals, but now they're being brought to the whole rest of the world."
"He was so well known, he was so famous in his day," Peabody Essex Museum curator Austen Barron Bailly said standing in new exhibition's gallery, "these paintings were so much a part of what was and is American impressionism."
Barron Bailly says at the turn of last century, Hassam brought Appledore Island's surf-washed, sun-bleached vistas to thousands of people who'd never seen them. Over the decades American impressionists fell out of fashion until curators and collectors rediscovered artists like Hassam in the '60s. Barron Bailly hopes this new science-meets-art exploration will introduce a new generation of people to the artist's work.
The museum has recreated the atmosphere of Hassam's Appledore for the exhibition, with the sounds of music, gulls, and lapping water the artist would've heard while painting on Celia Thaxter's porch. In a huge Google satellite image you can see the locales of the artist's favorite formations including Sylph's Rock, Siren's Cove and Babb's Rock.
Photos are paired side-by-side with some paintings to show how "spot on" Hassam could be.

"What's been incredible I think from the scientific and the art historical perspectives is to be able to see how keenly he observed," Barron Bailly said. "We're not claiming he's a geologist or a marine scientist by any stretch of the imagination, but he is looking as closely as scientists look at these surfaces in order to render them using these impressionistic techniques."
Mary Everett, a gull population intern from UMass Lowell said she didn't know much about Hassam before coming to Appledore.
"I think that's totally incredible that we can come here now and it looks the same as when he painted it," she said adding. "It is really cool to see the sorts of observations that can be made across that long of a period of time, and that art can be treated like a historical record."
Everett also commented on how different Hassam's impressionist paintings are. "If someone had said there's this impressionist artist who's created all these pieces on Appledore this is not what I would've envisioned. They're so representative of the flora on the island, and the geology, and it's a very interesting style that really documented the way things looked."
Curator Barron Bailly explained that Hassam's unique brand of impressionism conveys realism, but he did take some artistic liberties with shape and color to dramatize some of the works. For her looking at Hassam's paintings through a scientific lens has unlocked a whole new vocabulary to help her think and talk about his paintings that goes beyond her field. She says in many ways it's a game changer.
"It's not just about color and light. It's not just about a pretty landscape or a pretty seascape. There's real identifiable, scientific evidence, and we can talk about that now and relate that to the application of paint, to trends in impressionism, to Hassam's career," she explained enthusiastically.

Hassam's career was prolific. He produced more than 3,000 paintings, etchings, and lithographs, and I was told he made 10 percent of his body of work on Appledore Island. The Appledore House hotel and Thaxter's home burned down in 1914. Before then, though, the artist spent about 30 summers here. Seavey, the Shoals Marine Lab scientist, understands why.
"We're all here because we love the place — the wilderness and the beauty of it — as well as we're interested in questioning, the mysteries of it," she said. "That resonates when you look at a Hassam painting. So it doesn't matter if you're an art connoisseur or a biologist. I think we can all get it."
Seavey hopes the new exhibition of Hassam's paintings at the Peabody Essex Museum will help other people "get it," and she welcomes visitors who want to come to see Appledore Island for themselves and discover the countless stories it has to tell.
The exhibition opens Saturday, June 16 and runs through Nov. 6 at the Peabody Essex Museum.
This article was originally published on July 15, 2016.
This segment aired on July 15, 2016.