Mass. Gun Shops Sue AG Healey Over Copycat Assault Weapons Ban Notice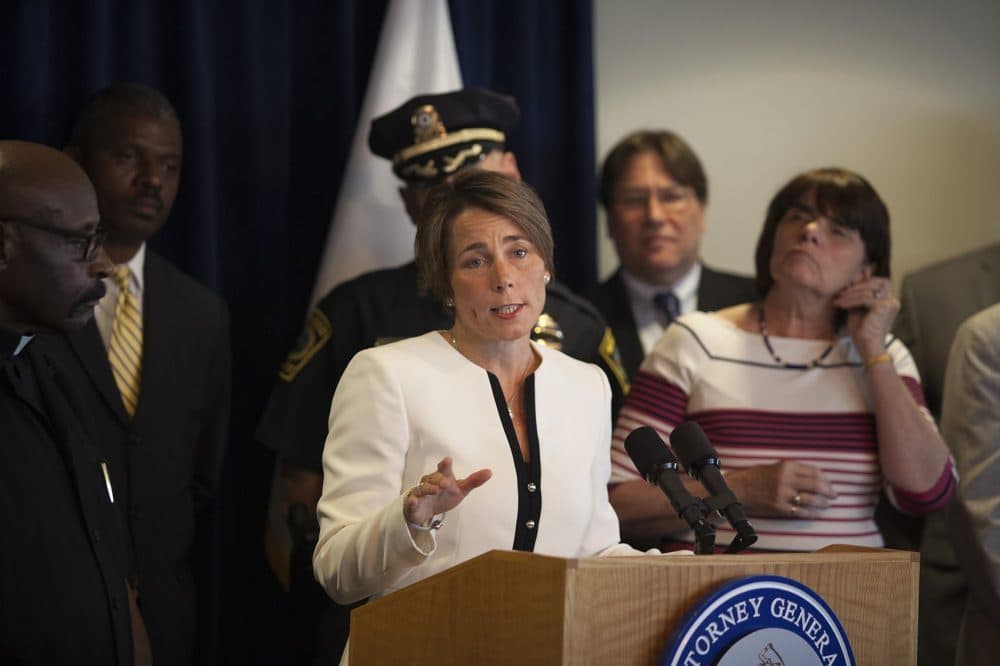 This article is more than 6 years old.
Four Massachusetts gun retailers and a national shooting organization have filed a federal lawsuit against state Attorney General Maura Healey, alleging her crackdown on the sale of so-called copycat assault weapons is unconstitutional.
In the suit filed Thursday in U.S. District Court, the plaintiffs argue that Healey's enforcement notice is a violation of their Second Amendment gun rights, and that they are being denied due process rights under the Fifth and Fourteenth Amendments over possible criminal penalties for violating the ban.
In July, Healey issued a notice to all Massachusetts gun sellers and manufacturers that "clarifies what constitutes a 'copy' or 'duplicate' weapon under the [state's] assault weapons ban." She had said an estimated 10,000 assault weapons with slight modifications were sold in Massachusetts in 2015.
The lawsuit states that gun retailers "cannot determine the meaning and scope of the Enforcement Notice and whether certain firearms fall within the newly defined term, assault weapon 'copy.' "
The suit was brought by Pullman Arms Inc., which has a store in Worcester; Guns and Gear, LLC, which has a store in Agawam; Paper City Firearms, LLC, which has a store in Holyoke; Grrr! Gear, Inc., which has a store in Orange; and the Connecticut-based National Shooting Sports Foundation.
Since issuing the enforcement notice, Healey has repeatedly defended her interpretation of existing law.
In an interview with WBUR last week, Healey said she stands behind her directive.
"We acted appropriately in my view by giving them notice, by letting them know we mean what we say — we're going to enforce the law," she said.
The suit's plaintiffs disagree.
"She has absolutely no authority to take it upon herself to issue regulations ... that redefine the statutory terms that have been understood for over 20 years," Lawrence Keane, the National Shooting Sports Foundation's senior vice president and general counsel, told WBUR.
In a statement Friday, Healey's office said they "look forward to defending in court our efforts to ensure that residents get the full protection of the law."
A week after Healey issued the enforcement notice, Gov. Charlie Baker sent a letter to the attorney general, challenging what he saw as "ambiguities" in her notice.
The state's assault weapons ban was adopted into law in 1998.
With reporting by WBUR's Anthony Brooks and Simon Rios