With Clinton Leading In New Hampshire, Trump Supporters Still Confident
03:42
Play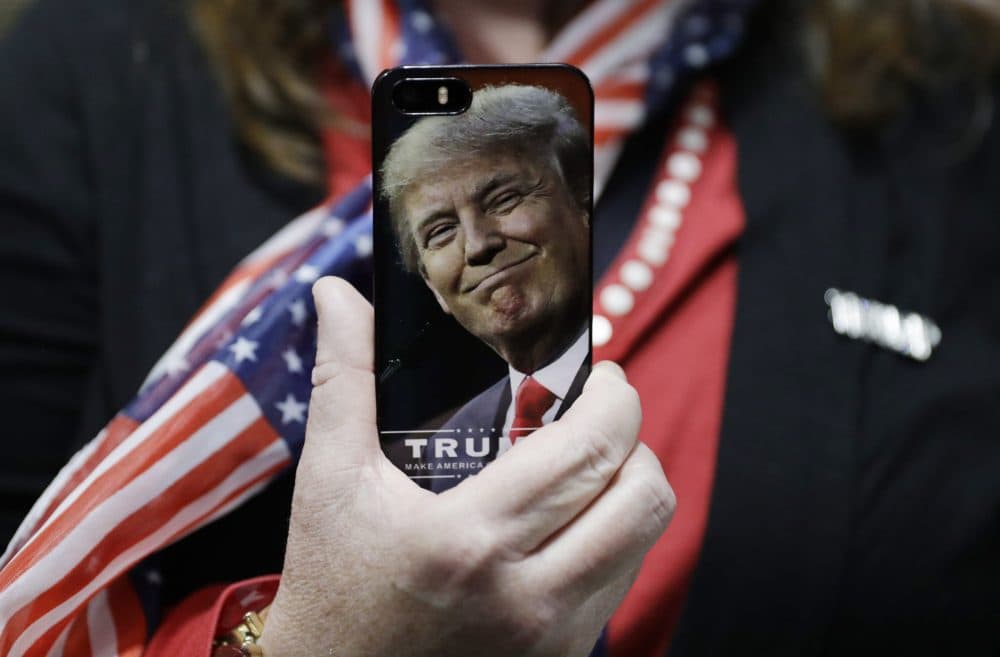 This article is more than 5 years old.
In a new WBUR poll, the first since Monday night's debate, Hillary Clinton leads Donald Trump in New Hampshire by 7 percent among likely voters, polling at 42 to 35 percent respectively. In a sign of how vital the race is the swing state, both Clinton and Trump have campaigned there this week.
It has to be said that at all these New Hampshire events for Trump, it seems as if half those attending come from Massachusetts.
That was the case in Bedford, New Hampshire, with Susan Harrington, a painter from Newburyport who took the bus from the overflow parking lot to the sports arena where Trump's rally was being held.
Harrington said it was the first time she'd ever gone to any political rally. The WBUR poll found most people in New Hampshire think Clinton won Monday's debate, and Harrington was frustrated by the debate.
"I kinda wanted and expected Trump to hit a little harder," Harrington said. "There were some parts that I was a little disappointed he held back."
Harrington was traveling with her daughter, Emily, a first-year student at Northern Essex Community College in Haverhill, Massachusetts. The WBUR poll finds Trump still struggling to win over women in New Hampshire — but he's won over the Harringtons. Emily, too, wanted Trump to be more aggressive against Clinton in the debate, but she recognized that Trump needs to win over moderate voters.
"Those people in the middle sort of liked that he didn't hit too hard," Emily Harrington said, "because they were looking for that reassurance that he was not coming out as this crazy candidate who's just hitting so hard and saying all these things without a filter."
Harrington predicts Trump will go more on the attack in the next two debates.
Her candidate is not drawing the huge crowds he used to before the New Hamsphire primary. Thousands would show up then. Earlier this month, in Laconia, about 600 people turned out. In Bedford on Thursday, it was a slightly bigger crowd: about 700. But they were passionate.
"I love what he's doing about jobs being shipped out of the United States," Linda Lemon of Manchester, New Hampshire, said, "because mine was shipped out of the United States."
Lemon says she worked manufacturing for a Manchester lighting company for 18 years. She says her company moved her job to Mexico, and although she now has a job with the same company, she says she's afraid that job will move to Mexico, too. She says that's why she supports Trump.
Trump addressed the crowd for about half an hour in Bedford. When he talked about Clinton, the crowd erupted into chants of "Lock her up!"
And Trump complained about the moderator of Monday night's debate, NBC News' Lester Holt.
Polls notwithstanding, Cheryl Hayden, a mom from Concord, was confident that Trump will be the next president.
"I think all the people will come out and vote that haven't voted for years," she said.
Hayden's opinion was widely shared among others at the rally, all apparently die-hard Trump supporters, optimistic that despite Clinton's current lead, their candidate will prevail in the end.
This segment aired on September 30, 2016.