Harvard Dining Hall Workers Go On Strike Over Health Care, Wages
Resume
Harvard University dining hall workers are on strike. They're seeking a pay increase, lower health care costs and year-round employment.
At 6 a.m. Wednesday, workers were picketing in front of the university's Quincy House. Some students passed out flowers, including Gabe Gold Hodgkin, a junior from Brookline.
"We're all a community here," Gold Hodgkin said. "The dining hall workers show up for us every day. They're the ones who check in with us first thing in the morning. Back a couple years ago, they're the ones who came out during the snowstorm when nobody else could get to work. I think we all feel like now, it's our turn to be there for them."
Gold Hodgkin asked fellow students to pick up the frozen food provided by Harvard and then join the workers on the picket line.
One of the striking workers, Kimwanna Devenish, said they are picketing because they don't want to have to pay more for health insurance.
"We only make $30,000 a year," Devenish said. "There's no way we can afford anything like that."
Harvard did not respond to a request for a recorded interview, but in emails, a spokeswoman said it pays, on average, $34,000 a year to its dining hall workers. The university said it's raising co-pays by $10 for office visits, and from $40 to $100 for emergency room visits. The university said employees who make less than $55,000 a year can apply for reimbursement of co-pays after they've spent $440 out of pocket for office visits or $450 for emergency room or hospital visits. For that group, Harvard also said it's willing to increase its share of contributions to premiums from 85 percent to 87 percent.
The picketers were allowing food deliveries to the dining halls. At one point, a Hood milk truck backed up to the loading dock at Quincy House.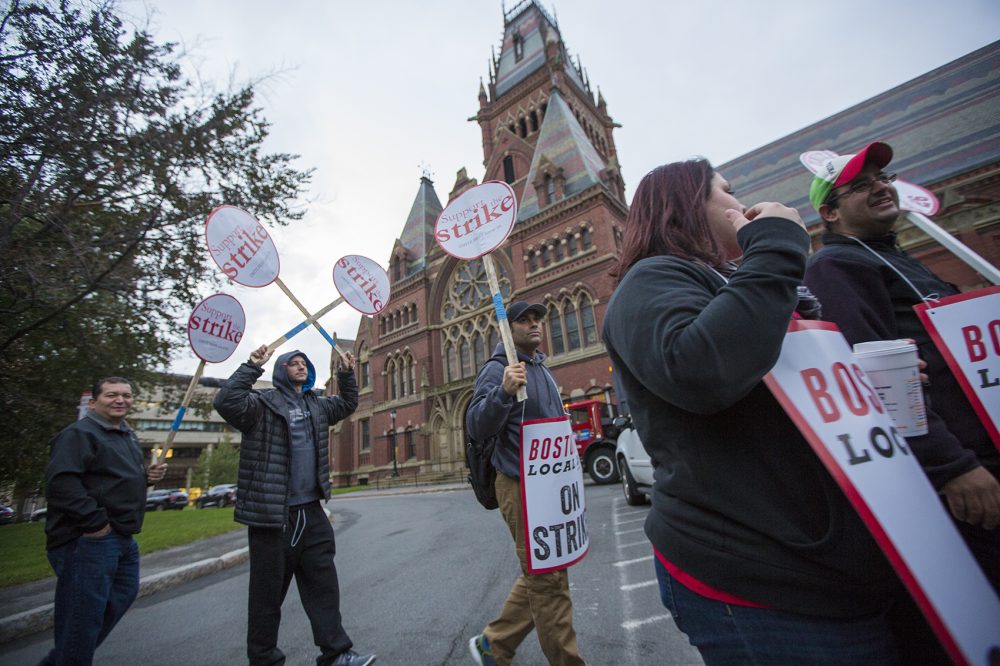 Dennis Papantonatous was picketing outside Memorial Hall, where first-year students eat. He's been working at Harvard for 13 years. He said it's not just health insurance costs that are going up.
"So the parking has basically doubled since I started," Papantonatous said. "We used to be $20 a week. Now, in the past 10 years, it's doubled up to $50 a week, and Harvard owns, Harvard Real Estate owns all the parking lots."
As the workers picketed, students went in and out of Memorial Hall. Among them was first-year Tegan Thorley, from Vermont.
"I don't think anyone's in agreement with the administration," Thorley said.
At one point, the workers rallied in the Science Quad to listen to the union's chief negotiator, Michael Kramer.
"We said that at this, the richest university in the world, no worker who's here and ready to work should be making less than $35,000 a year," Kramer told the workers.
As the workers protested in front of Harvard President Drew Faust's office, Harvard Medical School professor Bruce Price, a neurologist at Massachusetts General Hospital and McLean Hospital, stood in solidarity.
"When their co-pays go up, when the price of medicine goes up, they don't come [for care]," Price said. "They can't afford. So this directly affects my practice and my ability to take care of them as patients."
"It's fair to say that you don't get to be the richest university in the world by sharing your wealth with your workers," said economics professor Gerald Friedman, at the University of Massachusetts Amherst.
Still, he said, Harvard is not doing anything that other universities are not doing.
"Wages rising 1 percent a year, health insurance costs rising by 5 percent a year, it just jumps off the page at you as an employer that this is where our costs are growing, and so we want to control this cost, and you can control that cost by shifting more of the burden onto the workers," Friedman said.
Harvard says under the plan most popular with dining hall workers, employees currently pay $104 a month for individual and $281 a month for family coverage.
The university says nationwide, food service employees pay a third more for individual coverage, and nearly double for families.
This post was updated with the All Things Considered feature version.
This article was originally published on October 05, 2016.
This segment aired on October 5, 2016.